For all your My Kitchen Rules Australia gossip in one convenient place, check out our My Kitchen Rules 2018 hub.
It's over for two fan favourites on My Kitchen Rules.
Stella and Jazzey were forced out of the kitchen after an epic cook-off against Alex and Emily.
The teams were fighting for a place in the grand final, but Stella and Jazzey, both 21, couldn't compete with Alex, 35, and Emily, 27, who scored almost all eights and nines for their dishes.
Judge Pete Evans gave the Queensland couple a 10, calling it a "hat trick". He said their dishes were "perfect, perfect and perfect".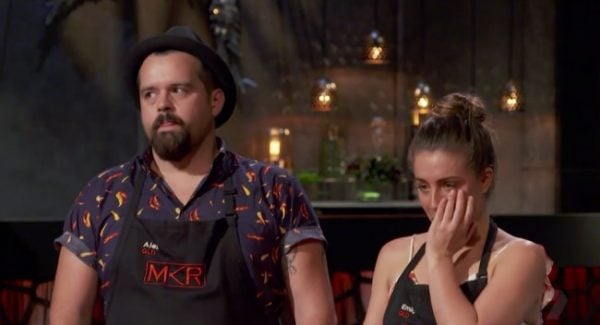 "You could be our next champions," fellow judge Manu Feildel told them.
It was welcome news for the pair.
"We just had this aim. We wanted to get to the grand final, it's everything we wanted, and I just can't believe that it's happened," said a tearful Emily, 27.
But you could see how heartbroken Stella and Jazzey were. Stella couldn't even talk at first, and the other contestants felt their pain at coming so close, only to miss out on a spot at the final.
"We're definitely disappointed to go out like this," said Jazzey.
"We didn't want that at all. You want to go out on a high, and that definitely was not our best three-course."
Still, she was able to stay upbeat, even in the face of defeat.
"We're disappointed in that way, but to come third... Like, if this was the Olympics, we'd get bronze medals," added Jazzey, prompting everybody to laugh.
"I've never cried on this show before. Sorry," Stella said.
"It's been an incredible journey, and we're really grateful that we got this far. We're really proud of ourselves, and I'm really proud of Jazzey."
Meanwhile, Jazzey was just thrilled she managed to get close to her celebrity crush Manu, 44, without anyone getting the authorities involved.
"There's been heaps of great stuff. Meeting you, Manu," she said.
LISTEN: What Matt Moran Can't Live Without. Post continues below.
Clearly sensing Pete, 45, was feeling a little left out, Stella added it had been great to meet him, too.
"Obviously Pete, but for a second, I was in love with Manu for a bit," continued Jazzey.
But Pete was able to laugh it off. We think.
"I'm used to it. All good," he told them.
Goodbye, Stella and Jazzey - thanks for the fun times.