Australia – the summer dry season of 'there's nothing good on telly' is nearly upon us.
Thankfully, the good folks over at Channel 7 decided to bless us with the first glimpse at the contestants for My Kitchen Rules 2018 to tide us over during this terrible, terrible time.
LISTEN: Laura Brodnik and Clare Stephens explain why this season of My Kitchen Rules is unlike anything we've seen before. (Post continues after audio…)
And rather than the obligatory 'bitchy' friends or villainous couple we're accustomed to seeing, our first MKR contestants is the one we really needed to meet right now.
Enter Kim and Soung, two refugees who came to Australia with nothing who are putting on the black aprons for their families.
Focusing on 'real people' and 'real food', the duos inclusion is a very welcome look at a new direction for the popular reality cooking show.
"This is a really interesting casting choice and some forward thinking," Mamamia Entertainment Editor, Laura Brodnik pointed out on The Binge podcast.
For the biggest entertainment news of the week, plus all the new TV shows you should be watching, listen to The Binge podcast. 

"They're not selling this season on villains, they're selling it on these two inspirational women who came to this country as refugees and they're now talking about how excited they are to have this chance… the time of the TV villain has hopefully passed, and the time for inspirational heroes is upon us.
"For the first time in a long time, I'm really excited to watch My Kitchen Rules."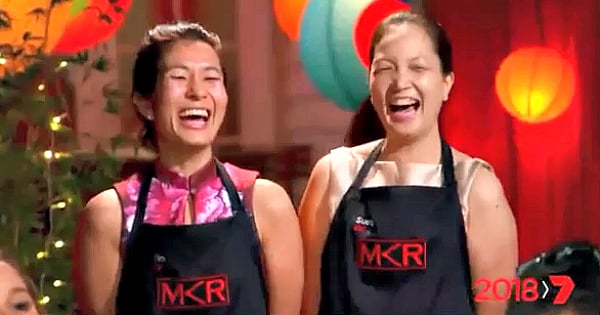 At a time when it feels like scandal and hate is the new normal, we're looking forward to a much needed injection of heart on the telly.
My Kitchen Rules will return to Channel 7 in 2018.