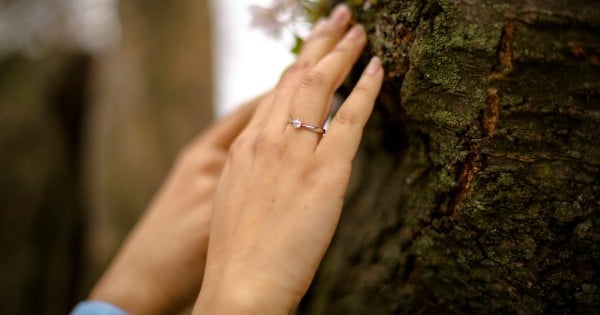 My fiancé proposed with a cubic zirconia or as some people might say, 'a fake diamond'.  I said yes and let him slide the $500, 2.5 carat extravaganza on my hand.
It was a balmy summer evening and the sky was washed in pink as the sun set over the coast. We nestled up on the beach, newly engaged and shared our dreams of one day living in this very coastal suburb.
Over the next week I couldn't stop looking at my ring. The perfect cushion cut diamond and antique setting with a great, big dirty rock. I wore it swimming, during an oil painting class and I happily flung it off while I did the dishes. It represented a promise and our love, nothing more – you don't need money to get my honey.
I would watch in amusement as shop assistants stopped to look at my hand – all 2.5 carats glistening back at them. I felt a pang of anxiety as I showed off my ring to each of my friends.  Did this cubic zirconia look like a diamond to the naked eye? They all commented on how stunning it was and congratulated me.
Nobody seemed to notice – maybe out of sheer excitement or politeness. This was a real engagement based on five years of trials, tribulations and the sort of love that defies it all. I wanted people to celebrate our love and be part of my happiness– not question my choice of engagement ring.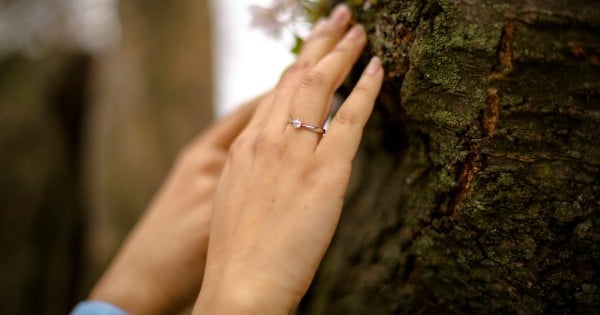 My Future Mother in Law inspected my engagement ring and looked up at my fiancé over her reading glasses, "you bought it from a jewellery store, yes?" she quipped. My fiancé carefully delivered a response he'd prepared earlier, "yes, I bought it on a low interest credit card". "Fair enough" responded future Mother in Law. My own Mother stared knowingly at my gleaming CZ and we both gave each other a little smirk. She knew our financial plan and my views on engagement rings, no explanations were required.
Not long after we got engaged, I decided to hit the jewellery shops looking for a matching wedding band. "What a gorgeous, stunning, stunning ring" professed the jeweller. Within 20 seconds of sitting down, she grabbed my hand and held a jeweller's microscope to my ring. "Yes, it's not real" she said matter–of- factly, "I'm a gemmologist but I can only tell it's not real by looking at it closely. Your fiancé' should really get you a proper diamond though. When you get married there will be mortgages and children and you won't get nice jewellery. When you are young and getting married, everything should be perfect. Have you heard about the language of love? Gifts are important".