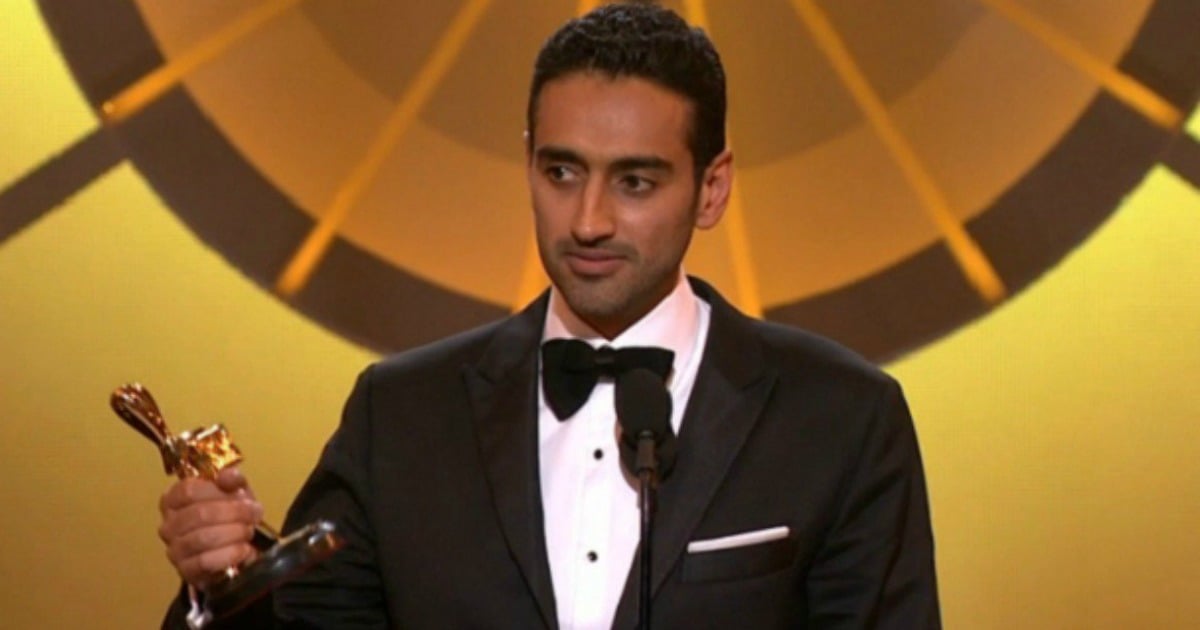 The country was enthralled by Waleed Aly's poignant and moving Gold Logie acceptance speech last night.
Covering a slew of topics from his wife, to his work, social justice and racism, listeners were amazed by the story of "Mustafa", the Australian actor who Aly says changed his name in order to get a job in Australian TV.
"Someone who is in this room — and I'm not going to use the name they use in the industry — came up to me, introduced themselves and said to me: 'I really hope you win. My name is Mustafa. But I can't use that name because I won't get a job'," Aly told the captivated room.
You can watch Waleed Aly's full speech below (post continues after video).
And now, within 24-hours of the ceremony's wrap-up, the identity of Mustafa has been confirmed as The Principal's Tyler De Nawi.
The moving conversation between De Nawi and Aly was confirmed by the emerging actor's manager, Anthony Kidd, who told Daily Mail earlier today, "He is Mustafa De Nawi, he changed his name back to Tyler."
"Tyler is a very passionate actor and passionate about his nationality," Kidd told the publication.
"He's working very hard and there's a lot of talk around his next move."
You may also recognise the Lebanese-Australian actor, who currently resides in Sydney, from Channel Nine's Here Come The Habibs. Earlier in the year, he too tackled issues surrounding multiculturalism, telling SBS, "It's time for Australia to move forward and stop being prejudiced about things that involve multiculturalism."
The story of another man, named Dimitri, was also discussed by Ali. The Project host says he was "commanded" to win the top award by Dimitri as a crucial step towards ethnic diversity in the media.
 According to Aly, his win was important for people like Dimitri and Mustafa.
"To Dimitri and Mustafa and to everyone else with an unpronounceable name like I don't know,I really just want to say one thing and it's that I am incredibly humbled that you would even think to invest in me that way," Aly said.
"But I'm also incredibly saddened by it because the truth is you deserve more numerous and more worthy avatars than that and I don't know if and when that's going to happen.
"If tonight means anything and I don't know if it means anything, but if tonight means anything it's that the Australian public, our audience – as far as they are concerned there is absolutely no reason why that can't change."
Susan Carland spoke to The Binge podcast about what happened after Waleed won Gold. Listen here: