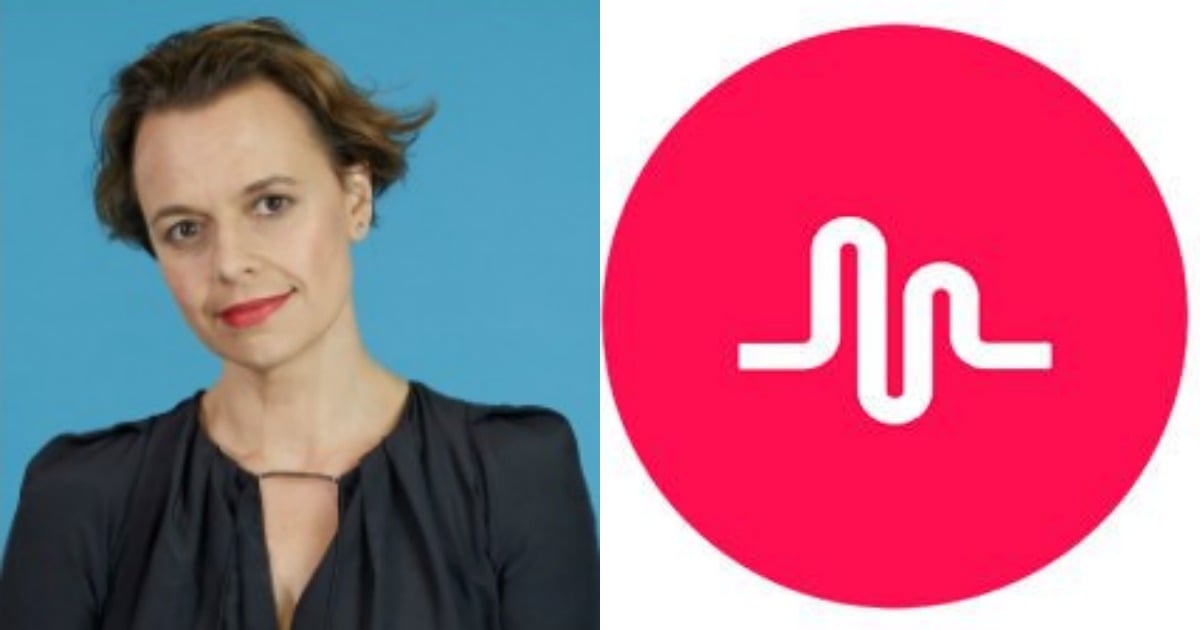 Two weeks ago, my daughter had never heard of Musical.ly.  Me neither. My husband told us about it after hearing about the app from a tech mate whose own daughter was into it.
Being interested – yet super cautious – about all forms of social media, we downloaded the app and asked our daughter if any of her friends were into it. We found one or two who had accounts. Within days, she estimated 75% of her year were on Musical.ly.
I've spend the last couple of weeks trying to work out what I think about it.
I brought my daughter into the Mamamia Podcast studio and host of our family podcast This Glorious Mess, Holly Wainwright, interviewed us about it:

At first I was very nervous. She doesn't have Instagram (no way), Facebook (hell no) or even her own phone (we battle about this a lot). She has an old phone of mine which she uses as an iPod so the app went on that and we learned about it together. I immediately laid down some rules but I'm getting ahead of myself.
If you know (or have) a girl who is a tween or young teen, I can almost guarantee they are on Musiacal.ly, want to be on Musical.ly or at the very least, know what it is. I'm no so sure about how far it's penetrated into boy world (oh God, I just read that phrase backwards – sorry) but I bet it's popular there too. Among girls though? I cannot overstate what a phenomenon this has been in the space of a month.
It's literally gone off like a frog in a sock. I've never seen a form of social media explode quite like this. Whether you have a kid or know a kid who's into it or not, in the interest of wanting to know what's going on in the world, you'll want to know about this.
So let me be your Musical.ly spirit guide and answer some of your burning questions:
You: WHAT IS MUSICAL.LY?
Me: It's an app that works in the same way as other forms of social media: you go to the app store and download it to your phone or iPad. You make an account, you post stuff, people follow you and you follow them. You have a feed where you can see the latest posts from everyone you follow. And there's a "featured" tab where you can see a feed of curated, popular, interesting posts from randoms you don't follow.
Here's how they describe it in the app store: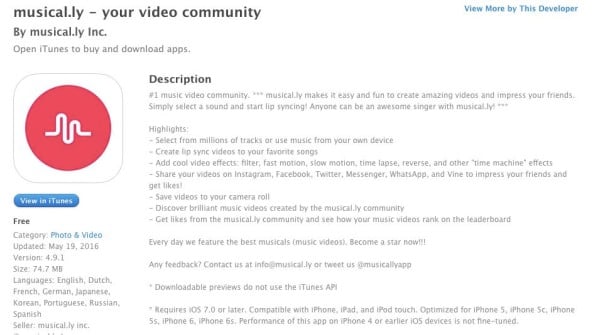 You: SO, WHAT DO PEOPLE POST ON MUSICAL.LY?
Me: It's all about lipsyncing mostly. Clips are no more than 15 seconds and there's a huge number of audio clips you can choose to make a video from. Popular songs and also, little spoken word comedy grabs.
Here is a best-of compilation I found on Youtube that will give you a better sense than me trying to make a word picture.
You: SO WHAT'S WITH THE HAND GESTURES?
Me: Glad you asked. That's a big part of it because with Musical.ly the kids are filming in their bedroom usually while holding their phone or shooting from the waist up, so you have to use your other hand instead of dancing. It's actually quite hilarious watching them act out all the words with their hands.
You: DO I NEED TO BE ON IT?
Me: Oh hell no. This is one for the kids. At least it is at the moment. I've watched a lot of musical.lys and despite some excellent cameo appearances from parents, this is not one for us. But you still need to know about it because knowledge is POWER.
You: BUT I DON'T WANT STRANGERS SEEING MY KID!
Me: Me neither. Like Facebook and Instagram there are privacy settings on Musical.ly so make sure you set them up when/if your child gets an account so only her followers can see her videos.
You: MUSIC VIDEOS? REALLY? BUT THAT'S SO SKANKY.
Me: That's what I thought at first too. My kids have NEVER been allowed to watch music videos. I think 90% of them are as misogynistic as porn. But happily, so far all the videos I've seen my daughter and her friends create are adorably goofy. Mostly in their school uniforms or pyjams or normal clothes in their bedrooms. It's JUST like when we used to sing into a hairbrush in the mirror except now they can share it with their friends.
You: DO YOU HAVE RULES FOR MUSICAL.LY IN YOUR HOUSE?
Me: You bet we do. SO MANY RULES. Some of them are:
No make-up or inappropriate clothes.
No clips with swearing or sexy language (I don't even know if these are an option on Musical.ly but I don't want to see my daughter lip-syncing to some hideous rapper singing about bitchez and hoes. Obv.)
No following anyone - or accepting anyone to follow you - that you haven't met in person.
My biggest recommendation is, if they're not already, make sure your kid is using your iTunes account on their device. This means Musical.ly should also download onto your phone (all this assumes you are an Apple person) and you can look at your kid's videos every time they post one. If you turn notifications on, you'll also get an alert every time someone wants to follow your kid so you can stay across it all. And don't be afraid to tell your child to delete a video you're not comfortable with. It's probably a case of them just not quite realising they've crossed a bit of a line or done something that could be misinterpreted but it's a great opportunity for LIFE LESSONS.
You: YOU SOUNDS LIKE YOU'RE REALLY INTO IT. WHY IS MUSICAL.LY GOOD FOR KIDS?
Me: I've thought about this a lot. As I said, at first I was wary. I didn't want my daughter to be on any form of social media for as long as possible. Instagram in particular is very worrying in terms of girls learning to sexually objectify themselves for 'likes'. But Musical.ly is not about how you look. It's about what you DO. It's about making up routines and practicing them and then filming and sharing with your friends. It's about being goofy and funny and trying hard. Not just posing passively for a selfie or reposting a meme or link to something someone else created.
I'm keeping a close eye on it - it may well go pear-shaped. Everything is so accelerated these days I have no idea how it will turn out. But right now I think it's a hugely positive, fun thing for kids to do.
Watch this space.
Want more on parenting from Mia? Watch what she thinks about giving your kids toy guns...