Skin cancer is one of the most treatable form of cancers, but early detection is key.
No one knows this more than mother of five, Kari Cummins, who at just 35 years of age has undergone two surgeries to have various carcinomas removed from her face.
Growing up in Lake Arrowhead, California, with ample beaches, and hiking trails, the wellness consultant spent a lot of time outdoors.
"I used to love baking in the sun for hours," Kari told Mamamia. "Now I limit it to no longer than 15- 30 mins of direct sun and spend most of my time in shade."
LISTEN: The legendary Kerri-Anne Kennerley on her skin cancer scare. Post continues…

In 2013 some very stubborn red marks on Kari's forehead turned out to be a basal cell carcinoma, and just a year later what looked to be an "underground pimple" was actually a squamous cell carcinoma – known as being the most deadly form of skin cancer after melanomas.
Luckily, both times Kari went to a dermatologist as soon as she realised that "they weren't healing up, roughly a month after they first appeared".
"The basal cells looked totally different," says Kari. "They started as small red sores, grew slightly bubbled on areas, scabbed, would bleed and would never heal up.
"The chin started out looking like an underground pimple. No scabbing, not able to be popped, and after time it also grew and changed shape, and became slightly lumpy but under the skin.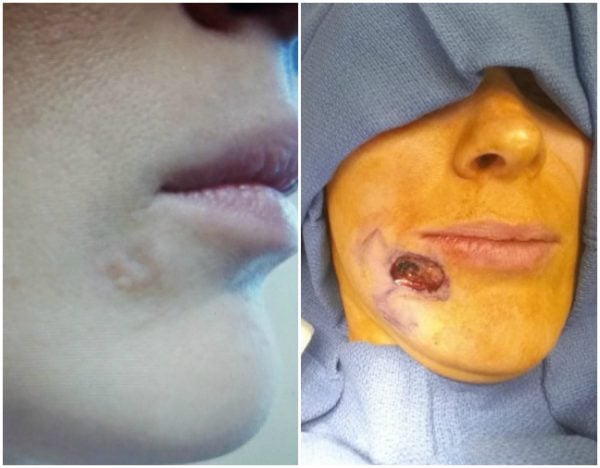 " I realised they needed to be checked as soon as I noticed they weren't healing up."
In terms of detection, while it can be difficult to walk the line between safe, and possibly cancerous, "anything that changes shape, doesn't heal up or go away should be looked at," says Kari.
Despite growing up in California, with self-described "clear, fair skin", it wasn't until her mum's experience with skin cancer, that made her much more aware of her skin, and "health in general."
"I was the one urging her to be checked, she was in a transition with her insurance and had to put it off for a bit to be able to afford her surgeries.
"She had to get part if her ear cut off, a large skin graft on her back, and a special procedure done on her lower eyelid! She has healed very well."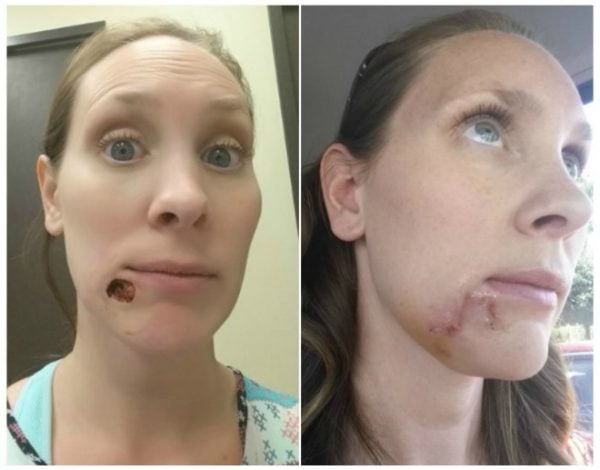 While Kari's surgeries weren't quite as dramatic she's now very vigilant about sun care with her five children.
"I'm definitely very vigilant in protecting our five children from too much sun," she says.
"They wear protective and long sleeve swim shirts as well as a non toxic sunscreen that gets reapplied every hour we spend out doors."
And as for herself she conducts self checks daily - "anytime I shower and lotion my skin and face," she says.
"Pimples don't typically stay long. They surface and pop or dissolve," she says. "Regular skin checks should happen whether you have something concerning or not, about every six months," and in Australia most GPs will be able perform a mole check.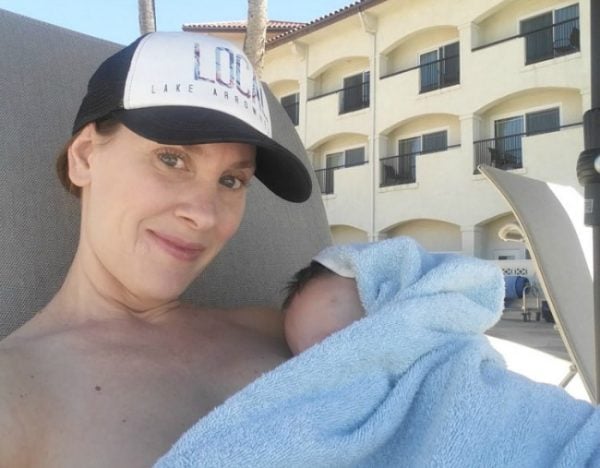 According to advocacy group SunSmart, treatments for basal and squamous cell carcinomas accounting for more than five times of the treatment for all other cancers combined. In 2016, Medicare records showed there were over 900,000 treatments for squamous and basal cell carcinoma skin cancers, which averages to more than 2,5000 skin cancer treatments every day.
Along with Kari's advice, the Cancer Council gives the following tips for early identification:
Basal cell carcinoma - Kari first reported signs of small, red, marks that occasionally oozed, but never healed, other signs can include pearly lumps, or scaly, dry patches that may be shiny pale or bright pink in colour.
Squamous cell carcinoma - Look for thickened red, scaly spots, rapidly growing lump (or pimple-esque bumps that don't go away, in Kari's case),  and sores that don't heal, and may be tender to the touch.
Melanoma - Instead of looking for new spots, freckles or moles, keep an eye out for any that change in appearance. Alterations in colour, size, shape, elevations, or symptoms of itching, or bleeding may all be early symptoms.
You can see more from Kari on her Mom on a Mission blog.
LISTEN: Kerri-Anne Kennerley's Life-Changing Razzle-Dazzle on No Filter.