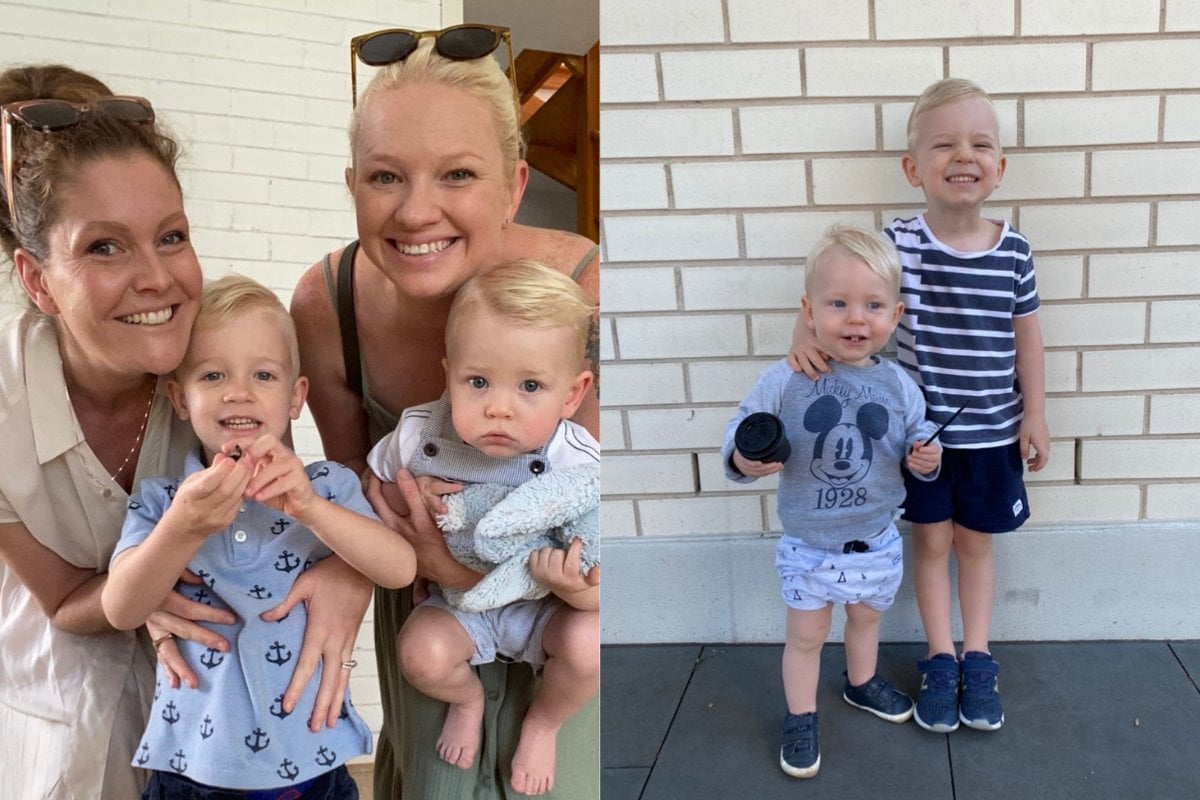 Mamamia's Five Golden Rules series takes a look into the lives of Australian families. From parents of toddlers to parents of teenagers, the series asks parents to share their golden parenting rules, including the rules for their kids, and rules to just get through each day. 
This week, a mother of 2 shares her Five Golden Rules for parenting. 
My name is Amy. I'm a mum of two little ones – Arlo is 3-and-a-half, and Archie is 21 months. Together with my wife Lucy, we are raising our boys in Sydney. 
How we live, in the location that we are, it can feel very fast-paced.
Now, like any parent, we don't have all the answers. When it comes to our parenting careers, we often are figuring it out quite literally as we go. 
What I can say is we have Five Golden Rules we live by to keep our family's wheels turning, and I don't quite know how our long days and short weeks would run without them.
These are my Five Golden Rules for parenting.
1. When there's the option, make life easier on yourself.
Life with kids is hard. Understatement.
It has been 3-and-a-half years since Lucy and I enjoyed a hot meal, finished a cup of coffee or each of us even had a shower uninterrupted. 
 So where possible, we like to make life as easy and efficient as possible. When something is giving off too-hard basket vibes, we search to find a better option to make it easier on ourselves as parents.
We recently bought a new home and when choosing the location our criteria was close to shops, amenities and schools. Convenience is key for us. 
I've really learnt as a parent, don't underestimate the convenience of the humble petrol station.
We have Ampol Foodary literally three blocks away from us. I've only just realised you don't have to leave your car to pay for your petrol?! This should be a PSA to all parents, if you're wanting a quicker petrol run or have kids in the back. Pump, pay on the Ampol App, and I'm on my way without leaving the car. Genius.
In the spirit of making life easier on ourselves, we can grab a good quality coffee, bread, milk, eggs or other quick essentials at Ampol Foodary in amongst busy work and daycare days, and the boys love taking their pocket money to choose a small treat on our days together, or if I'm taking our eldest to a movie and we're choosing treats before the cinemas. 
During the working week, we're often rushing out the door to drop the kids to daycare on our way into the office. Do I have time at home to make coffee, or prep my own satisfying lunch to take to work? Absolutely not. Do I feel guilt about that? Always. But not anymore.