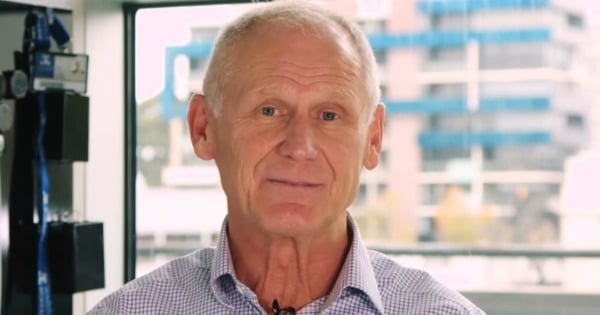 Two doctors who were previously diagnosed with Multiple Sclerosis (MS) claim an unconventional treatment cleared them of the symptoms of the disease.
They are among a growing number of MS patients who have made big lifestyle changes as part of a program, devised by Melbourne professor George Jelinek, which they say eliminated the symptoms of the disease that threatened to end their careers.
Sam Gartland's future looked bleak when he was diagnosed with a relapsing remitting form of MS.
His symptoms were so severe he had to quit his job as an intensive care doctor.
"I couldn't actually walk from the car park to the intensive care unit," he said.
A decade later, Dr Gartland spends his mornings either kickboxing or surfing on the New South Wales central coast.
"I try and exercise every day," he said.
"To the point where I'm sweating and my heart rate's up."
'If this was a drug, by now everyone would be on it.'
MS remains the most common disabling disease among young adults. Eighty per cent of those diagnosed will be forced out of full-time work within 10 years.
The Jelinek program consists of a strict regimen of exercise, meditation, low-fat diet and sun exposure to combat the condition.
"If this was a drug, by now everyone would be on it," Professor Jelinek said.
Professor Jelinek devised his Overcoming MS (OMS) program after being diagnosed with MS himself in 1999.
It now has thousands of proponents worldwide and almost 20 years later, he remains symptom free.
As a doctor, Sam Gartland says he was initially sceptical about the program.
"Even though I'd read George [Jelinek's] book and the evidence seemed strong that this was largely a disease related to lifestyle factors, my training through medical school was very different," he said.
"My experience of Multiple Sclerosis was of a relentlessly progressive condition and I couldn't see how such a powerful disease would be affected by simple lifestyle changes. I struggled with that."
Facing early retirement from his job as an intensive care doctor, Dr Gartland travelled to a retreat in the Yarra Valley hosted by Professor Jelinek.
"One of the key things, I think for me, was looking at meditation and finding clarity in my mind about what I needed to do to address this illness," he said.
Dr Gartland began the OMS program in 2009 after a minor relapse, and by 2012 the lesions that threatened to cut short his career had disappeared.
As a result, one neurologist questioned whether he ever had the disease.
Like Professor Jelinek, Dr Gartland remains symptom-free.
'I could see myself confined to a wheelchair, or worse.'
Another devotee of OMS is Melbourne-based pathologist and Sceptic Society member Dr Virginia Billson.
She experienced double vision and an inability to speak after being diagnosed.
"I could see myself not being able to work, not doing anything, possibly confined to a wheelchair, or worse," she told 7.30.