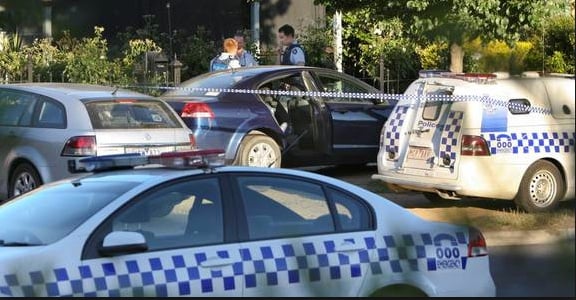 1. Hot car baby death
A Magistrates Court in Bendigo will today hear evidence on whether a six-month-old was given morphine instead of adrenalin as treatment for cardiac arrest by paramedics after her mother left her in a hot car in December last year.
Yesterday the court heard that the baby's mother Jayde Poole had rung her sister in a state of panic when she was unable to find her daughter.
"My baby's gone. I can't find her. I put her down for a sleep in her cot and she's not there. Somebody's taken her." The Australian has reported she said.
Ms Poole called the police who found the baby dead in the backseat of her hot car.
Ms Poole had no memory of leaving six-month-old Bella in the car after a trip to buy her six-year-old son a treat over two hours earlier.
Jayde Poole is facing charges of manslaughter and conduct endangering life.
2. MYEFO Statement
The Treasurer, Joe Hockey will today deliver the Midyear Economic and Fiscal Outlook (MYEFO) statement at lunchtime in a nationally televised address to the National Press Club.
It will show a deficit of close to $50 billion – a significant blowout from the $30 billion forecast during the election campaign – and $120 billion of deficits over the forward estimates.
The Government says it is the first true account of the 'mess left by Labor.'

 3. Missing father-of-three
A family have pleaded for information on missing TV producer and father-of-three Nick Eade. It is now 23 days since he was last seen. His car was found abandoned in a Sydney suburb. For more read this posts here. "Nick Eade where are you?"
 4. Same-sex marriage
South Australian Senator Cory Bernardi has called on senior Liberal Malcolm Turnbull to resign from his frontbench position because Mr Turnbull – the Communications Minister and former party leader – said the Coalition should allow a conscience vote on the issue of gay marriage.

 5. Deer tames gun
His name is 'Dinner' and he is being called a "courageous anti-gun statement from a defiant four-legged activist." by Salon.
The video of the moment a deer walked up and licked the barrel of a hunter's gun is going viral.
A week out from Christmas we think his relatives Rudolf, Dasher and Dancer would be proud of his bravery and his blatant anti-hunting protest statement.
 6. Aussie troops
The last remaining Australian combat troops in Afghanistan were headed home on Monday, as our military involvement in the 12-year-old conflict draws to a close.
The final group of Australia's combat soldiers in Afghanistan pulled out on Sunday, coinciding with the closure of the international military base at Tarin Kowt in Uruzgan province, Australia's main base in the country.
 7. Facebook snoopers
A study has shown that six out of ten parents admit they regularly read their children's emails, texts and Facebook messages.
They believe that, despite the invasion of privacy, snooping is necessary to keep tabs on who their children engage with online.
But, as a result, one in three parents have been racked with guilt after hacking into their child's email or Facebook account.

 8. Columbian woman's medical mystery
A Columbian woman thought to be suffering stomach pains got more than she bargained for when an X-ray discovered a 40-year-old calcified fetus — or lithopaedian inside her 82-year-old body.
Lithopaedian, also known as stone baby, is a very rare syndrome that happens when the fetus grows outside the uterus and inside the abdomen. She will now have surgery to remove the fetus.

9. Down Syndrome test
An alternative screening test for Down syndrome could improve detection rates and significantly reduce the number of pregnant women who undergo invasive procedure researchers at Curtin University found .
Currently, women whose pregnancies are identified as high risk are offered diagnostic testing such as amniocentesis but it is invasive and can cause miscarriage.
They found up to seven extra cases of the disorder could have been identified if the non-invasive blood test was in place.
10. Screaming children on planes tops survey
A survey has shown what people find most annoying on airplanes and screaming children top the list.
Parents who travel with loud children are considered more annoying than passengers who kick the seat in front of them and travelers with bad smells.
Travelers who fully recline their seats were ranked as the 7th worst violation even though 80% of travelers admitted that they recline their seat all the way at some point in the flight.
 11. Hugging suspension
A high school student in the US has been suspended for one year and won't graduate on time for hugging his teacher CBS reports.
A video of the hug, which was captured on CCTV, shows McNair enter a room and place his arms around the back and front of his teacher before tucking his head behind her neck.
"Something so innocent can be perceived as something totally opposite," said McNair.
April McNair, Sam's mother, said the suspension has derailed her son's future plans.
 12. Jingle bells axed
A Sydney primary school is raising eyebrows amoungst parents for changing the lyrics to Jingle Bells.
The Catholic School's annual Carols perhaps found the jolly tones of the traditional song a little too festive – instead insisting children sing an altered version, by Colin Buchanan featuring the chorus "Jesus saves, Jesus saves, Jesus is the way".
 In Brief:
Four buildings on Harvard University's campus have been evacuated after an unconfirmed report of explosives.
Criminal proceedings against the teenager accused of murdering South Korean student Eunji Ban have been suspended until it can be established if he is mentally fit for trial.
Australia is five wickets away from claiming the series against England in the third test at the WACA
What news are you talking about today?