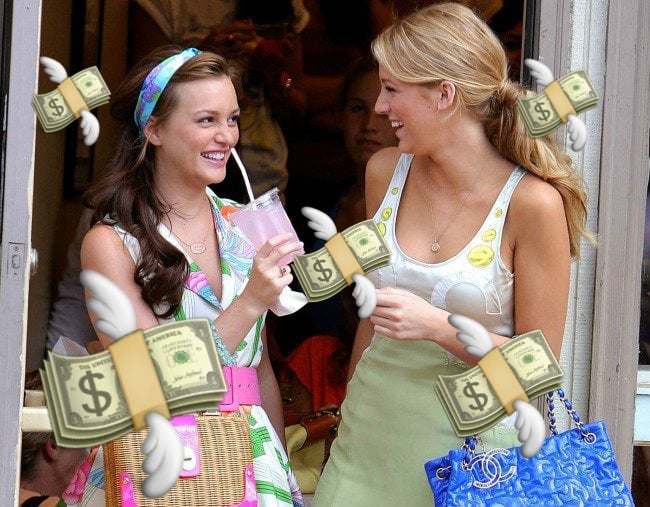 Ever wondered how a rich 21-year-old living in New York spends her money, and her days?
We hadn't, to be honest. But when we came across this money diary on Refinery 29, our inner pervy snoop couldn't look away. And oh, our eyes have been opened.
You see, this anonymous author is an intern who is paid US$25 an hour, which at AU$33 is actually quite a lot, but then so is rent in New York. However, this marketing intern doesn't have to pay her own rent, and is actually given $1100 (AU$1500) allowance a month from her parents and grandpa as well.
So, what does she spend all that dosh on?
Well, food mostly. (And for $50 a session something called a Brazilian "sugaring", which apparently involves removing hair by sugar instead of wax). But it's not the kind of food you likely ate as a student or entry-level worker.
Here are just a few samples of what the author ate that week:
"I head to Whole Foods straight from work. My fridge is completely empty from eating everything before I left for the weekend. I buy salad dressing, soy sauce, olives, a salmon fillet, feta cheese, avocados, blackberries, baby kale, a tub of Siggi's yogurt (gourmet Icelandic yoghurt), a cauliflower head, an orange pepper, and Fuji apples. $48.24."
"I get a goat cheese and avocado wrap. $23."
"I make myself a delicious and very random dinner, per usual. I bake the whole salmon fillet, prepare a salad, and munch on plantain chips and olives." (She eats a lot of olives.)
"I stop by Whole Foods to pick up a bottle of cold brew to keep at the office. It's the easiest way for me to not spend too much on coffee. $6.99." (Which was an achievement because: "I spent $55 on coffee last month. Not too bad, tbh.")
But the magic of this money diary is not in what she spent, but in what she did, making it more like an actual diary. No detail is too minute.
In one week, the author:
1. Got paid (well) to be bored at work.
"I sit around and do nothing until my 3pm meeting."
"I spend most of my morning working on a small project, online shopping, and journaling. Perk of being an intern is that I don't get too much work assigned in a day. But I do find myself bored occasionally."
"I sneak into the conference room to watch the France v. Belgium soccer game. Happy this will keep me entertained for the afternoon."
2. Went to the Hamptons.
"We arrive in the Hamptons and hit absolutely no traffic on the way. Pretty amazing for a Friday afternoon."
"The girl squad gets ready to go out on my friend's boat. Her dad offers to take us out on the water for the afternoon, and I couldn't be more excited."
"The party is so fun, but way overhyped. I bought a ticket a couple of weeks ago for $20. I couldn't believe I actually let myself pay for a big house party. Then again, it has an open bar, so the ticket is like a drink voucher."
3. Contemplated breaking up with her (by all accounts supportive) boyfriend.
"I spend the rest of my night cuddled in bed with my boyfriend. I haven't been feeling very lovey lately, and I think it's because I've been craving solitude. Gonna see how the rest of my week goes before I ask him for some space. I think this feeling is a result of spending the weekend surrounded by my gal pals."
4. Used the app called Venmo to pay back her friends.
"A friend of mine let me make four drinks with her Bacardi, so I Venmo her a little money."
"My friend requests $4 on Venmo for breakfast."
"I Venmo my friend who drove for gas money. $10."
Oh and judging by the number of times she mentions going to the prestigious Equinox gym (including this line: "Class was amazing. I shower and get ready for my two and a half hour car ride. I'm so thankful for the Equinox amenities. They make living on the go so much easier."), she is probably going to score some free weeks of membership from this.
So in one week, in total, she has spent just US$373.53 (AUD$510) which is just over half of her weekly income, allowing her to pocket most of her allowance.
You can read the full diary on Refinery 29.