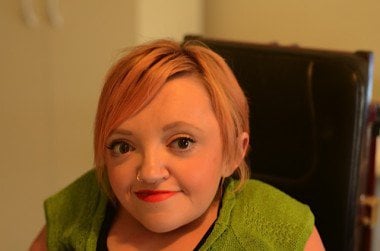 Are child models with Down Syndrome really a great win for diversity?
A nine-year-old girl named Kayla Komlaski has just made headlines as Gap's first ever model with Down syndrome. The news comes hot off the back of another story about Cora Slocum, a four-year-old girl with Down syndrome, who has appeared in an ad campaign for shoe label, Livie & Luca.
Like most people, when I first read these articles and saw the photos of Cora's beaming face, my initial response was "Aww, what a gorgeous kid! And what a stunning, joy-filled photo. Just lovely."
Cora generated the hashtag #I'mGoingBackToSchoolToo and other kids posted photos of themselves. (Post continues after gallery)
But before hitting the 'share' button, I stopped. And I thought back to a conversation I once had with disability activist, Stella Young. 
Stella was talking to me about an emerging trend where a number of children and babies with Down syndrome had been touted as the Next Big Thing in modelling.
There was 10-month-old baby, Valentina Guerrero, who was described as the "favourite swimsuit model ever" and Natty Goleniowska, a seven-year-old girl who was selected to star in the Sainsbury's Back to School campaign. More recently we've seen Louis Killick, a six-year-old boy with Down syndrome, Izzy Bradley a two-year-old model with Down syndrome, Seb White, a seven-year-old boy with Down syndrome, Franceca Griffiths, a two-year-old baby with Down syndrome, and others.
Stella explained to me that while on the surface this might look like cause to celebrate, deep down, there was nothing truly progressive or revolutionary about any of it, so long as virtually all the models with disability continued to (1) have Down syndrome, (2) be infants or children.
The problem is twofold. Firstly, the emphasis on people with Down syndrome ignores the diversity of the disability community. It also establishes a type of hierarchy within the community where those who have more 'normal' bodies which can 'pass' as able-bodied are given higher status compared to others.
But there is a deeper problem: the heavy focus on children, and the absence of adult models with disability.
The inimitable Stella Young. (Post continues after video)