Falling over on the runway is a model's worst nightmare.
You're trying to keep a straight face, walk in a straight line with usually impossibly high heels and remember your choreography while all eyes in the room are on you. It's high pressure.
But if it does happen to you, channel this guy.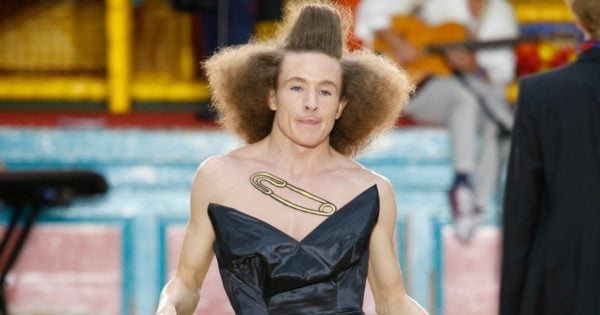 The model was walking Vivienne Westwood's Spring/Summer '18 show at London Fashion Week Men's when after throwing out some killer attitude, he took a tumble.
What happened next might be the greatest thing we've ever seen.
Rather than look embarrassed, cry or even just get back up, he turned it into a dance move.
Listen: The new editor of British Vogue is a man. Post continues after audio.
It was done so smoothly, we're not even sure the fall wasn't planned in the first place.
Fortunately, Westwood's show was unconventional compared to traditional runways. Rather than straight walks and solemn faces, models strutted, acrobated and danced down the runway showcasing both the men's and women's collections, including the designer's signature gowns.
Westwood herself came out at the end on the shoulders of a model/acrobat in a t-shirt with the words "motherf*cker" on it.