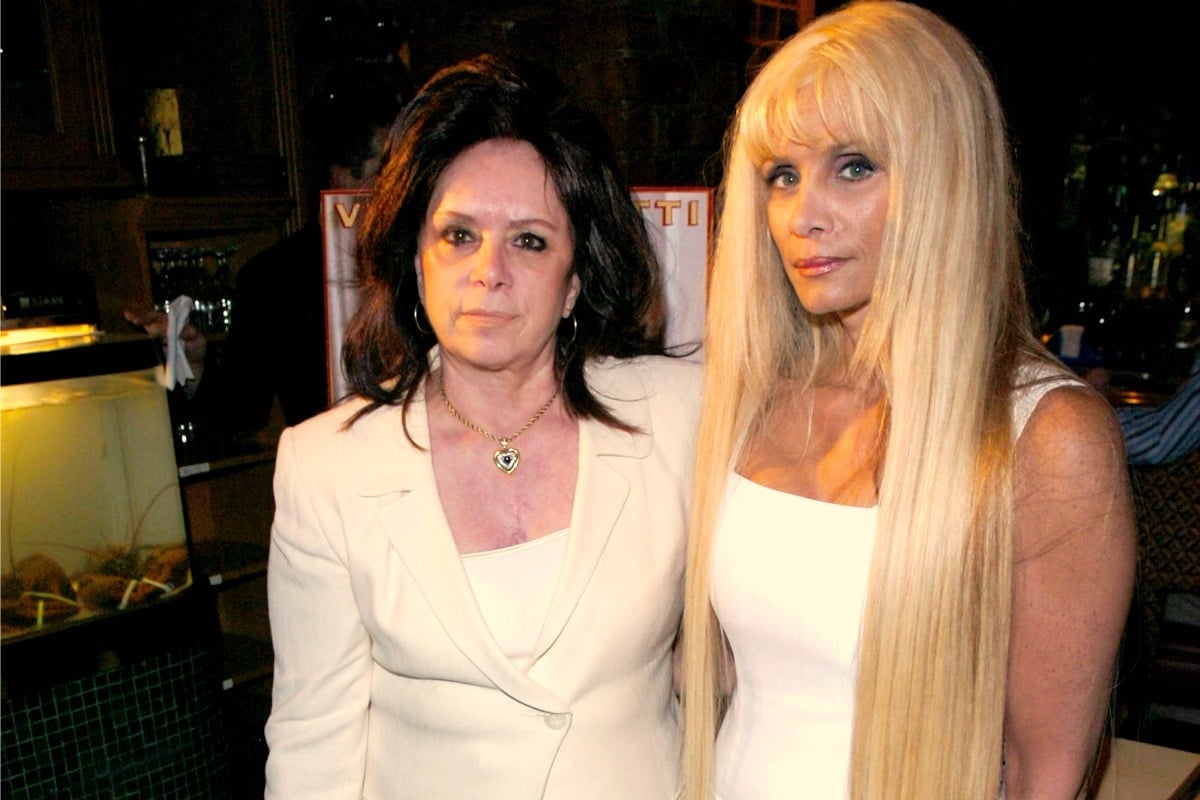 Pop culture and history alike are littered with the names of famous mobsters.
Names such as Al Capone, John Gotti, Machine Gun Kelly and Bugsy Siegel have been splashed across the headlines for decades.
But what about the women who stood beside them, the women who forged their own paths to fearful infamy and the women who wrote their own pages in the history books?
That's the theme of the new movie The Kitchen, a gritty thriller starring Melissa McCarthy, Tiffany Haddish and Elisabeth Moss as 1978 Hell's Kitchen housewives whose mobster husbands go to prison, leaving them to take the reins of their rackets.
It's out August 29, but before you see it, here are the little-known stories of the world's most fascinating, real-life mob wives:
Victoria DiGiorgio Gotti
Victoria DiGiorgio Gotti (pictured above, dark hair) and her family, of both Russian and Italian descent, settled in America for a better life, and as an adult she went on to meet John Gotti at a bar in 1958.
Gotti, who passed away in 2002, was a notorious mob boss and the head of the powerful Gambino crime family. The mob boss was said to be instantly smitten with Victoria when they met and the couple were married in 1962 and went on to have five children together.
From his early teenage years, Gotti was running errands for the mob before rising up to become boss of the Gambino crime family in New York City.
In March 1980, tragedy struck Victoria and her family when her 12-year-old son Frank Gotti was hit by a car driven by the family's neighbour, John Favara.
Four months after Frank's death, Favara disappeared. His body was never found.
Victoria's son John A Gotti, is also a known mobster and followed in his father's footsteps to become the interim leader of the Gambino illegal syndicate. While these cases were reported on in the press, Victoria stood up for her husband and her son during the period of their incarceration, but also at times confronted her husband about withdrawing their son from the crime syndicate – even threatening to leave him.
Today, Victoria still lives in Queens, New York. While she does sometimes give interviews about her life, she has never spoken about her own involvement in organised crime, making her one of the few women in this story who was able to separate herself from the mob life. And hence, why she's the only face we could easily show in this piece.
Maria Filippa Messina
The first woman in Italy to be sentenced to time in a maximum-security prison was Maria Filippa Messina.
She was arrested in 1995, for her association with the Mafia after taking over parts of the criminal organisation from her husband, Nino Cinturino. Nino was jailed in 1992 after he was convicted of ordering the killing of a rival gangster and his mother, according to the book The Mafia: History and Legend. 
Maria was just 26 years old when she took on a role in the Mafia in place of her incarcerated husband. Before she was arrested, it is thought that many other women were also working in the field of organised crime at this time, as confidantes, messengers, go-betweens and unofficial advisers to their husbands and male family members.