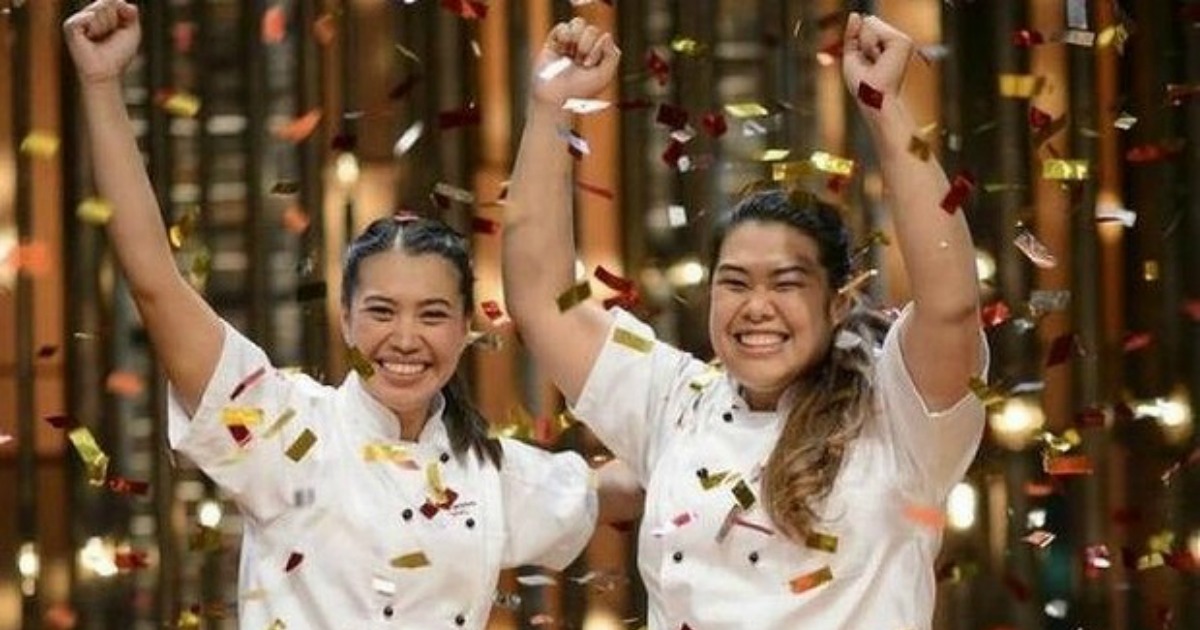 They were the undisputed queens of spice on this season of My Kitchen Rules and on Tuesday night, they took home the crown.
In an interview with Fairfax, the sisters detailed the agonising wait to find out whether or not they had won. The show wrapped filming late in 2015 but the duo only found out they were victorious along with the rest of us on Tuesday night.
Listen to former winners Dan and Steph tell Rosie Waterland and Laura Brodnik EVERYTHING about how it really feels to film a fake ending for MKR, and what you do when you're waiting months to find out if you've won $250,000. Post continues after audio… 
That's right. For those loyal MKR devotees hanging off every high, low and fragment of emotion exposed on the show, many perhaps found the sisters' underwhelming reaction to the win a little disproportionate to their achievement.
But they had good reason. Two good reasons in fact, for that was the number of finales the producers filmed in order to keep the winner of the series well and truly under wraps.
Understandably, Channel 7 aren't thrilled that the viewers know this. According to news.com.au, when the sisters were interviewed on 2DayFM's Rove and Sam following their win, Rove claims Channel 7 publicists "shut (their interview) down" after the radio duo probed about the two endings being filmed.
"Sorry guys but unfortunately we can't talk about any production stuff," the sisters told Rove and Sam.
"Let's just say we only found out yesterday too, but we can't talk about production. We found out the same time you guys found out."
They were more than happy to tell Fairfax how they spent their victorious night, with Tasia saying they enjoyed the night with their family, sharing the excitement, and of course, food.
"We ate but I didn't drink because I thought, 'Nah, I'll drive'," she said. "I really regretted that when I realised we'd won."
Their five-course tour of South East Asia had the judges and their fellow contestants licking the plate. The highlight of each delectable dish? The sauce.
Judge Colin Fassnidge was quick to suggest that the sister's could turn their talent for toppings into a business enterprise, so it comes as no great surprise that they are well on the way to releasing their own brand of sauces.
They began developing the product as soon as filming for the show wrapped, and Tasia told Fairfax they are planning on cashing in on the post-show hype, releasing their line in the coming weeks. "We're just finishing up logos and going over the website," she said.
We wonder if they've been able to agree on their designs. Post continues after video…
Tasia and Gracia will market their product under their own names and have said their will be a mortar and pestle on the logo, "and maybe a couple of chillis". They told WHO they plan on beginning with a range of satays and expanding from there. Yum.
If developing your own line of condiments isn't enough, the sisters also have future plans to open a restaurant. It's not on the cards just yet, as Tasia explains they are still in the early stages of market research.
They're also being frugal with their $250,000 winnings. "We're going to put the prize money towards what we both want," she told Fairfax. Other than a well-deserved holiday and food-tour of Japan (reconnais-sauce, anyone?) they've truly got their eyes on the prize and say they will "try not to spend it except on our dream."