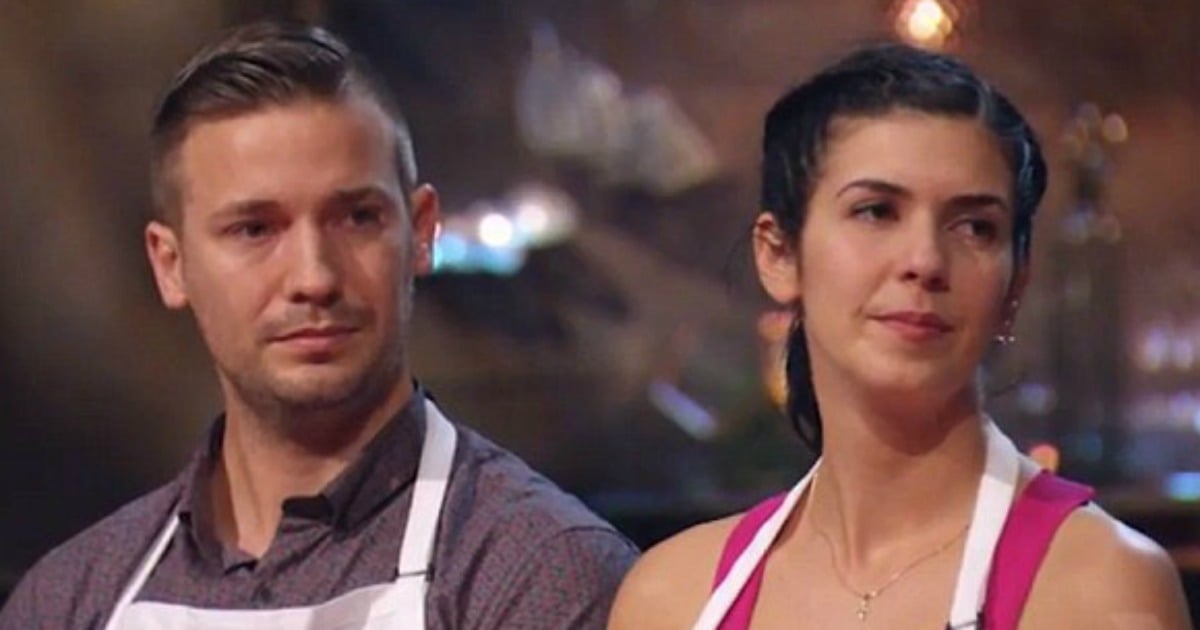 They might be keeping the passion alive, but My Kitchen Rules' resident love-birds JP and Nelly have absolutely no future in the competition.
The besotted pair were swiftly booted from the competition last night after recording a pretty dismal 27 out of 60, two points shy of Queensland miners Alex and Gareth.
The PDA poster-couple have never let a little old thing like a time-sensitive cooking competition get in the way of their lip locking, which according to a host of MKR Facebook followers, might have been part of the reason the pair went home.
When the above clip appeared, the comments flowed. "It's a cooking competition, not a first date," wrote one fan. "Maybe if they stop pashing they might acutally produce a nice meal," suggested another. (Wait, pashing? Is that still a thing?)

With a score of 27, it's unlikely that replacing the pecking with a few more seconds of pot stirring would have been much help.
According to the esteemed judges, their Polish borscht with caraway flat bread lacked texture and their main of roast duck maryland with potato and leek mash and red wine jus was dry and "gluey".
The dessert was slightly redeeming – a white chocolate mascarpone tart with caramelised figs and hints of early grey. Delish, yes, but not enough to bypass the boys.
Colin Fassnidge was unimpressed by what JP and Nelly dished up (post continues after video).
And that's saying something. Alex and Gareth's (unintentionally) raw steak got poor Colin even crankier than usual. "The way I feel about this competition now is that we have two teams who are at neck and neck and not in a good way."
Well, the mop-haired Irishman might cheer up a bit because now we only have to see one of those teams. And a whole lot less kissing.