While the rest of Australia is busy taking aim at My Kitchen Rules judge Pete Evans for being the most dangerous man on TV, there's someone else on the show we should be putting in our crosshairs.
I'm talking about this year's MKR "villain" Josh Meeuwissen. While the self-anointed Seafood King has managed some pretty objectionable behavior all season, tonight he did something so awful I can't believe it even made it onto our screens.
Listen: This is why there's a huge problem with this season of My Kitchen Rules.
Because since when did it become okay to call a woman a slut? And not only to call them that, but then to chuckle as if you've made the best joke of all time?
And yet that's what Josh did to a rival contestant on national television tonight as she handed him a plate of food.
And while we've braced ourselves for it all week thanks to the promos heralding the moment, what I wasn't prepared for was the lack of reprimand that came his way.
Amy Murr – the person he threw the slur at – was visibly shaken. You could see her blinking back tears as she stepped back from the table.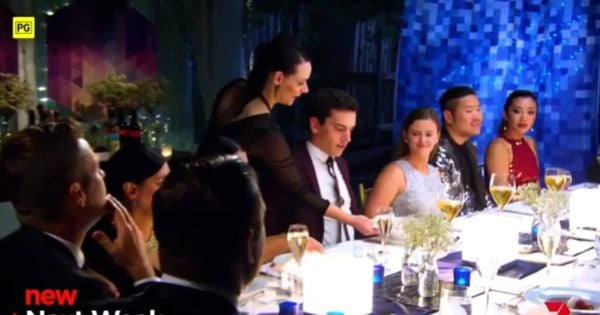 And while we heard voice overs from the other contestants saying Josh's words were reprehensible, no-one stepped up in that moment to say to his face, "Hey, buddy, that's NOT okay."