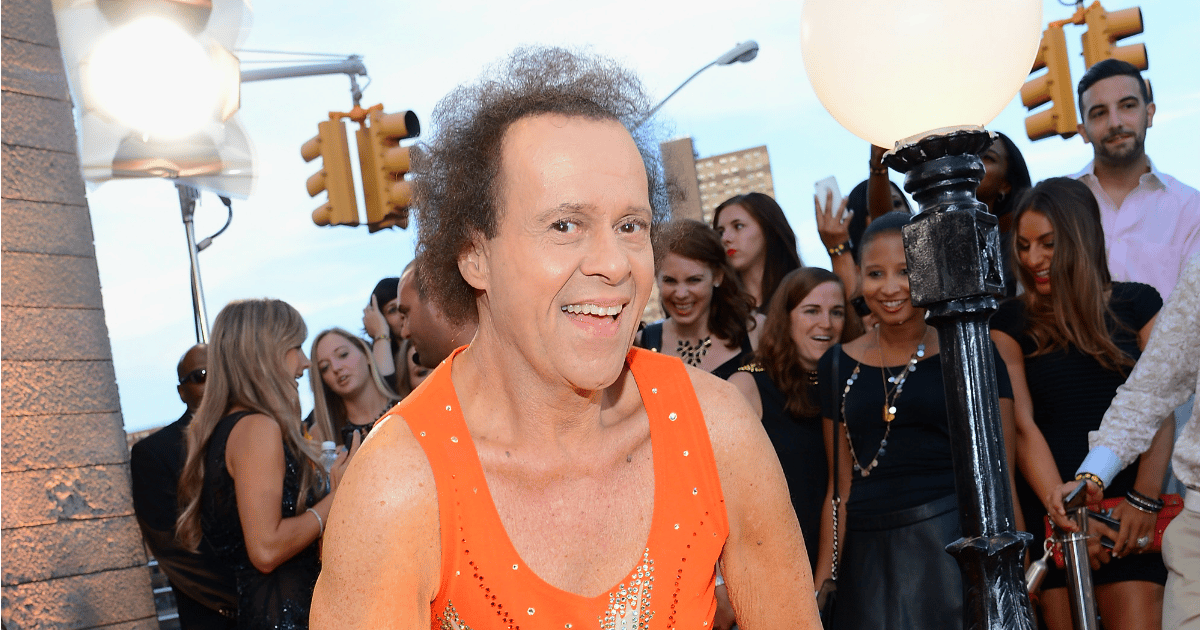 Remember Richard Simmons? Short shorts. Big hair. Tank tops with Swarovski crystals, high-intensity fitness videos, and a manic personality to match. This guy.
He was a prolific media star for decades: publishing twelve books, 36 fitness videos, cassette tapes, records, CDs, as well as running his own fitness studio. He was a favourite for talk shows, appearing on Letterman, The Rosie O'Donnell Show, and scores of others, until he hosted his own Emmy award-winning fitness and health talk show. He was EVERYWHERE.
And then, one day in February 2014, he just didn't rock up to work.
He stopped teaching his regular exercise class, cut off his closest friends, removed himself from the public eye entirely. And now, a podcast series is trying to bring him back into the spotlight.
Missing Richard Simmons is top of the iTunes charts. It's been slated by the New York Times as the next 'cult audio obsession', and people are already comparing it to the most successful podcast to date, WBEZ's Serial. A show with three separate advertisers who are all benefitting from the thousands of downloads, the favourable reviews, a frothing public and media who are desperate to find out where Richard has been. Yes, it's compelling listening. But the vital question here is:  why are we uncovering a man who has deliberately chosen to remain out of the public eye?
Despite the outwardly gregarious personality he displayed on TV and in appearances, Richard was known to be a recluse. A person of few friends. He gave all of himself to the media, but it was known in tight circles that he was carrying some issues. It's been reported that in his tight-knit, warts-n-all fitness class, he would break down and sob. Sometimes multiple times. In those same fitness classes, there was a firm policy of no filming, photos, recordings of any kind. Outside of those four sweaty walls, he would pose for hundreds of pictures, shake hands, kiss everyone.
But what went on in class stayed in class. Until now.
Now, it's all out there. Exposed. Podcast host Dan Taberski was a regular attendee of these exercise classes.  He says he is a 'friend' of Richard's. As such, he is hell bent on finding out what happened. And, as the publicity says "the deeper he digs, the stranger it gets."
I understand that people want to find him, that people want answers. But to commercialise someone's mental health issues, to make money from someone's decision to withdraw from the public eye, seems ethically questionable.
Profiting off people's pain, tragedy and torment is nothing new, you only have to look at the True Crime genre that's currently enjoying a purple patch. But there's something very unsettling about this podcast. Perhaps it's the intimacy of the medium. Or perhaps it's abundantly clear that Richard Simmons does not want to be found, and that his privacy is being violated.
From staking out at his house, to friends speculating on his mental health and private pain, exposing or investigating Richard's personal decision without his express permission feels wrong.
Can we just leave Richard Simmons alone? Apparently not.
Not when social media has created an expectation that we know the intimate movements of every celebrity who ever was. LISTEN: Why we should stop watching Making A Murderer. (Post continues…)
It's not for me to speculate either, but anyone who watches Richard Simmons for longer than three minutes can see the man operates at a manic level.
Anyone that reads his Wikipedia can see he's lived life with that same maniac fervour.
What makes someone withdraw from public life?  It's almost always mental health problems. But speculation is swirling into the nitty gritty details. Did his knee surgery leave him addicted to pain killers? Was his dogs death the catalyst for a spiral into depression? Was he, as reported, being held captive by his housekeeper? Or is he, as favoured by the tabloids, trying to transition?
Either way, it's questionable. I reached out to the makers of this podcast to ask whether the ethical implications of outing Richard Simmons were a factor before they decided to publish this podcast. And, whether psychologist or experts were consulted on risk management aspects.
The production company are yet to respond.
But I hope, like hell, that they did. That this has all been cleared by Simmons himself. That he is a willing party in a story that comes to a logical, safe conclusion. That maybe it's all a re-launch of his comeback, or that as a friend of Dan Taberski, this is his gift; a world-beating podcast that would put his filmmaker and producer friend on the map. And I so hope that this will not be the thing to push him over the edge.
You can follow Monique on Facebook, here.