When the Miss Peru 2018 contestants took to the stage on Sunday, audience members and viewers were expecting them to introduce themselves and share their bust, waist and hip measurements, just like in the years before.
But as each participant stepped in front of the camera for the first time, they shared measurements of a different kind: the alarming facts of how many women in Peru have been affected by violence, while their perpetrators go largely unpunished.
One by one, the women shared alarming statistics about gender violence in the South American country.
"My name is Camila Canicoba and I represent the department of Lima," one contestant said, according to a Buzzfeed News translation.
"My measurements are: 2,202 cases of femicide reported in the last nine years in my country."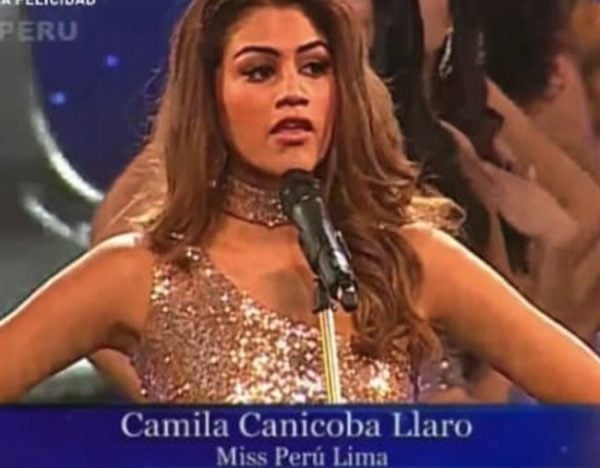 "My name is Juana Acevedo and my measurements are: more than 70 per cent of women in our country are victims of street harassment," said another.
Another shared the alarming fact that "13,000 girls suffer sexual abuse" in Peru.
Las participantes de Miss Perú hicieron algo inesperado cuando les preguntaron sus medidas. pic.twitter.com/XrV8DXM22l

— AJ+ Español (@ajplusespanol) October 31, 2017
Another said that "65 per cent of university women are assaulted by their partners".
It wasn't just the contestants who were staging a protest - the event organisers used the entire night to highlight the plight of women in the country.
The pageant's organiser, Jessica Newtown, a former beauty queen, told Buzzfeed News the decision to make gender-based violence the theme of the 2018 pageant was intended to empower women.
"Everyone who does not denounce and everyone who does not do something to stop this is an accomplice," she said.
In the pageant's Q&A segment the women were asked what laws they want changed to combat the murders of women because of their gender.
Newtown even used the pageant's swimsuit segment - widely criticised as one normally used to objectify women and their bodies - to make a point, displaying newspaper clippings of well-known cases of murdered and abused women as the contestants walked across the stage.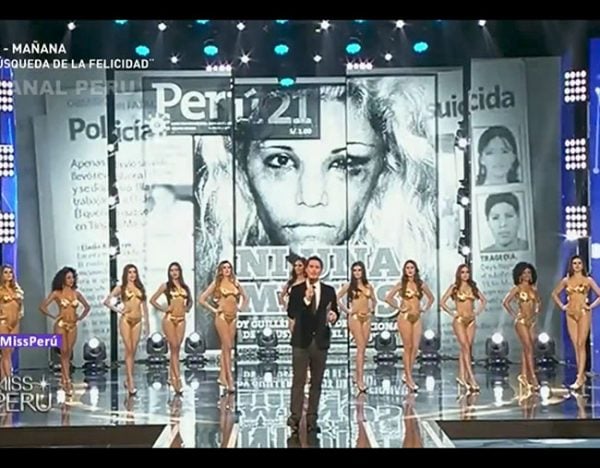 She told Buzzfeed News that the swimsuit competition was also an opportunity to teach the world that women should be treated with respect, no matter what they choose to wear.
"Women can walk out naked if they want to. Naked. It's a personal decision," she said.
"If I walk out in a bathing suit I am just as decent as a woman who walks out in an evening dress."
During a month where women's - and men's - stories of sexual abuse and harassment seem to be being taken more seriously than ever, the world has applauded the pageant for taking a stand against the alarming statistics.
miss peru contestants reciting women's rights statistics instead of their waist sizes is EVERYTHING i am so proud to be a woman

— jo ; vote svt ! (@woonliqht) October 31, 2017
Miss Peru contestants gave data about violence against women instead of their size in their presentation wow ????????????✊

— Philosopher ???? (@selinierastis) October 31, 2017
Mia on the #MeToo movement: "The act of doing something publicly does make a difference".