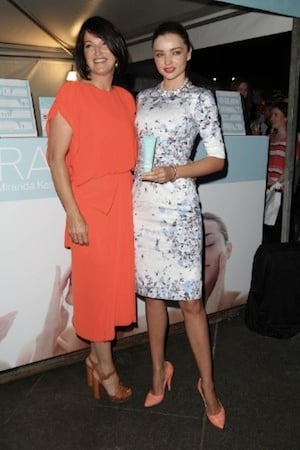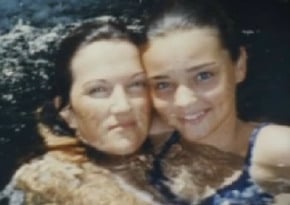 So you might have heard that Aussie supermodel Miranda Kerr's parents are NOT HAPPY.
She never calls, she never writes, they don't get to see their gorgeous little grandson enough. Her Nan hasn't seen her in for ever…
Does any of this sound familar? To anyone who's flown the family nest, left a small hometown for the big smoke, and is maybe living a lifestyle that isn't exactly what their parents had hoped for…  doesn't this all sound very, well, ordinary?
What's not ordinary is that these family grievances were aired all over the national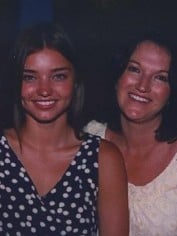 broadcaster last night, as the Kerrs (minus Miranda, obvs) sat down to moan publicly about how their megastar daughter is a bit slack on phoning home on the ABC's Family Confidential.
"We used to talk every day," says Therese Kerr, Miranda's mum. "We've spent most of my life being best friends." Now she just sits on the home stairs and allows a camera to film her texting her daughter.
"I love her to death, I just want to see her more," adds Miranda's younger brother, Matthew, who used to work in the model's 'family' business, Kora Organics.
It's remarkable and rare for a celebrity's family to go so public with what is essentially a passive-aggressive whine about them being cut out of a glamorous life. Not since Bert and Patty went all open book about their troubled son Matthew have we seen an Aussie family drama play out so publicly – and look how well that turned out.
Now, Miranda Kerr gives everyone plenty of reasons to mock her – endless lingerie yoga selfies and inspirational quotes are among them. But you can't help but sympathise with her when her family choose to go on national television to complain about how their gorgeous young daughter has gotten too big for her Balenciaga boots.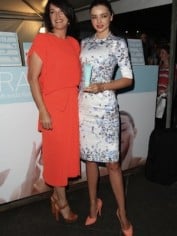 "
Miranda said, 'Now I'm  30, I'm taking control, with all my managers, with everyone,'" moans her Dad, John, who met and married Therese in Gunnedah, NSW, when they were just teenagers.
"Now they're all saying, 'what's happened to Miranda? She used to be this nice little girl we could get to do anything, but now she's like, 'You know what, I'm not doing that any more'."
A 30-year-old woman taking control of her own life and business decisions? Learning to say 'no' sometimes. Isn't that a good thing?
Apparently not. Because the newly single mother is living a life of luxury and privilege in New York. And she should be here, in Australia – preferably in, you know, Gunnahs, where she hasn't been for years.
Nana Kerr, Anne, meets baby Flynn for the first time. The event was filmed for TV.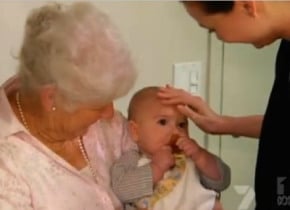 "New York is so far away from Gunnedah, " says Therese, helpfully. "She's missing a lot of things to do with family."
When you're a world famous supermodel who's divorcing and dating movie stars and billionaires, how do you think it feels to have your Dad say, "I wish she was a normal, every day girl. I really do"? That ship, Papa Kerr, has sailed.
It seems doubtful that last night's TV program will advance the Kerrs' cause of becoming more connected to their daughter. But there's always hope.
Although the grandparents haven't seen their grandson Flynn, now 3, for a year, they're hoping Miranda will tire of the high life and come back. "I want to teach Flynn how to milk a cow, ride a horse, all those country things," says John.
Good luck with that.
Need more Miranda? Check out some of her best style moments below.

Do you think Miranda Kerr's family should have gone public with their complaints? How often do you call home?