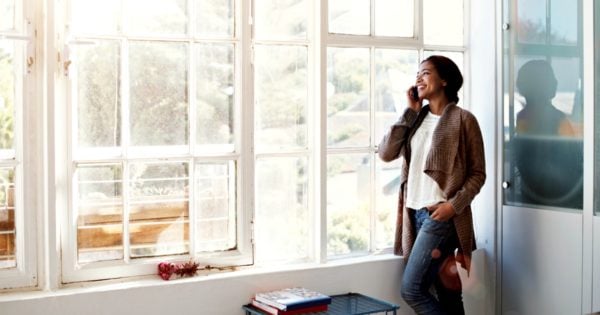 We make New Year's resolutions and spring clean our wardrobes but who says you have to wait for a certain time of year to make new lifestyle choices? They don't have to be drastic to make a big difference – in fact, a holistic overhaul is far easier than you think, no quitting sugar or travelling the world to 'find yourself' involved. We've rounded up nine practical and easy-to-commit-to kick-starting ways to feed your mind, body and soul that you can do right now. We feel better already.
1. Pick up the phone – but not for Facebook.
First thing on the morning, on the train, on the loo, during that meeting… Actually add up all that time spent scrolling through your feed and you'd be shocked at how much time you lose. Instead of passively seeing what your friends are doing online, next time feed your soul by picking up your phone and actually giving them a call. It doesn't have to be long – just a 15 minute catch up will make you feel better and closer than commenting any timeline post will. Just maybe not while you're on the toilet.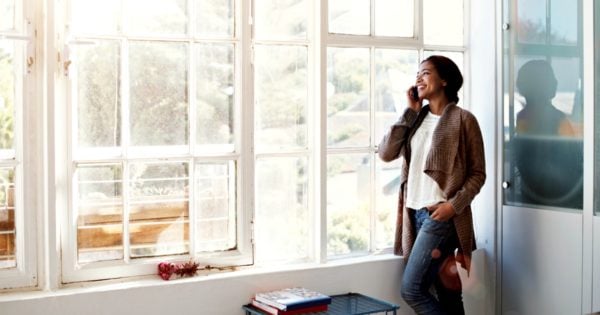 Instead of passively seeing what your friends are doing online pick up the phone and give them a call. Image: iStock.
2. Do one new thing a week.
When it seems like everyone off travelling while you're stuck at work, your everyday routine can seem a little dull. So change it. Make the promise to do one new thing a week and stimulate your mind. It could be as simple as going somewhere different for lunch rather than your usual haunt or taking a weekend away to a town you've never been in, trying a different exercise class or picking up a new hobby.  Change is as good as a holiday - no long haul flight required.
3. Nourish your body with healthy food (but without the hard work).
And no, that doesn't mean hiring a celebrity personal chef. Youfoodz is a fresh home delivery food service with a difference, offering food to fit your lifestyle rather than the other way round. Each week you'll get sent fresh (not frozen) meals made with fresh ingredients from local suppliers. Each dish from the ever changing 60 item menu is prepared by a professional chef (see, you're almost a Kardashian!) and tried and tested multiple times to perfect the recipe.
Whether you want to just save time, eat clean or have strict dietary requirements, Youfoodz has you covered with healthy meals that don't compromise on taste like tuna cakes with kale, pesto and broccoli and a chargrilled lemon pepper chicken that will have everyone drooling. There's no contract, can be delivered within 12 hours and makes grocery shopping and cooking prep a thing of the past, freeing up an estimated 760 hours (or a whole month) a year. Yep, you'll never eat frozen again.