Ashton Kutcher and Mila Kunis are currently celebrating the birth of their second child and baby brother to two-year-old daughter Wyatt, born on Friday.
The Hollywood couple has since announced on his dad's website, A Plus, their son's name is Dimitri Portwood Kutcher.
Pretty great, right?
It's a long step away from Hawkeye, which was a potential candidate for Kutcher after the mascot of his alma mater, the University of Iowa, but apparently, Kunis guided them in a better direction.
However, an eagle-eyed Mamamia reader has pointed out that Dimitri is very reminiscent of one of Kutcher's ex's.
"Bit too close to the ex's name isn't it," one person wrote. 
With another making the connection, "Demitri / Demetria ..... very close!"
If you haven't put two and two together, their new son shares a very close name with actress Demi Moore, who was married to Kutcher for eight years.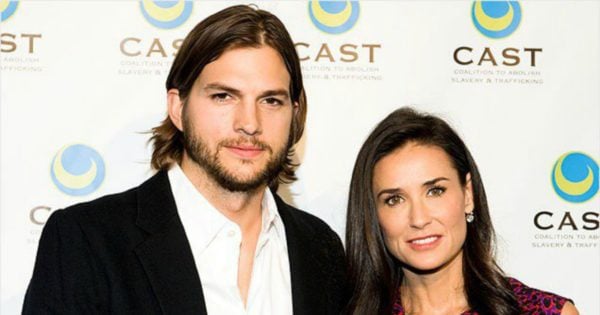 Ashton and Demi, when married. Image via Getty.
Demi is considered to be the English-language female version of the Russian male name Dimitri.
It appears that Mamamia readers weren't the only ones to stumble upon this not-so-slight coincidence. Fans have been rushing to social media to point out the unexpected connection.
Other fans however are saying the name reflects Kunis' Ukranian heritage.
Moore and Kutcher's marriage came to a destructive end in 2011 before being finalised in 2013. There were rumours Kutcher had cheated with a 22-year-old woman as well as reports the divorce was prompted by a financial dispute.