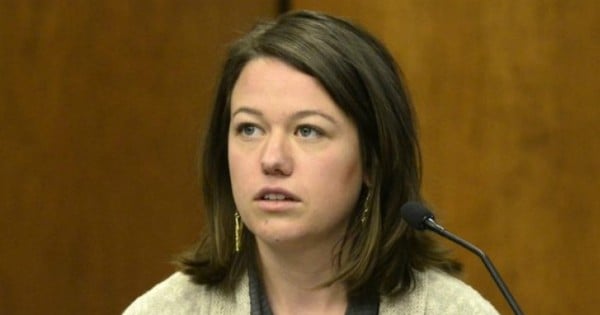 The Colorado woman whose seven-month-old foetus was cut from her womb in a brutal attack has spoken about the experience of losing her child.
In March last year Michelle Wilkins had been busily preparing for life with a newborn when she was forced to confront life having lost one.
"I just felt her presence so strongly," told People magazine about the first time she held her daughter's lifeless body.
"It was really bittersweet because I could feel her and I could sense her but I didn't get to hold her like a normal mother and that is heartbreaking.
"I got to dress her, read to her and sing to her."
Wilkins was at the house of Dynel Lane, a woman she had met on Craigslist, to pick up second-hand baby clothes when she was attacked.
Lane stabbed and choked her until she lost conciousness, then proceeded to cut her unborn baby from her womb.
She had been planning to name the girl Aurora.
Michelle Wilkins answers questions about the day she met Dynel Lane in court:
Wilkins says she panicked when she woke up in hospital the next morning.
"I was trying really hard to keep calm but as the minutes ticked by and the memories started trickling back, I really started to panic," she said.
"The whole time it's dawning on me and getting closer and closer to the real possibility, or the real probability, that Aurora was not alive."
Her partner Dan was the one who broke the news to her.
"The next five days at the hospital were awful," she recalled.