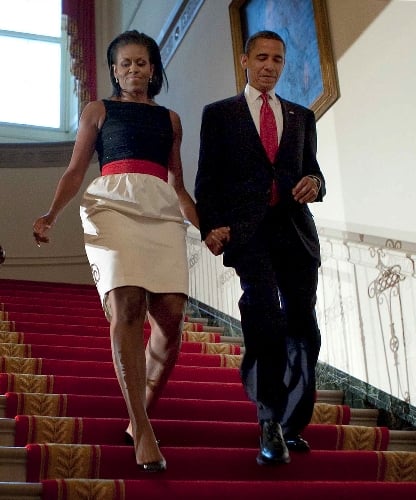 Michelle Obama is a lot of things. She's the 46th  First Lady. She's a successful lawyer. She's a charity ambassador, activist, a loving wife and mother of two girls.
And if you listen to US TV's Dr Keith Ablow, she's also overweight.
Sorry, what?
(Excuse us for a second while we retrieve our jaws from the floor.)
Earlier this week Ablow appeared on a Fox News panel to talk about the idea of reducing childhood obesity rates in America by implementing national lunch standards in school. Reducing childhood obesity is something that Michelle Obama is incredibly vocal about.
It was at that time that Dr Ablow decided to to bring up a topic literally no one else was talking about when he asked his co-hosts: "How well could she (Michelle) be eating? She needs to drop a few. Let's be honest. We're taking nutrition advice from who?"
Things then got even more uncomfortable when he was unable to figure out why the other panellists were "at a loss for words"….
The reaction since has been swift. Twitter users have marked Ablow "appalling" and called him out for "fat shaming". While his own co-host Harris Faulkner replied: "You did not just say that." 
Host Sandra Smith followed on, saying: "Fitness of the first lady aside, her presentation aside, I have no comments on that." 

Rather than dignify Ablow's ridiculous comments by picking them apart word for word, we scoured Twitter and found this succinct gem instead. In 140 characters, Fox News Senior Meteorologist Janice Dean summarised what every woman on the planet right now is thinking:
Dear @keithablow please keep your comments about women "dropping a few" to yourself. Sincerely, all women. #outnumbered

— Janice Dean (@JaniceDean) August 12, 2014
The First Lady has been too classy to comment on the incident.
Ablow has issued a clarification statement. But it's a statement that, quite frankly, clarified nothing at all:
"I'm not taking food advice from an American who dislikes America, who in many photographs during her tenure as First Lady is obviously not fit, and who has a record of saying things that show that she's two-faced," Ablow said Wednesday. "This should be obvious, I don't know why it isn't."
Here's more of Michelle being amazing and classy as always: