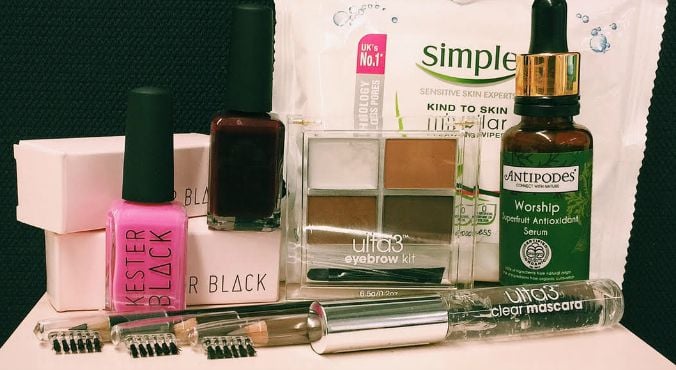 Image: Supplied.
Welcome to the Newness Alert, the place where we share some of our favourite new beauty finds and latest releases with you. Think of it as the behind the scenes look into what we're loving at The Glow desk first, or a sneaky peek into the products we're using everyday.
RELATED:  The Newness Edit: 6 products on our radar this week.
1. Kester Black nail polish
Kester Black have just released two delicious colours for winter, in collaboration with Melbourne based nail salon, Trophy Wife. There is a shiraz red shade, called Narcissist, and a bubblegum pink colour, Arm Candy.
RELATED: 5 Melbourne-based beauty brands The Glow loves.
The company is environmentally friendly, cruelty free and Australian made. I actually can't rave about their nail polish more. And the two new shades are available now at $20 each. You can buy them here.
2. Simple Micellar Cleansing Wipes
RELATED: What is 'micellar water', and does it work? (Spoiler alert: Yes, yes it does.)
Being able to swipe a wipe over your face and have clean and makeup-free skin in 10 seconds flat? I'm sold. Simple's Micellar Cleansing Wipes are an effective and gentle way to remove makeup.  The cleansing wipes are made with millions of gentle bubbles trapped within soft layers of the fabric, which help to lift off the dirt, oil and makeup, and work really well, even on my sensitive skin. The wipes are $7.99 and you can buy them at Priceline and supermarkets.
Take a look at the rest of the products we've had our eye on this week...
The latest products The Glow team love.
What new products are on your radar this week?