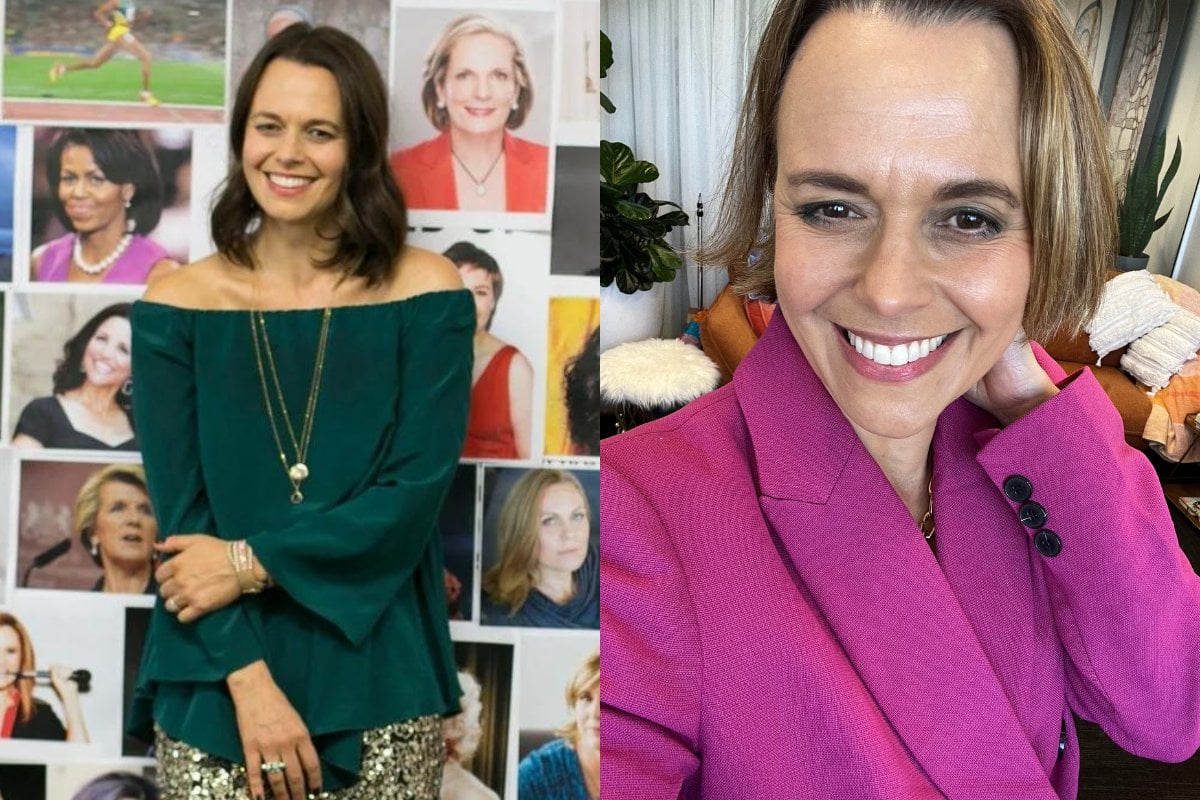 "This is bullshit," I muttered darkly to my friend Paula as we sat in the cinema eating popcorn and watching a movie called The Intern.  
Anne Hathaway was starring as a 20-something who had started a fashion business in her bedroom and grown it into a large company.
Around that time, Girl Bosses were having a moment thanks to a book called…Girl Boss, written by a woman called Sophie Amoruso, who started selling second-hand clothes on eBay from her bedroom and built a huge fashion business called Nasty Gal.
Hence the inspiration for the character.
In the movie, Anne Hathaway is wrestling with the board of her company who want her to appoint a CEO to run the business. She is resistant because she doesn't want to 'lose control' or 'be pushed aside'.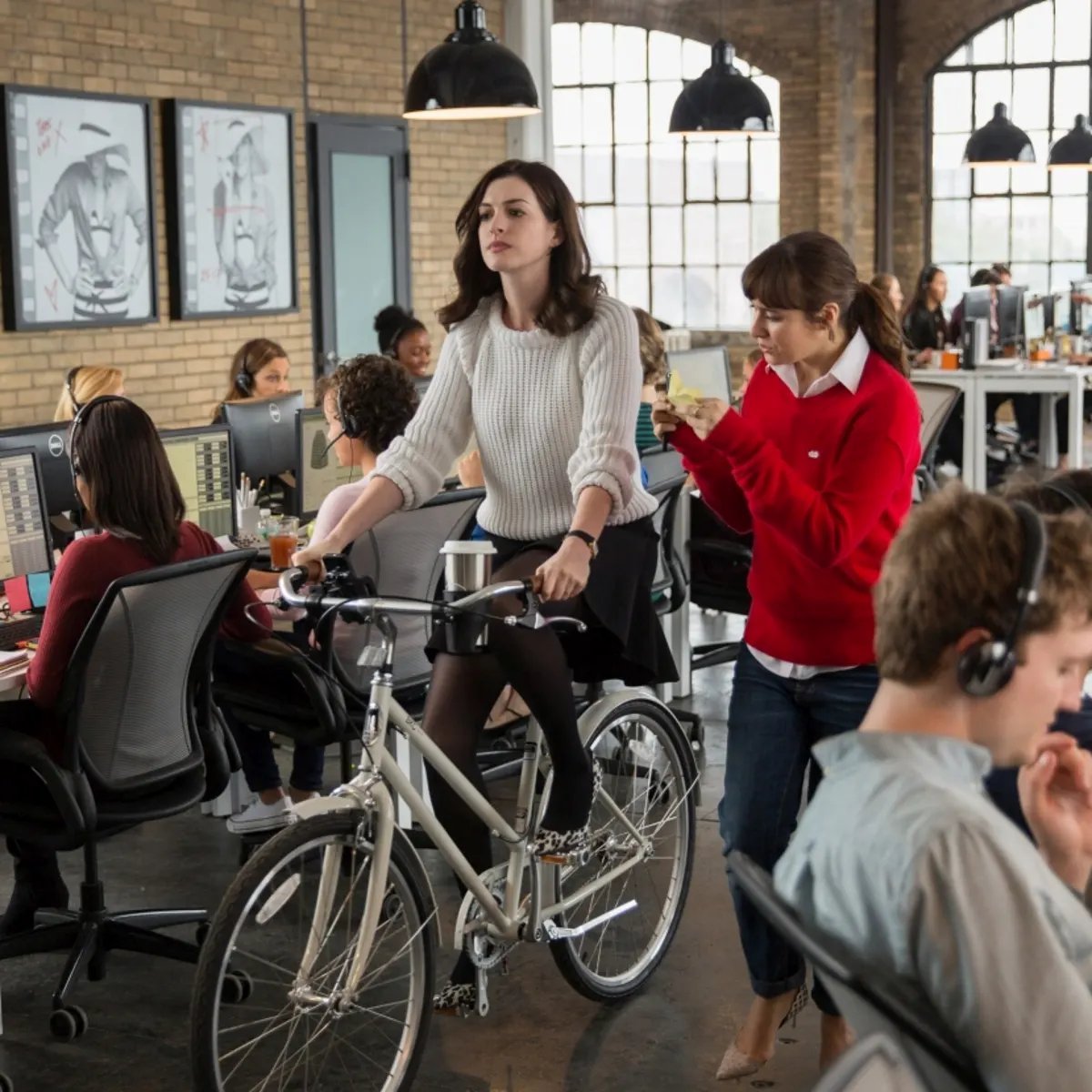 Anne Hathaway in The Intern. Image: Warner Bros.
This is fair. She's the founder. She knows some stuff. She shouldn't be sidelined. But that doesn't mean she should remain the CEO.
The unlikely 'intern' in the movie is Robert de Niro who is part of a seniors' work experience program. 
Through the course of the movie, he became Hathaway's mentor and encourages her to fight to retain her role as CEO of her company with lots of "nobody knows your business as well as you" and "you've got this" pep talks.
After briefly standing aside, by the end of the movie, Hathaway is back in her power seat as the CEO which was the Hollywood feel-good ending everyone wants.
Except me. I was massively pissed off. I wanted to stand up in my seat and shout, "Just because you started the company that doesn't mean you're the best person to run it!"
Because it's true. And it's the reason I will never be the CEO of the media company I started in my own bedroom, 15 years ago.
This month, Emily Weiss, the founder and CEO of a huge American beauty company called Glossier, made an announcement. 
Eight years after founding her business which is now worth more than a billion dollars, she was replacing herself with a new CEO. It was a thoughtful, considered announcement that she made via a blog post on the Glossier website. 
Explaining that she would now take the role of Executive Chairwoman, Weiss wrote: 
"A founder is a forever identity, one that starts with a kernel of an idea and never ends. I will always be Glossier's founder. But a CEO is the champion that a company looks to, to lead it into tomorrow. From my observation, the greatest companies in the world understand this distinction and make sure that the CEO seat is always filled with the right person to take it where it needs to go for its brightest next chapter."
'Smart', I thought. 
'Bullshit', crowed the media.
There was a predictable and dispiriting run of snarky headlines about the 'death of the Girl Boss' and breathless speculation that Glossier was in trouble; that Emily Weiss had someone failed. The schadenfreude was palpable and someone please brew me a chamomile tea because I am livid.
First of all, there was no Girl Boss era because so few women - or girls - are bosses. Still.
It just happens that we know the names and stories of the teeny handful of high profile ones. 
Secondly, may I please present some evidence to the ladies and gentlemen of the jury about male founders who stayed too long as CEO:
WeWork founder Adam Neumann (have you watched We Crashed?)
Uber founder Travis Kalanick (have you watched Super Pumped?)
Spoiler alert: things didn't go well for those companies and both men were forced to resign, kicking and screaming. There was no self-awareness and no orderly transition.
Both companies suffered enormously.
The reason for this is because the person who starts the company is rarely the best person to grow the company past a certain point.
There are some really good reasons for this but I'll summarise it in single takeaway: the qualities and skills that make you a good founder are different to the qualities and skills of a good CEO.
Self-aware founders know this to be true.
It takes a lot of passion to start a business. 
Often but not always, it's born from the personal passion or expertise of the founder. For example, I have always been obsessed with making content for women and I'd done it for 15 years before I started a blog for women, where I wrote, edited, designed and published every post myself. I was all over everything because there was nobody to delegate to.
I didn't know what I didn't know (i.e: everything other than content) and my naivety made me brave and optimistic during that startup phase.
I worked bloody hard. I got traction. But after about a year and a half, I stalled and by stalled I mean almost collapsed. 
The skills it took to make content that women loved were different to the skills required to monetise the work I was doing for 18 hours every day, seven days a week.
I didn't know how to do a business plan. I had no plan other than to grow. How was I going to grow? By writing more content that would reach more women.
Except that wasn't a growth plan. That was a plan to burn myself out. Which I was well on the way to doing after 18 months when I'd made no money, was working around the clock and had just had my third child.
That's when my husband - who had decades of business experience as an entrepreneur - offered to come on board as my co-founder. I said yes immediately.
It felt like being thrown a life raft. And things got rocky within days of us agreeing to work together and build Mamamia into a business.
The first thing he said to me which got my back up was this: "Babe, you are the single point of failure for Mamamia."
It would not be the last thing he said to me that would get my back up. At first, my back was up more often than not. 
This is because as a founder, you have woefully little perspective on what you're doing or how you could be doing it better. 
By necessity, in that startup phase, you are deep in the weeds all the time. You have to be or your business won't grow. 
There comes a time, however, when you're not the best person for that job and your value to the sustainability and growth of your business - even its very survival - can depend on bringing in someone else to free you up to add value in the way that only you, as a founder, can.
For Mamamia, the two job descriptions we loosely drafted for ourselves at the start, remain the same 15 years later.
Jason is the CEO, responsible for all aspects of the business. The money, the strategy, the growth, the operations, all of it.
And I am the Chief Creative Officer, responsible for the DNA and the creative execution.
I could not do his job. And he could not do mine.
Had I not been married to my co-founder, I would have had to appoint a CEO before I could have scaled up Mamamia because I genuinely had no idea how to do it or what scaling up even was. And to be honest, I had very little interest in learning. I still can't read a spreadsheet or sit through a strategy day.
What drives me is the creation of content and the execution of ideas.
This is not new.
My whole career I've spent years climbing ladders at work and then looking around near the top and taking years to studiously clamber my way back down. I am happiest on the ground in our business, in the weeds. Making things happen. Starting things, not growing them.
Moving us forward creatively in a very specific and limited way.
And I don't say limited to be self-deprecating. I'm really, really good at what I do and I know that. I'm proud of that. But the part I'm good at, the skills I have, are 10 per cent at most of what it's taken to turn Mamamia into the largest independent media company in Australia. 
The other 90 per cent of skills belong to our CEO, our senior leadership team of 13 people and our staff of 130.
At first, when it was just me and Jason and a small handful of employees, my ego wanted to be the CEO. The boss. 
I quickly realised though, that I really didn't want to be the boss. And if I tried to be, I would run our company almost immediately into a ditch. You can add value as a founder without being the boss. 
My friends who are founders feel the same way. Zoe Foster Blake is not the CEO of her company, Go-To. Kate Morris is not the CEO of her company, Adore Beauty. Camilla Franks is not the CEO of her company, Camilla.
We all have enough self-awareness to know that we are not the best people for that job.
We are all confident in what we bring to our brands and we're also confident enough to know what we are unable or unwilling to bring.
So next time you read about a female founder 'stepping down' or 'exiting' as CEO, don't believe the bullshit about it being a backwards step for either her or her business.
In almost every case, it's the opposite.
Want more content from Mia Freedman? You can find all her articles here. 
Feature Image: Mia Freedman/Supplied.
Love all-things beauty? Take this short survey now to go in the running to win a $50 gift voucher!
UNLOCK
Unlimited access to the best content for women