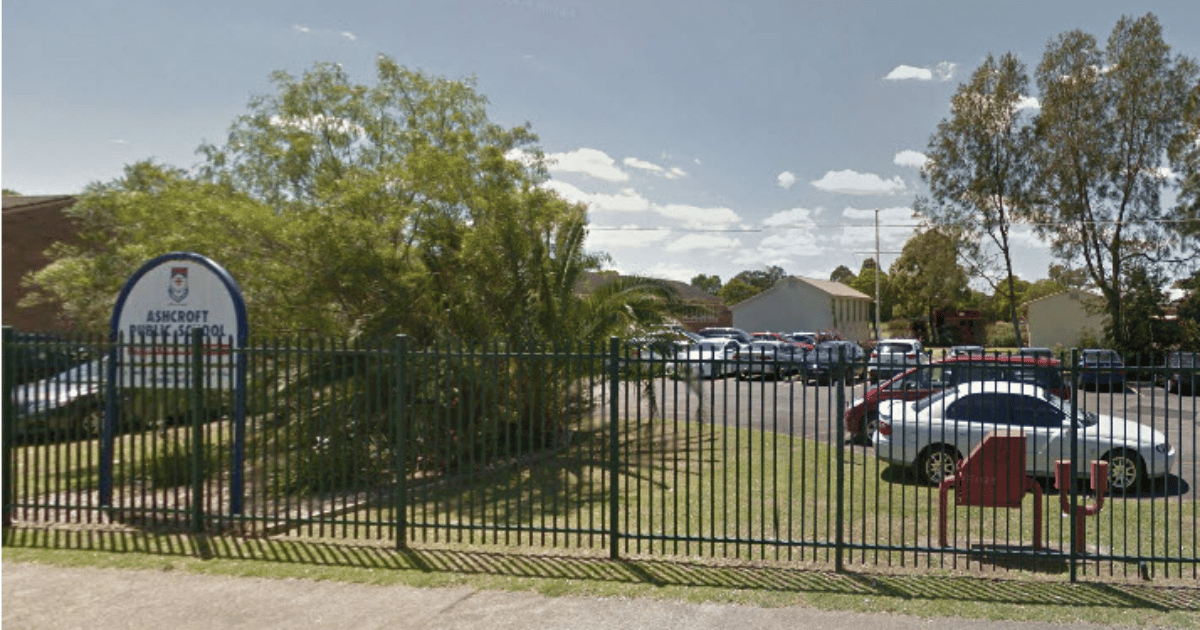 A 10-year-old girl managed to fight off two men who tried to grab her on her way from school yesterday.
The girl was walking near Ashcroft Public School in Sydney's south-west, when a van pulled up next two her.
She told police that the man in the passenger seat spoke to her, before both men got out of the car, grabbed her around the mouth and on the arm.
The girl managed to fight off the men by biting and kicking them to make them release their grip.
She then ran to a nearby friends house before running home, at which point the van continued to follow her, parking outside her house.
The incident was reported on Sunrise this morning:
The girl guessed the first man to be in his late 30s or early 40s and described him as Caucasian in appearance, about 180-185cm tall, bald, clean shaven, with blue eyes and of a large build.
He was wearing a red t-shirt and black shorts, and has the letter 'C' tattooed on the back of his neck.
She said the second man was darker and thinner, about 30-years-old and 170cm tall.
He had short curly black hair, brown eyes and was wearing a long-sleeved red and blue-coloured striped shirt and dark-blue tracksuit pants.
He also had a tattoo with the letters 'COT' outlined in red ink running down one arm.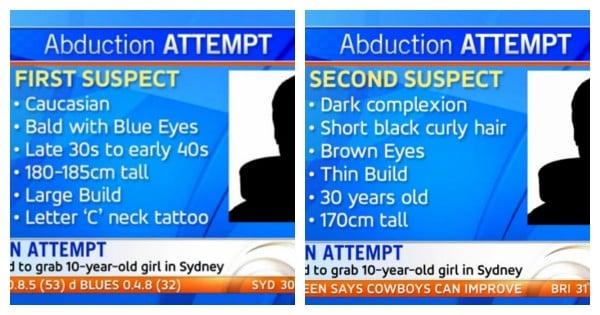 The police are appealing to the public for information and have also released a list of safety tips for parents to discuss with their children:
– Make sure your parents or another adult you know knows where you are at all times.

– Always walk straight home or to the place you are walking to. Walk near busier roads and streets, or use paths where there are lots of other people.

– Know where safe places are – a shop, service station, police station, library or school. If you are ever frightened, you should go to one of these places and ask them to call the police.

– Learn about safe adults you can look for and talk to if you need help – police officers, teachers at school, adults you know and trust.

– Don't talk to people you don't know and never get into a car with someone you don't know. If a car stops on the side of the road and you don't know the person inside, do not stop.

– If you are scared and can use a phone, call 000 and tell them you are scared.

– If someone tries to grab you, yell out, 'Go away, I don't know you'. This lets other people know you have been approached by someone you don't know.
Police are urging anyone who can identity either man, or has any information to call Crime Stoppers on 1800 333 000 or use the Crime Stoppers online reporting page.
*Feature image via Google Maps.