Well, it's that time of year again: Spring is upon us.
Days get longer, birds chirp louder, and thousand of punters descend on Flemington Racecourse for the annual racing carnival with all its fascinators, frocks and frivolity.
Yet since last year's Melbourne Cup, as many as 116 race horses have died on Australian tracks. That's one every three days. With that in mind, if you're thinking of saying 'nup' to the Cup tomorrow, but are worried you'll miss out on all the riotous fun, we've put together a list of animal free alternatives for your Tuesday afternoon.
Consider it your how-to guide to Spring racing with, ah, none of the actual racing. A bit like packing your own veggie burgers for a BBQ with your meat-eating relatives.
1. First things first, get dressed up.
For a lot of people, Spring racing is as much about the outfits as anything else.
Whether you have a public holiday or not, you can definitely get all fancied up. Wear a ball gown to the supermarket or impress your work colleagues by turning a manila folder into a makeshift fascinator. You could even rub sand paper on the soles of your feet so it feels like you've been stomping around in heels all day.
2. Pop a bottle of champers.
Look, there's nothing quite like the feeling of freedom that comes hand-in-hand with drinking too much champagne on a Tuesday.
Crack a tinnie in the park, fill a drink bottle with cheap red wine to sip it at your desk* or hang out in a dingy pub. Ah, to feel alive!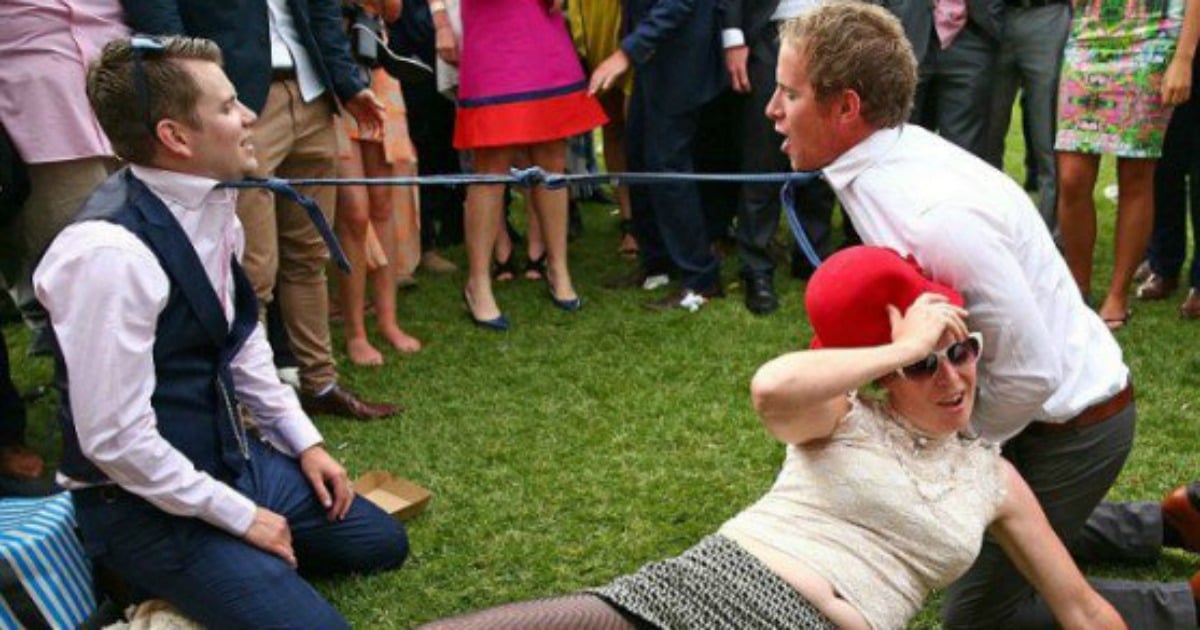 Such fun! Source: Getty
3. Pitch a tent.
If you have your heart set on a marquee, why not make your own?
Pitch a tent in the backyard or tie a tarp between some trees and invite your friends and family over. Cultivate an air of exclusivity by deliberately not inviting three or four members of your friendship circle, then flood social media with pictures of your neighbour's cavoodle in a tiny hat. They'll just die of jealousy.
4. Go celebrity spotting.
Every year, the who's who of reality TV rub their shoulders (and occasionally their groins) with shipped-in international celebrities in corporate marquees.
But you know what? There are plenty of other places you can spot the vaguely famous. Why not take the official Neighbours bus tour? Or visit Revolver Upstairs on a Sunday morning? Now that's glamour.
Image: Getty
 5. Have a yell at your TV.
For those who enjoy the excitement of the race itself and just want to have a good old yell at their television sets, there are plenty of ways around this one too. Watch old YouTube clips of Trump rallies, or tune into Q&A tonight and you'll be screaming at the box in no time.
6. But what if I love watching drunk people embarrass themselves?
Well that's easy, this is Australia. Just hold out until the weekend and visit literally any popular night spot in the country.
Or if you can't wait that long, skull that whole bottle of champers before heading into the office and you'll easily humiliate yourself in the morning meeting. Plus in the age of smart phones, someone will film you and then you can just watch it back on Instagram as often as you like. See, easy!
7. Throw some money in the bin.
If you just love placing a bet or going in the office sweep, why not throw a wad of cash in the rubbish bin instead? For some added adrenaline try doing it from the window of a fast moving car. Or play the pokies, if you must.
8. Or try one of these...
In all seriousness, though, there are plenty of animal-friendly ways to spend your day. Go to the cinema, take a trip to Ikea or catch up on your Netflix... Clean your bathroom, even.
Otherwise if you do have the day off work and none of the above options appeal to you, the Coalition for the Protection of Racehorses has also organised a series of events with profits going to animal-friendly causes. You can check those our here.
And worst comes to worst, if you get an overwhelming urge to look at over-the-top hats, just do a quick Google image search of Jamiroquai.
*Mamamia does not endorse drinking at work.