1. Meghan Markle's family are apparently offended by comments made by Prince Harry.
In the latest installment of the 'Markle Family Drama', Meghan Markle's brother has suggested that his father will be extremely "hurt" by Prince Harry's comments.
In case you missed it, good ole' Harry basically said the royals were the family Markle "never had".
The Markles, of course, are the family she did have and they're a lil' bit peeved at this comment.
"My father will be extremely hurt, actually," Thomas Markle Jr told the Daily Mail.
"He dedicated the majority of all his time and everything to her. He made sure she had what she needed to be successful and get to where she's at today."
Markle's estranged sister, Samantha Grant, who never misses an opportunity to be offended was also, erm, offended.
"Our household was very normal and when dad and Doria divorced, we all made it so it was like she had two houses," she explained on Twitter.
"No one was estranged, she was just too busy. Meg's family (our family) [sic] is complete with sister, brother, aunts, uncles, cousins, and the glue of our family, our amazing completely self-sacrificing father.
"She always had this family… Marrying merely extends it. She has a large family. She always did. Our dad is amazing and completely self-sacrificing."
Fun times.
2. Ummm… are Stu Laundy and Sophie Monk engaged?
Stop: In Sophie Monk's latest Instagram story, we swear we just heard Stu Laundy describe her as "my bride".
The two are spending their holidays skiing together in Canada, and during a video filmed by Laundy, where Monk and her best friend Oscar Gordon are performing a dance routine with a scarf (obviously), Laundy's voice clearly says, "so proud of my bride".
WHY.
LISTEN: Sophie Monk Says Don't Sleep With Someone Too Soon. Post continues after audio…

Monk continues to dance, not batting an eyelid at the term.
We have so many questions, such as: Is Stu joking? Is this some sort of in-joke? Is it a reference to the scarf? WHAT IS HAPPENING.
3. The top grossing actor of 2017 isn't who we expected.

Forbes has released a list of the year's biggest box office earners and topping the list was… Vin Diesel.
Yep, 2003 called and it wants its sex symbol back.
It turns out 2017 was a bloody good year to be Vin Diesel, he made a whooping $US1.6 billion ($A2.2 billion), mostly for his part in the Fast and the Furious franchise.
The eighth installment, Fate of the Furious, was released this year and it topped $US1.2 billion ($A1.7 billion) at the international box office.
Diesel also earned some serious moolah as the voice of Groot in Guardians of the Galaxy Volume 2 and for his role in xXx: The Return of Xander Cage. 
So, ah… can we have a loan pls?
4. Rebel Wilson shared a nostalgic video of one of the Barden Bella's first Pitch Perfect rehearsals.
Pitch Perfect 3 finally hits cinemas in Australia on Monday and Rebel Wilson is feeling all nostalgic.
The Aussie actress broke her social media detox to share a video from rehearsals for the first movie where it all begun.
"Okay I know I'm supposed to be on social media holidays but @therealannacamp texted us Bellas this super early rehearsal video from Pitch Perfect 1 back in 2011 and it brought up so many memories," she wrote.
"And look at how far we've come since this vid. Although we're not performing "full out" here as it's just a learning video for us to revise overnight."
Explaining the pink and black clothes, Wilson said they were the "chosen colours that day, we used to sync our clothing colours."
All together now (in tune)... Naw.
5. A very special guest is visiting Sydney for next year's Mardi Gras.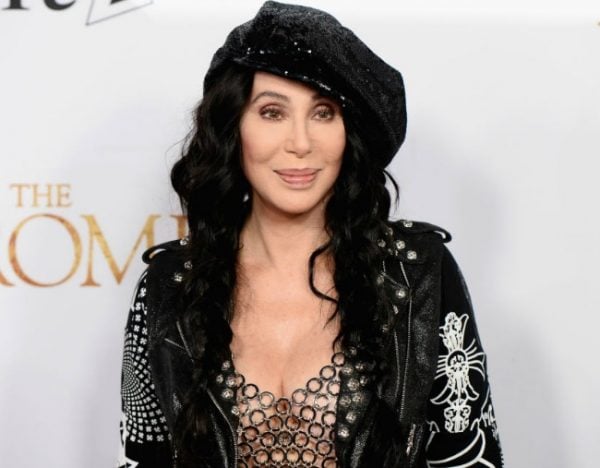 Cher is coming to Sydney for Mardis Gras 2018.
At least, that's what everyone has decoded her latest emoji-ridden tweet to mean.
OK….. YOU BOYS????KNOW WHERE I'LL ????IN MARCH
✨????✨#PutSomeShrimpOmTheBar????
????????

— Cher (@cher) December 30, 2017
"Ok You boys know where I'll be in March #PutSomeShrimpOnTheBarBee," the 71 year old tweeted earlier this morning.
Fans promptly went into excitement mode.
"OH! MY GOD!!!!! after I put her on my 2018 mood board no less!! We love you Cher!," tweeted one user.
It appears to reasonably confirm earlier rumours that the singer would attend the 40th anniversary of the event. It's been nearly 13 years since Cher last performed in Australia.
Previous big acts to perform at the celebration include Cindy Lauper, George Michael and Kylie and Danni Minogue.