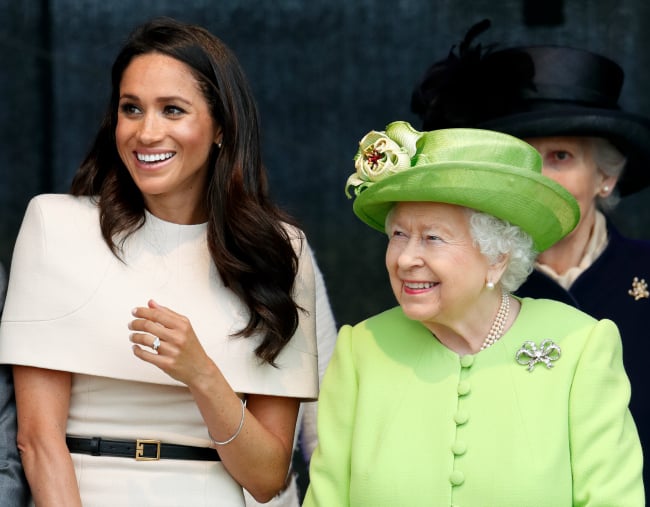 Love the royals? Catch up on all things Prince Harry, Meghan Markle and the rest in our royal hub. It's a blast.
Meghan Markle turned 37 yesterday, August 4, marking her first birthday as a royal with her new official title the Duchess of Sussex.
To pay tribute and show public support for their new family member, the social media accounts for the royals posted sweet messages to Markle, wishing her well wishes on her special day.
The first posting came from the Kensingtion Palace accounts, who according to Elle represent Meghan Markle, Prince Harry, Prince William, and Kate Middleton. To their Twitter and Instagram accounts they shared a photo thanking the public for the plethora of birthday messages the Duchess of Sussex has received.
"Thank you everyone for your lovely messages on The Duchess of Sussex's birthday! #HappyBirthdayHRH," the offical Instagram account captioned the photo, alongside a photo of Markle at a previous event.
The Royal Family social media accounts, who represent Buckingham Palace, including Queen Elizabeth II, similarly posted a photo to their profile to mark the occasion and send their own special message to Markle.
"Happy Birthday to HRH The Duchess of Sussex! #HappyBirthdayHRH," the Royal Family captioned this photo.
For this message, they chose a now-iconic picture of Meghan Markle sitting next to Queen Elizabeth II at a ceremony, looking very happy in each other's company.
The last tribute came from the Clarence House platforms, who represent Meghan Markle's parent-in-laws, Prince Charles and Camilla. The account shared a sweet photo of the three of them together.
‪"Wishing HRH The Duchess of Sussex a very Happy Birthday,‬" read the caption of the post.
Perhaps one of the sweetest messages Meghan Markle will receive on her birthday, however, is the letter that she wrote to herself on her 33rd birthday in 2014, which she posted to her blog, The Tig, at the time.
"I am 33 years old today. And I am happy. And I say that so plainly because, well…it takes time. To be happy. To figure out how to be kind to yourself," Markle began the blog post.
The post continued to explain that it took a while for Markle to be comfortable in her own skin, but that she had attained happiness once she realised "I am enough".
"That five pounds lost won't make you happier, that more makeup won't make you prettier, that the now iconic saying from Jerry Maguire -'You complete me' – frankly, isn't true. You are complete with or without a partner."
For her birthday this year, the Duke and Duchess of Sussex attended the wedding of one of Harry's childhood friend's, Charlie Van Straubenzee.