Proven by the likes of Kate Middleton and Jackie Kennedy, once you become anyone remotely royal/presidential, you also become a fashion icon by default.
Women everywhere will worship everything you wear, have once worn, or will probably wear in the near future, no matter the what the piece actually looks like. It doesn't help that most items these women wear are so darn beautiful, classy, and frankly… pricey.
Honestly, looking like a princess is our bank account's worst nightmare.
Listen: Meghan Markle's Christmas is about to get very interesting. (Post continues after audio…)
Although not officially a royal until next year, Meghan Markle remains no exception to having her fashion closely followed by us prying members of the public. The actress, humanitarian, and soon to be wife to Harry attended a Christmas lunch at Buckingham Palace just yesterday, showing up to the occasion wearing a dress that had women everywhere scrambling for their wallets.
Introducing the "Nightshade Midi Dress": a short sleeved, intertwined black and white lace dress with a solid black collar and crepe skirt.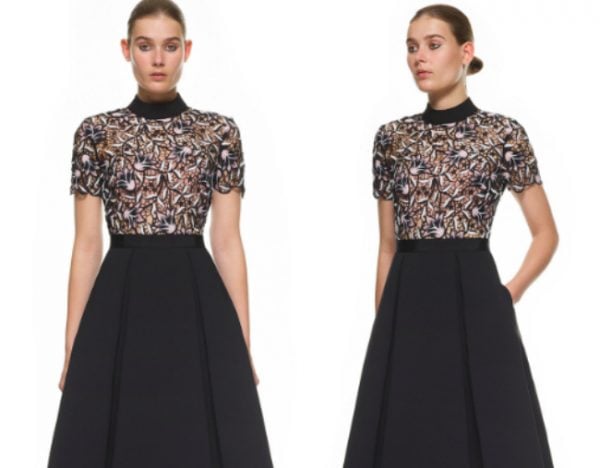 Priced at £180 pounds – that's AUD$314 – the dress has, very expectedly, sold out after Meghan's recent outing.
The dress worn my Meghan was purchased from London based label Self-Portrait, a brand that is no stranger to the royal family. Kate Middleton donned the same label just last year, and surprise surprise, it too sold out almost instantly.
Listen to the full podcast here: