Before she was catapulted to unprecedented levels of fame for her relationship with Prince Harry, and before she graced so many screens as the much-loved Rachel in Suits, Meghan Markle was just like any other actor in pursuit of making it big.
For Markle, the pursuit of making it big meant making ends meet, and making ends met meant she once starred on game show Deal or No Deal as yes, you guessed it, a briefcase model.
It was 2006, and Deal or No Deal was in its second season. Markle was making ends meet with auditions for film and TV roles on the horizon, and so, Deal proved to be a solid fit to make some cash.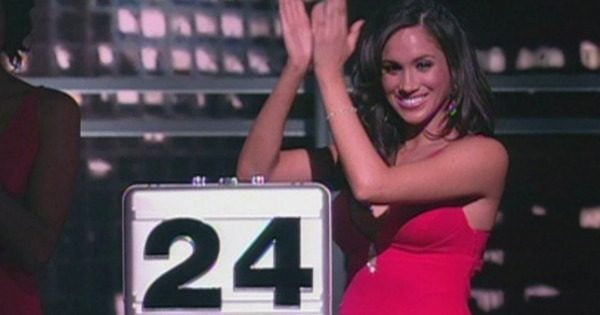 Talking to Esquire about the gig in 2013, Markle was reluctant to revel in her time on the show.
"I would put that in the category of things I was doing while I was auditioning to try to make ends meet," she told the magazine.
"I went from working in the U.S. Embassy in Argentina to ending up on Deal. It's run the gamut. Definitely working on Deal or No Deal was a learning experience, and it helped me to understand what I would rather be doing.
"So if that's a way for me to gloss over that subject, then I will happily shift gears into something else."
She also added she never held that winning briefcase, either.
"I didn't ever have it. I don't think I did. I was the ill-fated number 26, which for some reason no one would ever choose.
"I would end up standing up there forever in these terribly uncomfortable and inexpensive five-inch heels just waiting for someone to pick my number so I could go and sit down."
Five years after appearing on the show, Markle would land her role as Rachel Zane on Suits, and the rest, as they say, was history.