Meghan Markle has been hurled into the spotlight since her engagement to Prince Harry was made public last Monday.
Certainly, there is public interest in the life of the 36-year-old actress. Who she is, and where she comes from, and how she will fill her role as English royalty are details we'd all like to know. She likely understood this when she said 'yes' to marrying the grandson of the Queen of England.
Separate to this public interest, however, are the stories of doubt and criticism from people who claim to know the soon-to-be-royal well.
There is her estranged half-sister Samantha Markle who's writing a 'tell all memoir' and spoken publicly about Meghan's relationship with Prince Harry causing a 'rift' within the family. As you do.
And now, there's a former best friend Ninaki Priddy, who has crossed a line. She has known the Suits star since they were two-years-old and spoken in-depth to the Daily Mail about all the ways fame has "changed" her childhood friend.
There is none of this coverage regarding Prince Harry, of course. It's celebrating the happiness of other women that people seem to find so difficult.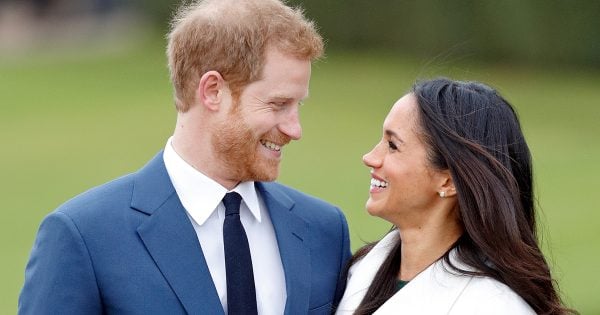 Priddy was Maid of Honour at Markle's wedding to Engelson in 2011. She told the Daily Mail how the then 30-year-old bride "literally shone with happiness" during her destination wedding at Ocho Rios in Jamaica.
"It was an exciting time, this was the man she wanted to have children with," Priddy said.
The marriage didn't last and the pair divorced two years later in August 2013.
"It was such a shock when she told me they were getting divorced," Priddy said.
"I knew they fought sometimes, but it wasn't anything huge. The only obstacle was the distance because she was living in Toronto and Trevor was based in LA."
Priddy went onto say she wouldn't want to 'betray' someone she's known for so long, but that "Trevor definitely had the rug pulled out from under him. He was hurt".
It's a detail that sounds suspiciously like a betrayal of Markle.
Jessie thinks Meghan Markle and Harry's Wedding is a waste of money. Post continues below.

Priddy spoke about Markle 'changing' after the success of Suits, and implied this led to the collapse of her marriage to Engelson as well as their friendship breakdown.
"There's 'Meghan Before Fame' and 'Meghan After Fame'," Priddy said.
We have excluded some of the more salacious comments. But trust us when we say that by the end of her account, you're left feeling queasy.
It's clear there's animosity between Priddy and Markle, and it seems unsavoury that Markle wasn't given the right of reply.
But it also feels as if you've opened the door on an argument that is none of your business. Something private and murky that shouldn't have been made public.
All of us have experienced relationships that have fallen apart, and friendships which have faded.
Markle didn't know, when she was marrying her love in 2011, that the story of their relationship would be heard by the world years later. Or that her marriage might fall apart at all.
She didn't know, when she spoke to her friend about divorcing Engelson in 2013, that the conversation would be relayed in a way that she'd have no control over. In a moment that should be joyous.
As we read and watch on, it's important to remember: Markle's past is hers and hers alone. The people coming out with stories that shame her, have their own motivations also.
And, when it comes to Markle's previous marriage, only two people know what really happened: Markle and Engelson themselves.
For everything Prince Harry, Meghan Markle and the Royal Wedding, visit our Royal Wedding hub.