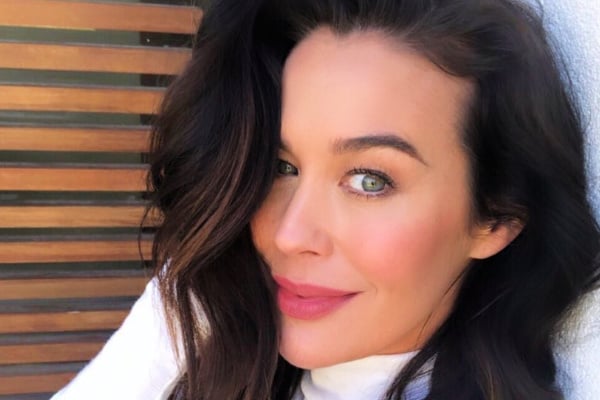 Content warning: This post deals with grief and miscarriage and might be triggering for some readers.
Megan Gale admits it's fair to assume her life is glitzy, glamorous and impenetrable to the pain and struggles of 'everyday people'.
Scroll through her Instagram and you'll see images from the hundreds of magazine covers and fashion campaigns she's fronted over the years, as well as her two beautiful children with her partner, 2019 Australian Survivor star and former AFL player, Shaun Hampson.
But even 'famous people' have to deal with real life crap. And when you're navigating the lowest of lows, it's done in public.
WATCH: Megan Gale speaks about her experience of miscarriage, post continues after video.
Something you might not know about Gale, who now runs lifestyle brand Mindful Life, is she miscarried in 2016 while juggling her job as a host on Australia's Next Top Model and parenting a toddler. And when it was time to go in and have her D&C (dilation and curettage procedure to remove the lining of a woman's womb), a woman from the clinic recognised her.
Speaking to Mia Freedman on Mamamia's No Filter podcast, Gale said the physical aspect of miscarrying was just as hard as the emotional toll.
"At nine weeks, it's hard and not nice. And not just going through the grieving process and how heartbreaking it is, even just as a woman, going through the physical side of it… and when you're in the public eye, it's another thing," the 44-year-old from Perth said.
"I remember sitting there getting ready for the procedure and I had the lady saying to me, 'oh you live in my area, do you know where's a good place to go get a spray tan? I can't wait to tell my daughter I met you today'. I thought, really? I'm about to have [a procedure].
"I couldn't even speak, I was so vulnerable and shocked, and I wasn't ready to talk about it publicly. It was so fresh, so for someone to acknowledge me, know who I was, where I lived and tell her daughter about me, it added to the ball of emotions swirling at the time."