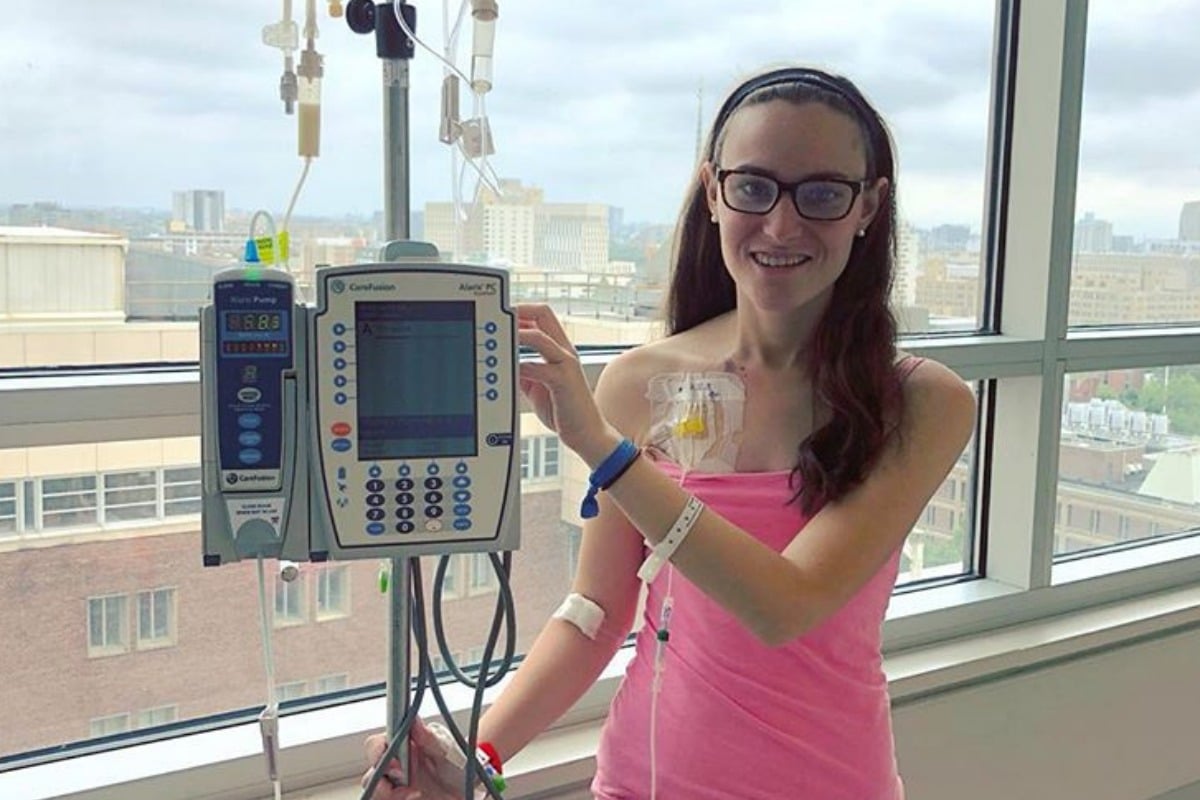 Sara Cohen doesn't have a favourite food in the traditional sense.
Eating food doesn't evoke pleasant memories for her, she finds food stressful. Because Sara can't remember the last time she ate without pain.
Instead, the 22-year-old from Pennsylvania associates food with memories. She loves Thanksgiving for example because it means her extended family and friends are all together.
Sara has something called Median Arcuate Ligament Syndrome (MALS), it's extremely rare, and has put her in and out of hospitals for more than seven years.
MALS was represented on an October 2018 episode of Greys Anatomy. Post continues after video.
"But my symptoms have been present for as long as I can remember and I noticed I was different to my peers in middle school because I had to work harder to keep up," she told Mamamia.
Her diaphragm sits too low, pressing into her arteries and nerves making them inflamed. It makes eating excruciating.
Her disease is so rare, Sara sat through 342 doctor's appointments being told she had anorexia, when she didn't.
It was decided nothing was 'physically wrong' with her despite the unexplained crippling pain, fatigue, and extreme weight loss. She was diagnosed with an eating disorder and told it was all in her head.
"Then why does it hurt so much when I eat," Sara recalled herself saying through tears, in an article she wrote for Love What Matters.
"I was ignored, mistreated and labelled 'non compliant' something I have come to call the most deadly word in medicine," she told Mamamia.
"They got in my head, and tried to replace my reality with their own.
"That incorrect label they gave me was essentially a death sentence, but I didn't know that until I saw it from their side," she added.
Three years later her symptoms were in rapid decline, and so her family sought yet another opinion.
It was Dr Abdallah in Herndon, Virginia that changed Sara's life in August 2017. After dozens and dozens of tests he was able to find a diagnosis – MALS. He also declared it was treatable with surgery.
"It took 342 clinic appointments, 12 ultrasounds, 33 scans, 2 nerve biopsies, 3 outpatient procedures, 119 IV blood raws, 12 emergency room visits, 2 surgeries and 45 days in the hospital to find a doctor with the right tools to address my unique symptoms and find a treatment," wrote Sara.
She has had both laparoscopic and open surgery, but is still unable to eat enough orally to sustain herself like other post-op MALS patients.
"My surgeon has a 92% success rate, but due to my years of misdiagnosis and incorrect treatments my recovery is expected to be extremely long," she explained.