We've all been at work, no lunch packed, it's 11:57 on the clock and our mind is racing.
KFC, Hungry Jacks, Sumo Salad, Jack Greens – the options are unlimited, but you're trying to be healthy. Though the convenience of how cheap and quick these fasts food are make the decision all that much harder, until you finally cave and you're sitting there with Susan, eating a Whopper with cheese for lunch.
So how do you avoid this situation? How do remove the stress of deciding what to eat during the week?
We all lead busy lives, whether you're a full-time mum, worker or student, it can often be hard to cook all your meals, especially lunches and dinners. Without having a plan in place, you increase your chances of eating junk or convenience foods.
Financial planner Canna Campbell shares how you can save on your weekly grocery bill. Story continues after audio. 
My way of dealing with this is to PLAN, PLAN, PLAN. Before meal prepping, the first thing you need to do is a plan.
Make sure your cooking load is manageable, ensure you know how many meals/days you're prepping for and how many meals you need.
I recommend prepping for Monday through to Wednesday on a Sunday night and preparing for Thursday through to Sunday meals on Wednesday night.
A meal plan is essential – this allows you to further break down your meals into ingredients. Of course, pick a plan that suits your lifestyle and consists of foods and meals you actually like to eat.
Once you've got this in order you can start preparing your week.
Not only will this help your wallet and stop you from spending crazy amounts on lunches at work, may also help your waistline, too.
Meal prep doesn't always have to be the entire meal either. Little hacks like pre-chopping your veggies, preparing breakfast the night before, or freezing sauces and soups in bulk to save you time are all great ways to stay on track.
I thought I'd also share one of my most popular meal prep recipes.  This is what I call a 'meatball meal prep' which has rice, meatballs and an amazing fresh salsa. It is super easy to make and the meatballs can be made in bulk and frozen.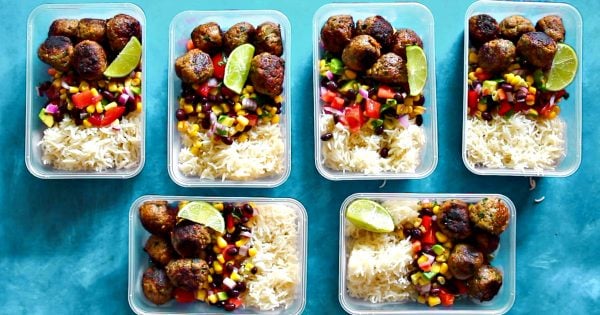 Meatball Mix:
Ingredients:
600g Lean Beef Mince (uncooked)
1 Zucchini, grated finely
½ brown onion, grated finely
2 tbsp parsley, finely chopped
2 tbsp mint, finely chopped
¼ cup carrot, finely grated (1 small carrot)
1 tsp. salt
1 tsp. pepper
1 cup of breadcrumbs
2 eggs
1 tbsp. olive oil
Directions:
1. Add mince, zucchini, carrot, onion, garlic, mint, eggs, breadcrumbs, salt, pepper and parsley to a bowl and mix thoroughly.
2. Once mixed thoroughly, place mix in the fridge for 30 minutes.
3. Using roughly a tablespoon of mixture at a time, roll the mixture into small balls.
4. Heat a large fry pan over medium-high heat and coat with olive oil.
5. Add meatballs to the pan and cook for 6-8 minutes or until browned and cooked through.
Chicken stock Rice:
Ingredients:
1 ½ Cups of Basmati rice (uncooked) (washed thoroughly)
3 Cups/1L Chicken Stock
1 tablespoon butter
½ a brown onion, finely diced
4 whole pimentos all spice
3 whole cloves
Directions:
1. Preheat a deep pot over medium/high heat. Once hot, add butter to the pan and let melt for 1 minute.
2. Wash basmati rice thoroughly until water runs clear.
3. Into the pot, add cloves, all spice and onion to the pan and cook until onions are translucent.
4. Add the basmati rice to the pan and mix thoroughly for 1 minute.
5. Add the chicken stock to the pan and continue to mix thoroughly.
6. Add a lid to the pot and wait until stock comes to a boil. Once boiling, turn to a low heat and set a timer for 12 minutes. Once times goes off, use a fork to seperate the rice.
Bean and Corn Salsa
Ingredients:
½ avocado, diced
½ lime, squeezed
½ red onion, finely diced
2 tomato, diced
1 400g can of corn kernels, drained
1 400g can of black beans, drained
Directions:
1. Add all ingredients to a large bowl and mix thoroughly.
Leah Itsines is a a self taught cook who loves to eat. She's on a mission to help you make the best nutritional decisions that support your lifestyle through the use of creativity and inspiration in the kitchen.
Do you have any handy meal prep tips? Share them in the comments.