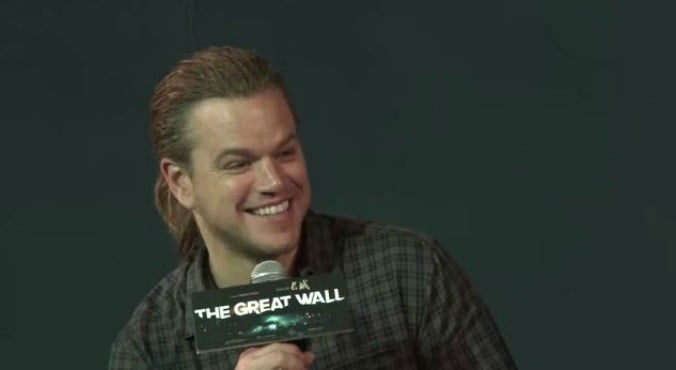 Image: Youtube.
We haven't seen much of Matt Damon since Interstellar came out last year. He's been keeping a pretty low profile, so we imagine he's just been busy filming movies and raising his four children. You know, the regular 'Hollywood star' stuff.
However, what we didn't suspect was that he'd also spent that time growing his hair. A lot.
RELATED: Jared Leto just cut off his luscious merman hair.
At a press conference in Beijing yesterday, the 44-year-old teamed blue jeans and plaid shirt with an accessory we've never seen him wear before: a ponytail. And not just a little stub, either — I'm talking a golden, flowing affair with an enviable natural wave. Here's the Damon-tail in all its glory, from a number of angles. (Post continues after gallery.)
The photos of Damon's hair have sparked a lot of chatter in The Glow's office this morning. Questions and conspiracy theories have been tossed around like confetti at a wedding.
Join us as we unpack the delicious mystery of this bold new look.
1. Is Damon using the power of his follicles to take the heat off Ben Affleck?
The two actors have been close for years — remember Good Will Hunting? — so it's probably hard for Damon to watch his mate going through such a highly-publicised (and let's admit it, shocking) divorce right now.
It's also universally agreed Matt Damon seems like a decent guy; you know, the type who would grow a ponytail as red herring to draw the media's harsh spotlight away from his best friend's divorce. Right?
2. Can hair even grow that long in the space of six months?
This is Matt Damon in January this year. Note the closely-cropped hair: