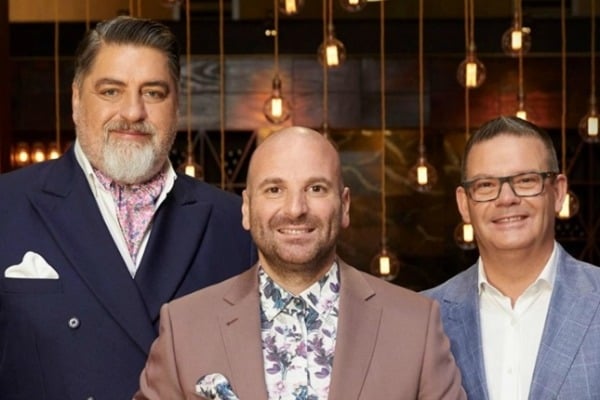 Last week, after over a decade on our screens, Network 10 announced that judges Matt Preston, George Calombaris and Gary Mehigan would be leaving MasterChef Australia.
To fans of the long running cooking show, the news of the judges' sudden departure came as a shock.
After all, the three men had appeared on screens in Australian living rooms for 11 highly successful seasons.
But while the news was a shock to viewers, the downfall of the MasterChef judges began well before an official announcement was made.
Side note – MasterChef just made dessert sushi a thing. Post continues after video.
Speaking to the Sydney Morning Herald, crew from the show shared that they first sensed something wrong at this year's wrap party, when the latest season of the show finished filming.
"We were texting each other afterwards, wondering if we'd have a show to come back to next year," one attendee told the publication.
"To us, it [George, Gary and Matt's speech] felt like an unofficial goodbye speech."
So how did Matt Preston, George Calombaris and Gary Mehigan become the biggest names in television and how did it all go so wrong?
The Spill is Mamamia's daily entertainment podcast that catches you up on everything you need to know in the entertainment world. On this episode, why the MasterChef judges really left. Post continues after audio.
George Calombaris
After finishing high school, George Calombaris enrolled in culinary studies at TAFE in Melbourne.
While building up his skills, the young chef went on to work as an apprentice at the Sofitel Hotel in Melbourne before he earned the opportunity to work at Sofitel's Le Restaurant. It was here that Calombaris met sous chef and fellow MasterChef judge Gary Mehigan, launching a friendship for years to come.
After his time working at Sofitel and a brief stint in France, the then 24-year-old was named Young Chef of the Year while working as the head chef at Reserve Restaurant in Melbourne.
Calombaris eventually decided to go out on his own, launching his own restaurant called The Press Club in 2016.
After starting his own restaurant, Calombaris became a celebrity chef in his own right when he was named among the 40 best chefs in the world, but it wasn't until a stint on daytime television that the chef was scouted for MasterChef Australia.
Calombaris was offered a role to judge the competition after appearing on a slew of episodes of Ready, Steady, Cook, where the chef teamed up with ordinary people to produce inventive dishes.