We are weary.
We have no doubt that real, actual, legally binding marriages, have begun and ended in the time this season has been on television.
We both sort of have headaches and feel like it's not not the fault of Married at First Sight.
But none of that matters.
Listen to Clare Stephens and Kelly Glover recap the finale of Married at First Sight. Post continues after audio.
Because tonight there's a goddamn reunion and Scarlett isn't attending because she maybe definitely got chased by a producer after the dinner party last night and we know because police got involved and we read about it in a very trustworthy magazine that also said Jennifer Aniston is pregnant with triplets. Obviously.
But we would still very much like the experts to EXPLAIN WHERE SCARLETT IS PLS.
They mention that she's decided not to come and that it has something to do with the fight she had with Cheryl. The one where they just yelled "DARLIN'" and "SWEETIE" a lot and then a producer stole Scarlett's purse which was uncalled for.
Oh.
So it becomes clear pretty early on that this episode will take the form of just… more formalised flash backs.
The experts talk to each couple individually, but mostly they just watch footage that not only have we already seen, but these people were literally present for. Jesus f*cking Christ.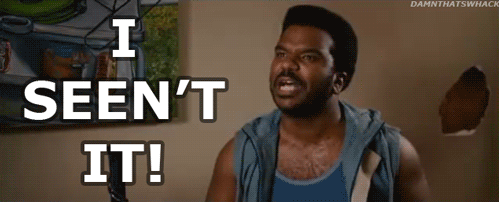 The experts begin by awkwardly asking, "Sharon, how do you feel?" "But Simon... how do you feel?" and we want to die.
Then they ask about Anthony's reaction to Nadia the moment he saw her standing at the end of the aisle. Because that's what you want to talk about it when you broke up like three minutes ago.
Anthony says he felt relief because she was beautiful, and he realised he "had a good sort".
Cool.
Nadia starts crying and walks out of the room, because she remembers that she was rejected by someone who referred to her mother as her "nana" moments after they met, and who frequently wears loafers with no socks. It's painful for her.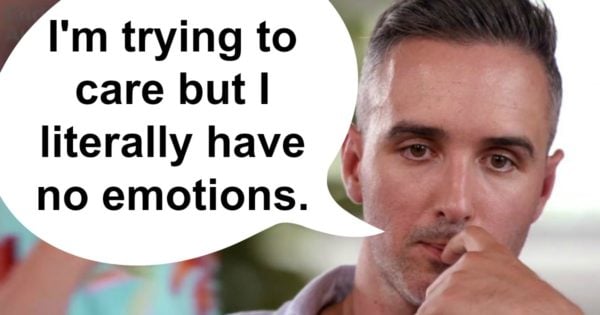 Anthony doesn't care because other people's emotions are inconvenient but also irrational.
She quickly returns because as hard as tonight might be, there is no f*cking way she is missing out on the gossip. Not even Anthony can take that away from her.
The first 'couple' to speak to the experts is Michael who seems oblivious to the fact that Scarlett is not in attendance.
Look. All we want to know is if Michael had a good night's sleep given that he left the dinner party at 8:23pm before the cupcakes were even served.
Was it worth it, Michael? You well rested? Get to the gym in this morning, mate?
But there's another issue... it's...
MICHAEL IS SWEATY AF AND WE DON'T KNOW WHY.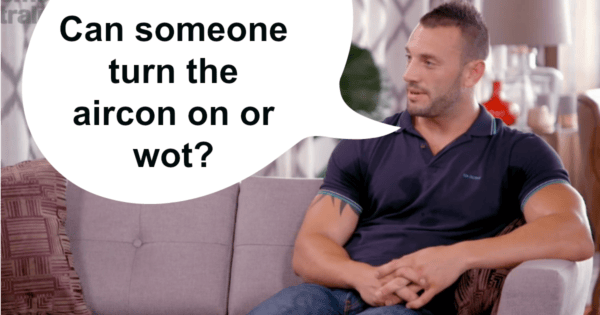 We're not trying to be critical it's just... why don't they put the air con on? Like Michael is really hot. We're legit worried for his health. He seems real... tired. Which is unusual given he was in bed by 9pm last night. At the latest. 
Moving on.
Next is Deb and John and John Aiken wants to know how it felt to not be Polynesian enough for your fake wife; a feeling that we all know too well.
"When Deb saw me she was bitterly disappointed I s'pose," John reflects, and Deb eagerly nods in agreement.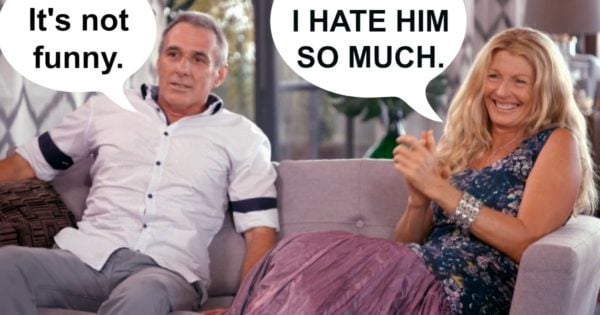 Deb explains she didn't just want someone from the Polynesian Islands - that would be ridiculous. She wanted someone from the Polynesian Islands, with Italian heritage, from Canada or Texas. THAT'S IT THAT'S ALL FFS.
What she says is so problematic we choose to give no comment.
Furthermore, John is dripping with sweat to the extent that it brings it up. WHY IS IT SO HOT JUST PUT THE AIRCON ON JESUS.
Oh. And Michelle and Jesse watching Deb and John on camera are literally all of us.
Now it's time for Jono and Cheryl and we're reminded of the TEXTING SCANDAL.
Two weeks into their relationship, Jono and Scarlett started textin', and when asked if he regrets anything, Jono says no. He insists that speaking with Scarlett was just the same as talking to the 'bruthahood', which tbh, sounds a bit... terroristy? Can we say that?
Anywho.
Simon and Alene are clearly in love and that's all fine.
As a side note, everyone continues to sweat more profusely than we've perhaps ever seen on television.
SHHH STOP IT'S ANDREW AND CHERYL PLS. IT'S THE BOIZ NIGHT FOOTAGE. THEY ARE GOING TO SHOW IT ON THE SCREEN. WE'VE WAITED OUR WHOLE LIVES FOR THIS MOMENT SHHHH.
John Aiken casually brings up the boiz night and how Andrew said Cheryl had been "misinformed".
Oh.
But there's footage. LESS TALKIN' MORE WATCHIN' PLS.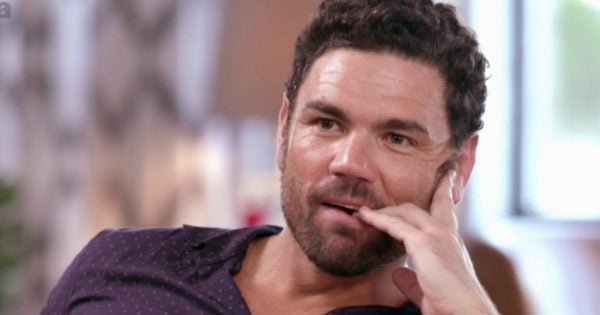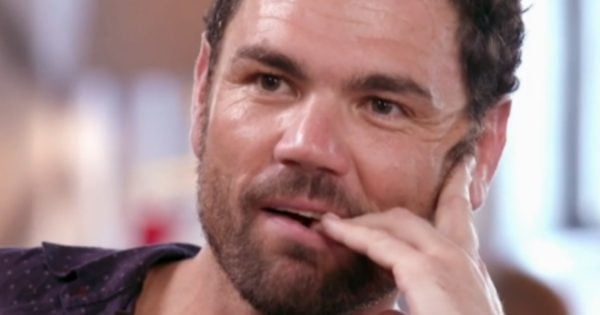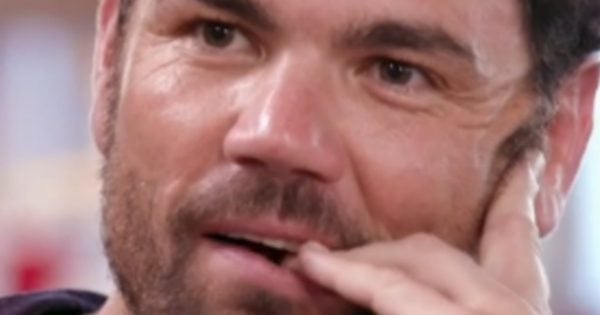 As John Aiken goes to play it, Anthony says, "mate don't worry about it," and omg shut up Anthony this isn't about you. You ceased to be relevant when you broke up with Nadia. 
Highlights include when Andrew insinuated he looked at Cheryl's boobs when he speaks to her, when he said she only talks about the Kardashians and hair extensions, and his comment that he wishes he'd stuck with his first bride because she was way more fun to hang out with.
People's reactions are... priceless.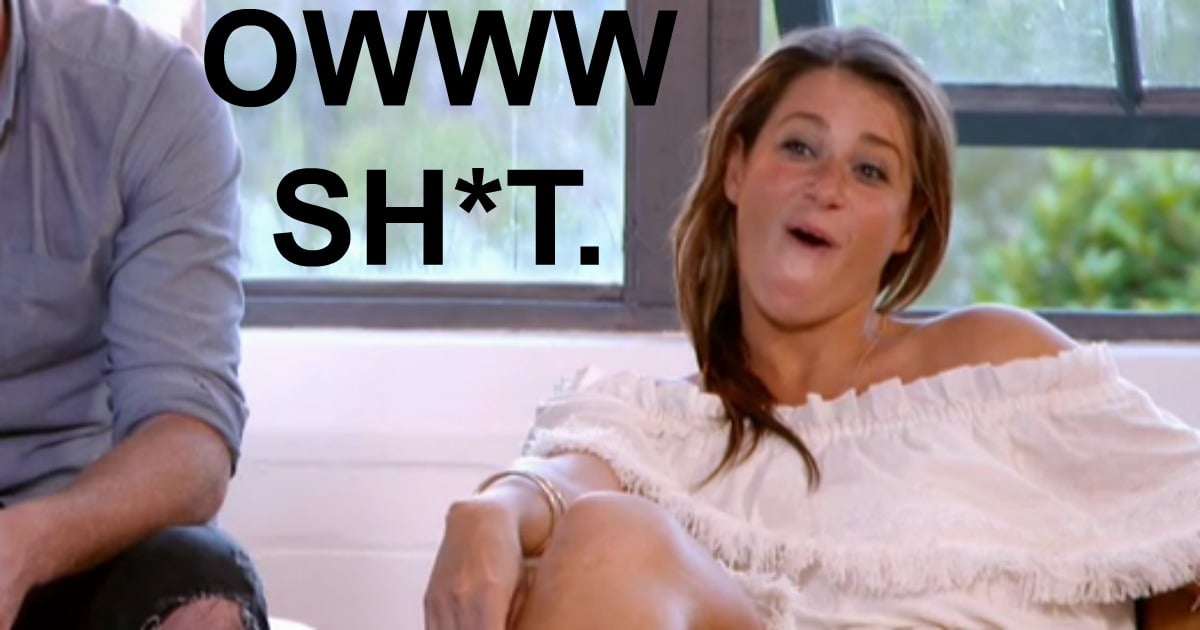 The whole room is in shock as the footage finishes up, and Anthony says, "The music makes it a hell of a lot more dramatic than it was..."
OMG SHUT UP ANTHONY. You don't get to talk anymore since you broke Nadia's heart and decided after getting fake married on television that you didn't really wanna be in a relationship, tbh.
STOP TRYING TO BE THE NARRATOR, WE ALREADY HAVE ONE EVEN IF SHE ISN'T AT ALL PRESENT IN THIS EPISODE. MAYBE SHE'S FINISHED FOR THE SEASON. BUT THAT DOESN'T MEAN IT'S YOUR JOB.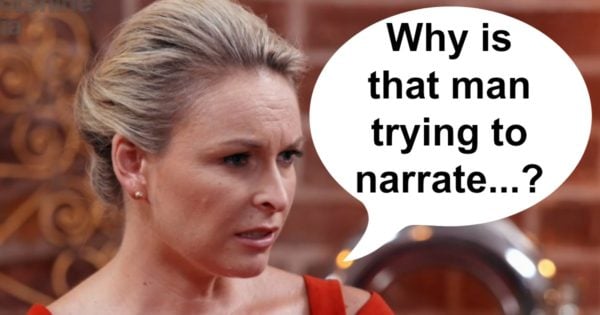 (Legit where is the narrator tho).
Andrew says a lot of words, none of which resemble an apology to Cheryl. "It's hard to watch because that's not me that's not who I am," he says, and we don't feel that sorry for him tbh.
He keeps reminding everyone that what he said was said "in context" - and, well, everything that is ever said is said "in context," that's not like... a defence.
But all of a sudden, Mel has a lot of feelings. Too many feelings, if you will.
Mel challenges Andrew on the issue of a man commenting on a woman's anatomy among other men, and we knew she was an undercover feminist this whole time.
"When things are rough the brothahood are all you have," Andrew explains, and legit when did 'brothahood' become a word people use in actual conversations?
John Aiken then agrees with Mel, obviously because they've been having an underlying affair this entire season, and tells Andrew, "those sorts of comments, you can't come back from that," which is definitely not the kind of thing a psychologist should ever say.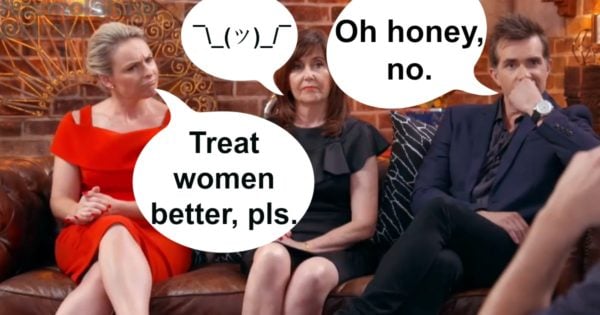 He asks if Andrew has any regrets about his behaviour that night, and Andrew responds with a lot of words that mean very little about how we all have regrets and that wasn't the question, Andrew. 
No one in the room, nay, the country, is enjoying this as much as Lauren. It's unclear why she is in attendance but none of that matters.
EXCUSE US BUT NOW IT'S ANTHONY AND NADIA'S TURN.
"You called a spade a spade," John Aiken says as he introduces Anthony to 18 people who know him very well, which is basically a euphemism for "d*ckhead".
They play back like an hour of footage with Anthony just saying a bunch of stuff that is in no way socially appropriate.
He's asked if he regrets anything he said, and admits he does think he went too far with his comments about Cheryl.
But it's Nadia. More specifically, it's her face. She doesn't believe Anthony regrets what he said about Cheryl - she thinks he's worried how it might be perceived.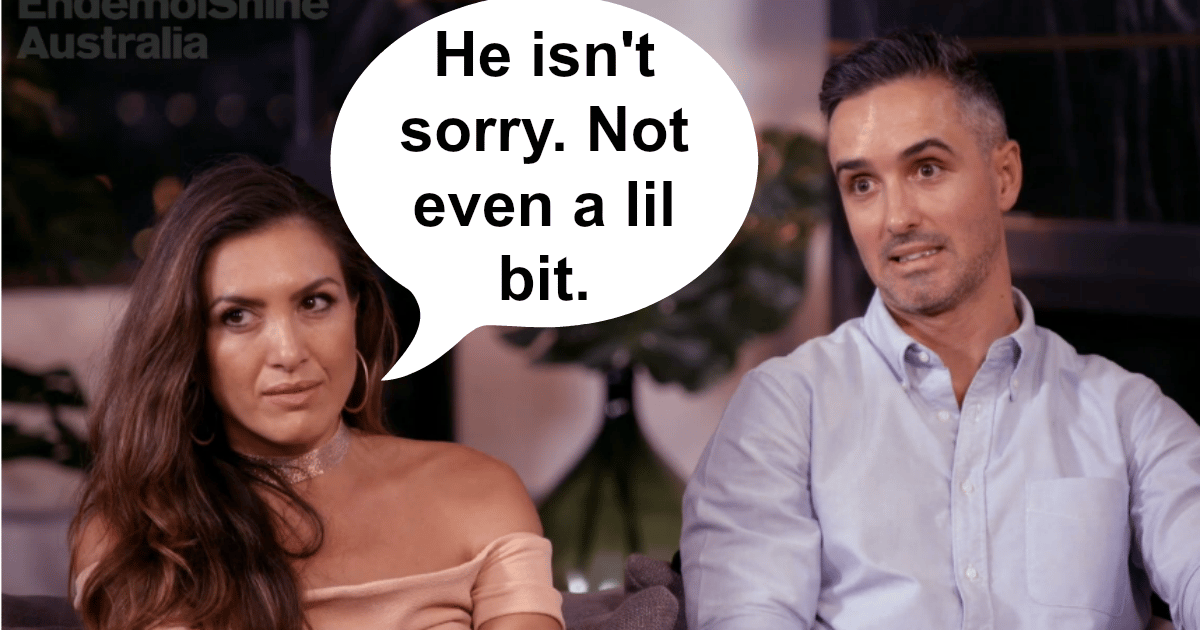 Dude... obviously. He says with his words that he still stands by the 'principle' of what he said, but could have gone about it better.
Errr... no. The principle of what Anthony said was literally always the problem.
The experts start to grill Nadia on her break up with Anthony, and it's at this point we realise Trish hasn't spoken throughout this entire episode. It begs the question: why? Is she being silenced? Does she have something to hide? Does she simply have nothing left to say?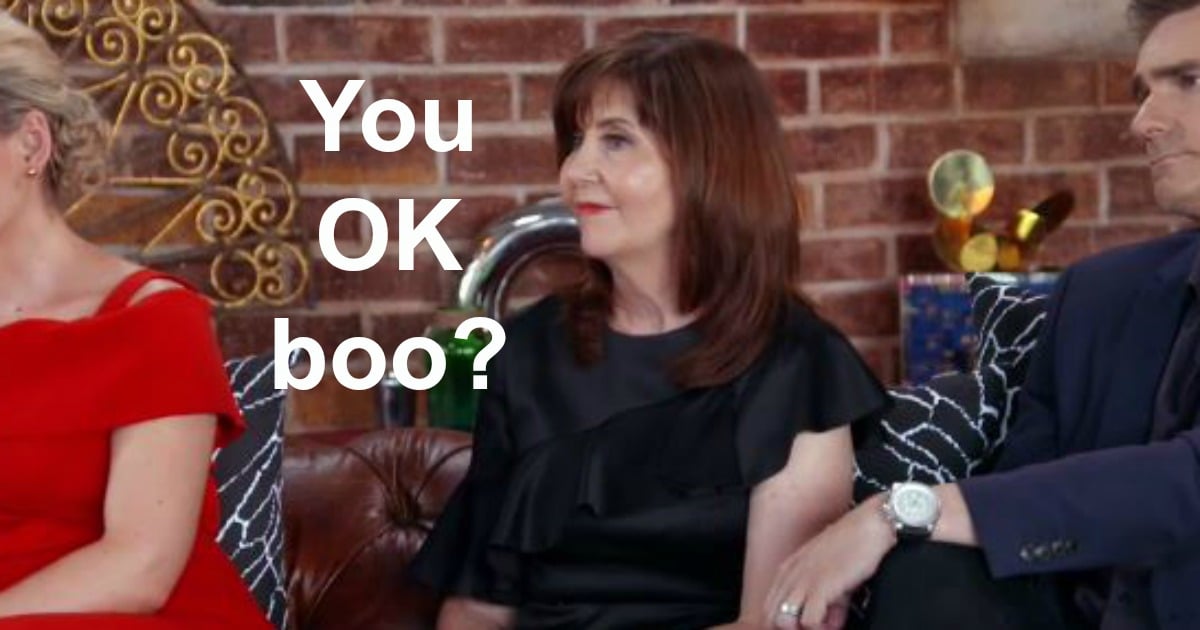 Anywho, Nadia gets the opportunity to tell a room full of people that as soon as the cameras stopped rolling, Anthony dumped her, and he was "brutal" about it. She says he didn't give her a chance and how he treated her feels incredibly disrespectful.
NADIA. EVERYONE AGREES WITH YOU. EVERYONE.
Anthony explains, "unfortunately for me my feelings didn't grow to that level where I thought I could fall in love Nadia," and we're so glad this is the last time we have to hear him say the word 'Nadia.'
He says to the group, "ultimately everyone in this room came in here wanting to fall in love," which is not true, because Nadia came here for gossip, which you would know if you ever asked her a question.
Anthony finishes with some comment about looking forward to the future and we don't care at all.
Guys...
That's... oh that's it.
Um. So... we'll see you... later.
This is really awkward. Are we watching Last Resort? Like we don't know...
UNTIL THE NEXT SHOW PLS.
You can follow Clare and Jessie Stephens on Facebook, here.