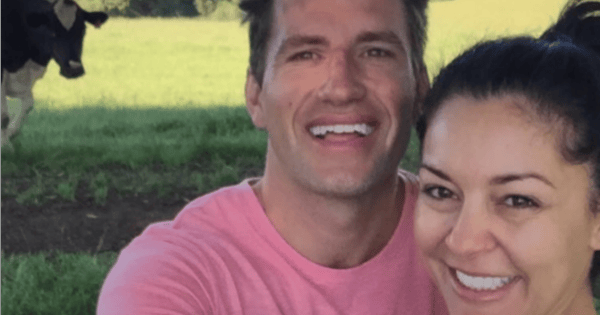 Married at First Sight's Christie and Mark have called time on their 7-month relationship.
The duo, who were only one of two couples to stay together after the show wrapped up, were battling a long distance relationship as Christie was based in Sydney and Mark in rural Victoria.
Christie told Woman's Day that the couple were falling in love but it grew difficult to keep the relationship together across states.
"I was 100 per cent falling in love with him," Christie told the magazine.
"We were starting to fall in love but our heads got in front of our hearts."
New Idea are claiming the relationship soured after 37-year old farmer was sending questionable text messages to a younger girl shortly after Married At First Sight concluded in April.
However, speaking to Mamamia, Mark addressed the claims made by the unnamed woman and said he only began chatting to the woman a month after she added him on Instagram in April and after Christie and he had separated.
The 37-year-old, who said he and Christie split about month ago, told Mamamia in the end it was distance that was the downfall of the relationship.
"It was hard to get momentum. We were just stop starting all the time and we never got to see each other properly.
"We did want to compromise. I was willing to come to Sydney, but I was scared I wasn't going to be happy there and then obviously the relationship isn't going to work anyway."
Watch Christie discuss her thoughts on their relationship on the show. Post continues after video.

Mark said it ended amicably about a month ago. "We're still friends. We've been talking today."
He said it had been hard to keep it a secret for the last month.
"I haven't really wanted to be going out because I didn't like answering when people asked me if we were still together, because obviously I was upset about the break up, which is hard because everybody knows your back story."
At the time the finale aired, nearly two months ago, Christie told the program she was invested in the relationship and where it was going.
"I look at him and see the future," she said at the time.
Despite the duo acknowledging they were enjoying each other's company, Christie did admit just last month that maintaining a long-distance relationship wasn't easy.
"It's hard, it's difficult. My business is lacking a little bit so I've told him he needs to get his butt up here now," she said.
The announcement of the split means the only couple that remain from season two of the dating show are Erin and Bryce.