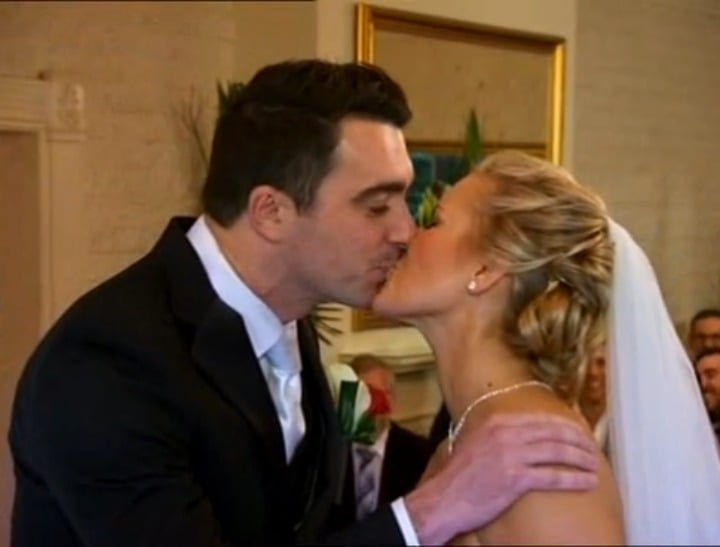 Marriage can be terrifying at the best of times, let alone when you're meeting your spouse for the first time at the altar.
The most anticipated reality show of the year has finally landed.
Married at First Sight sees eight strangers entering into (fake) arranged marriages after being matched by relationship experts. They honeymoon, live together and then, after a month, decide whether they have found their happily ever afters.
The series caused a fair bit of controversy before it even aired after an online petition calling for the "morally unsound" show to be axed collected more than 20,000 signatures.
Married at First Sight – "This television show is a disgrace."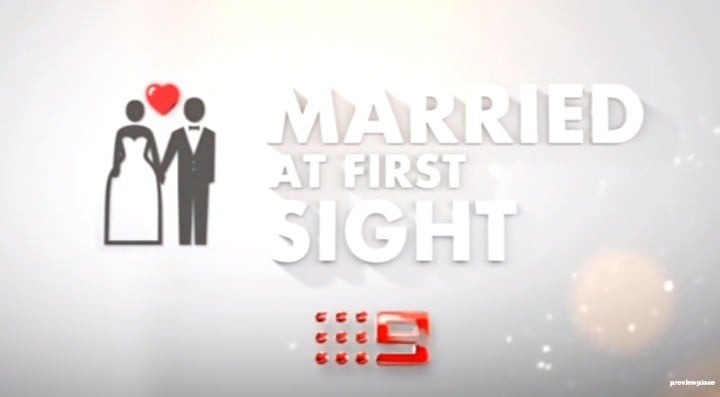 And if that great publicity didn't sufficiently pique your interest, the very dramatic build-up within the first two minutes will likely hook you in. The narrator's rather melodramatic declaration that the couples will "face the most terrifying wedding imaginable" is followed by snippets from the singles: "That's not my choice." "I'm trying not to throw up." "Do I have to get out (of the wedding car)?" We then cut to the couples at loggerheads, a screaming child being carried mid-tantrum and more delicious arguments. Well played, Channel Nine. Well played.
But before we give you the highlights, here are the main players:
Clare, 37, marketing manager: This self-described "fiery" lady is desperate to have children. She becomes teary when explaining the turmoil she faces at filling out forms that ask her marital status and how many children she has. Clare says she has "exhausted every avenue of the modern day dating game", which makes it surprising she is still single given her only two requirements are that her husband is genuine and smells good.
Lachlan, 36, farmer: Getting married and having a family is the most important thing in life for this calm, slow-talking, cattle farmer. He has been single for about five years and has spent the past few years living with his ill father, who recently died.
Roni, 32, payroll manager: This "pocket rocket" is sociable, bubbly and full of life. Roni has been married before and, after a tough break up, is ready to move on.
Michael, 31, events manager: Michael has been searching for Mrs Right for the best part of a decade, but tends to put his large group of friends first. This has, somewhat unsurprisingly, been a hindrance to him finding true love.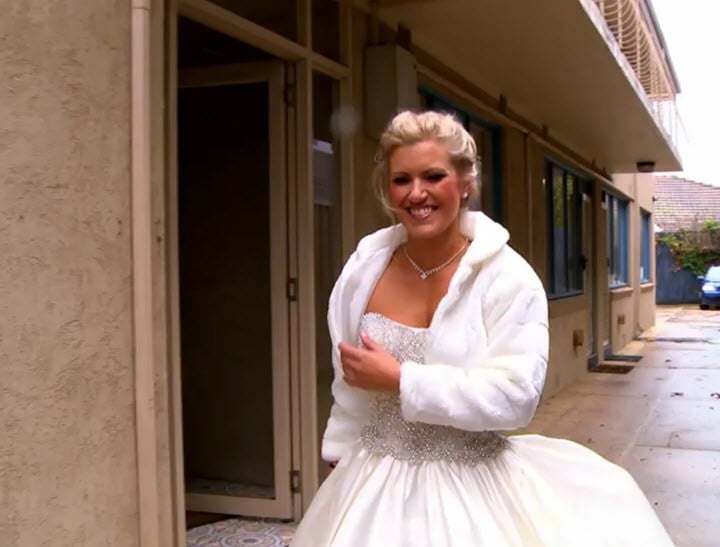 So, after the three experts – a neuropsychotherapist and two psychologists – press a fancy looking touchscreen and a bit of whirring and some beeping (it's all very high tech), they find that Clare and Lachlan, and Roni and Michael are perfect matches. Now, it's wedding time.
Here are the highlights:
1. One bridezilla-sized hissy fit over flowers.
Clare is a little bit of a control freak, the experts imply. So when her bridal bouquets turn out to be roses (she asked for "white and green") the shit hits the fan. "I don't want those flowers, that's not my choice," she screeches.
The tears begin welling up. "It's not fair, I just want decent flowers that I asked for. That is nothing like what I want. I'm going to get them, I'm going to go to the florist and get my own flowers," she states as her voice becomes increasingly shrill and hysteria sets in.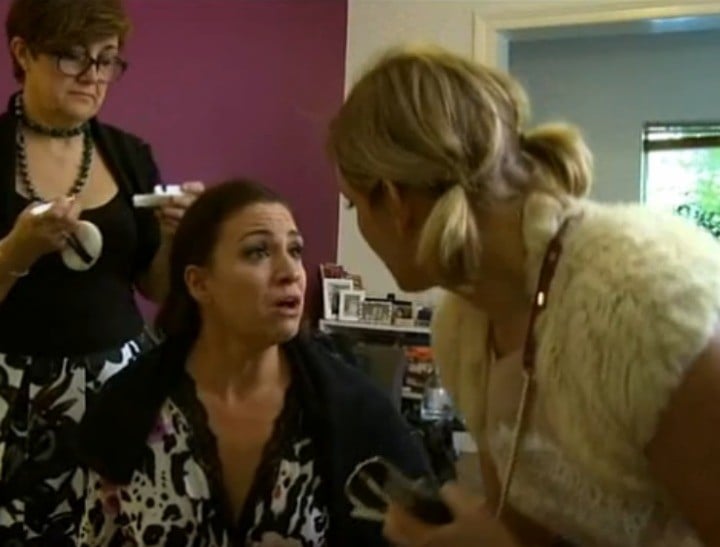 She points to the flowers tearfully and says, "That's not me." She grabs her friend's arm and pulls her nice and close, before asking: "Why do they fuck with me over everything?" "Why? Whhhhhy?"
And we cut to an unaware Lachlan, fantasizing about his future wife: "I imagine my wife being laid back, and fairly relaxed, like I am."
2. The most awkward wedding ever.
Clare and Lachlan are a perfect match because they both want children, the experts declare.
Lachlan is all smiles as he strolls down the aisle, waiting for his blushing bride, greeting guests with a, "How are you going, mate?"
Meanwhile, Clare's internal dialogue continues as she borders on a panic attack: "You do have those moments where you actually just say to yourself, 'Are you crazy?'"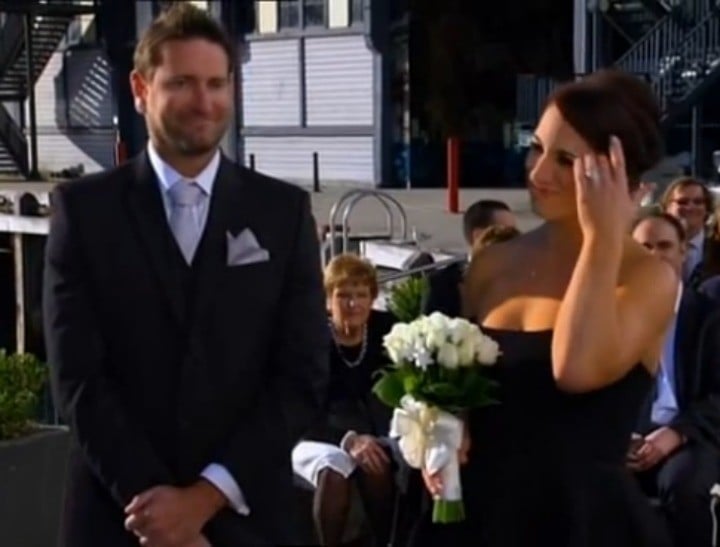 Clare decides she will solve her anxiety issues by refusing to look at the groom as she walks down the aisle. "I can't look at him," she resolves. "This is too much." And so begins the most awkward wedding ever…
Check out some of the moments from last night's episode in the gallery below.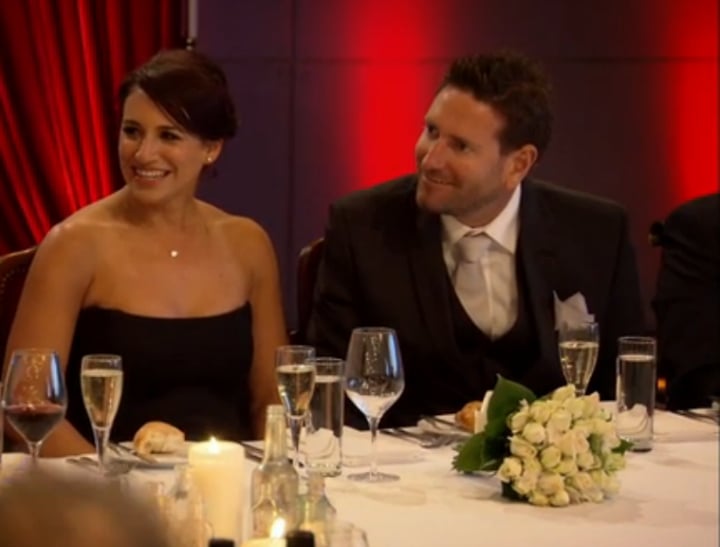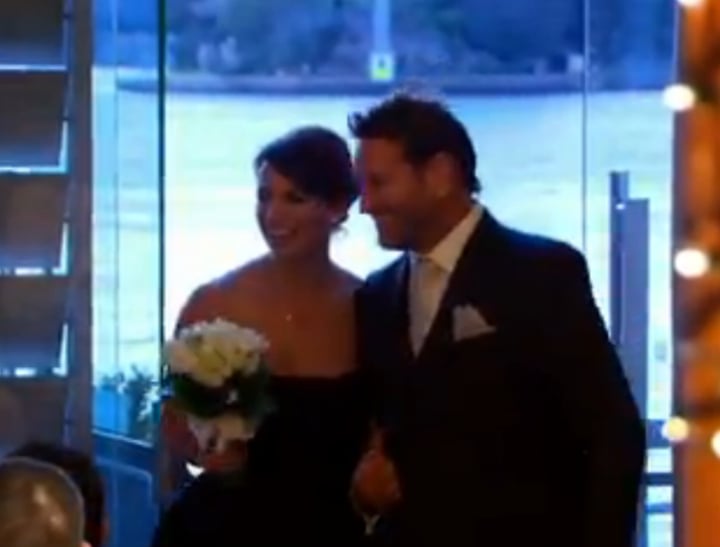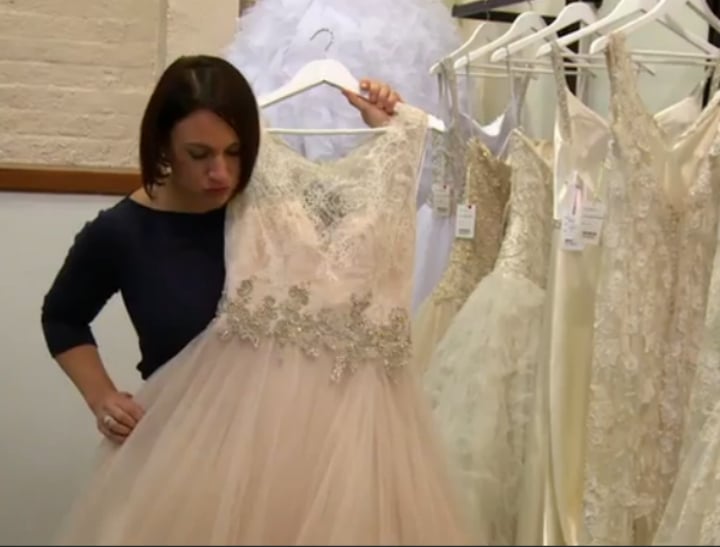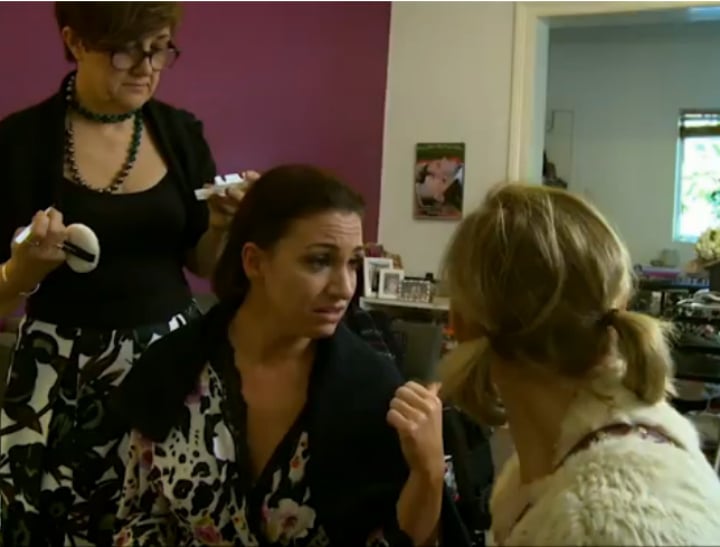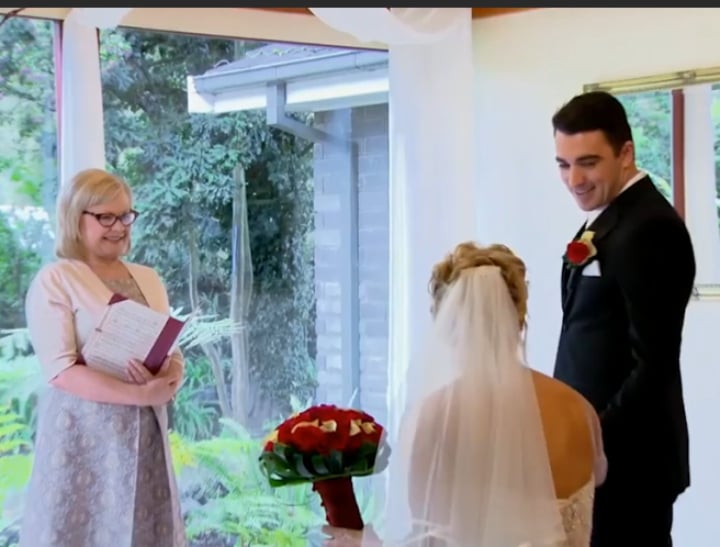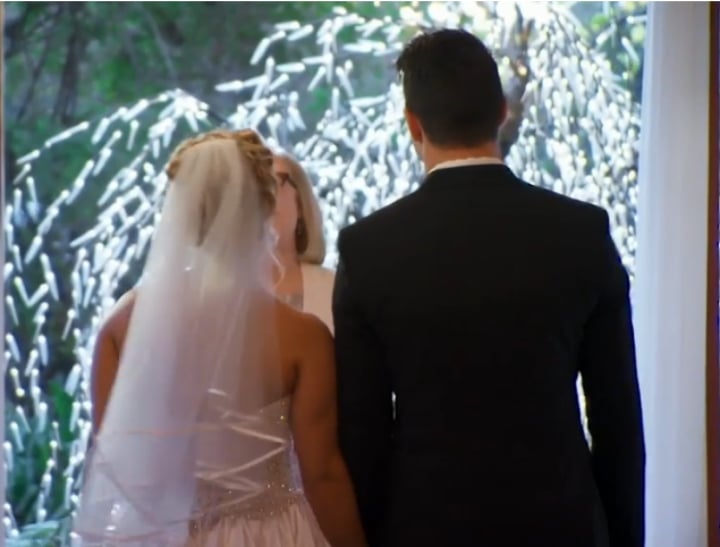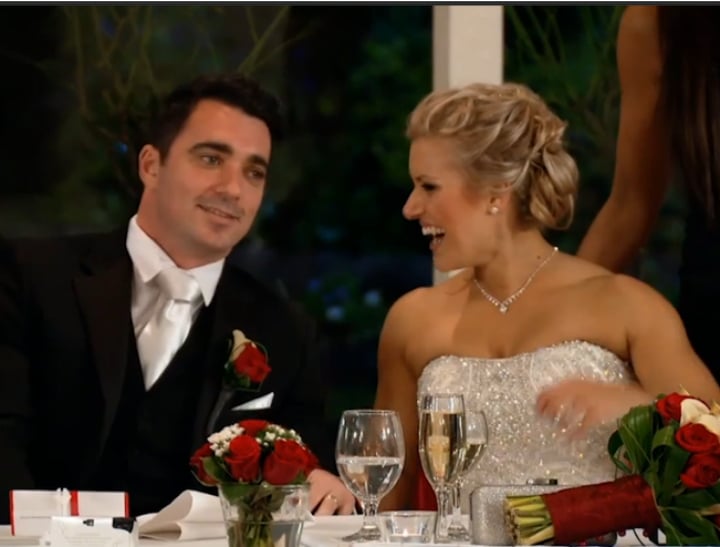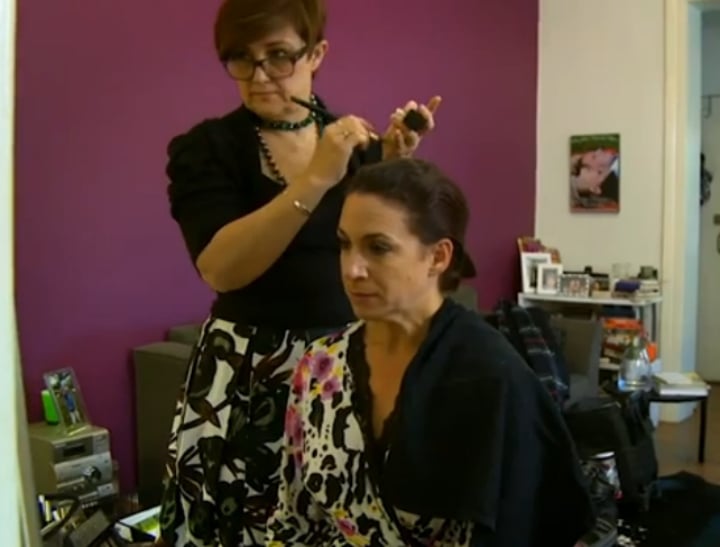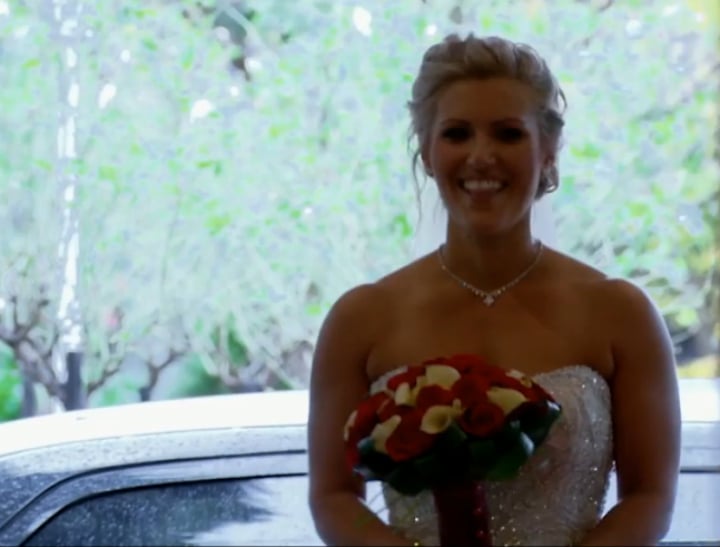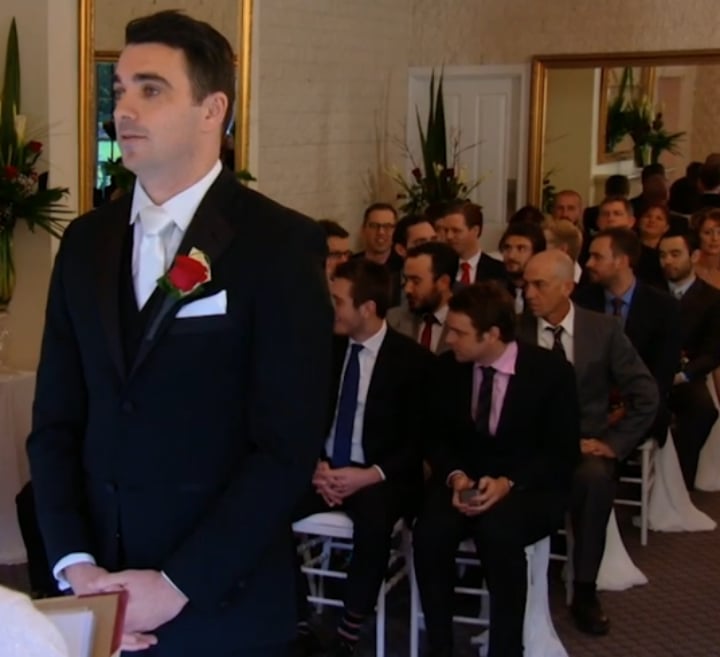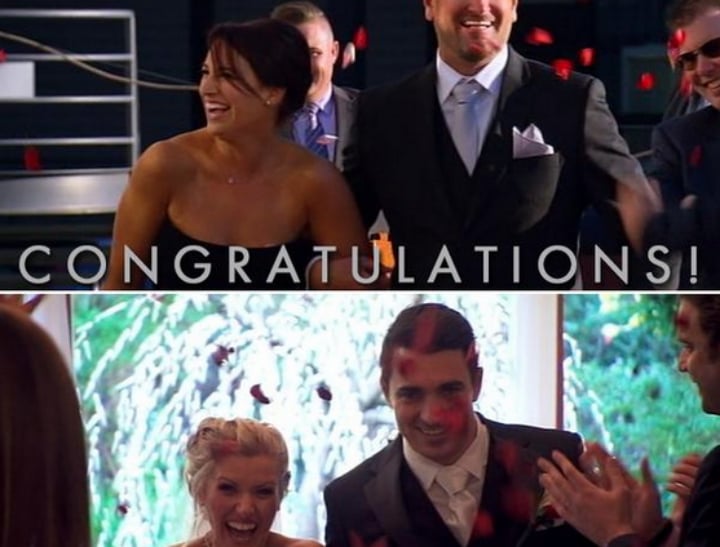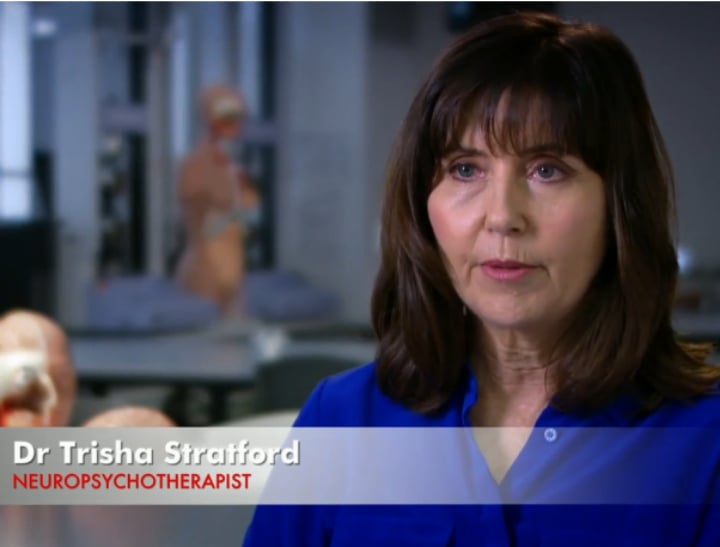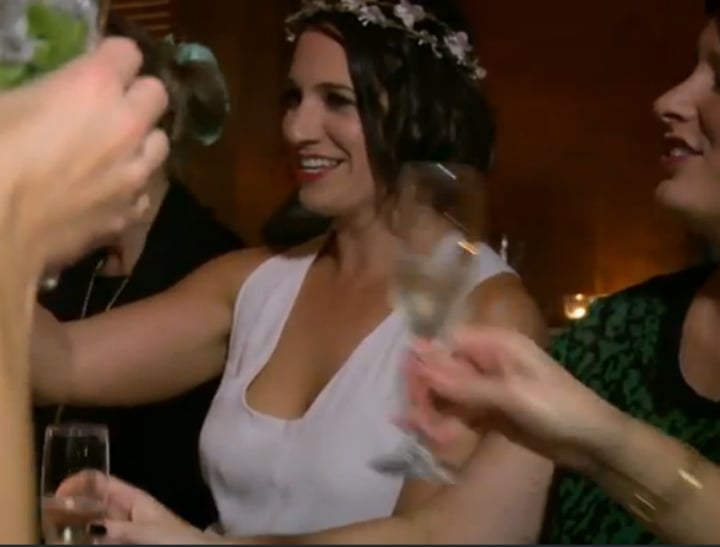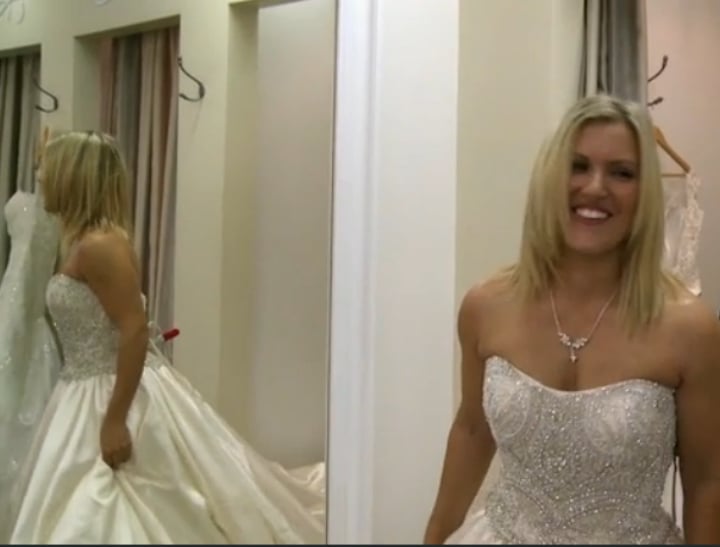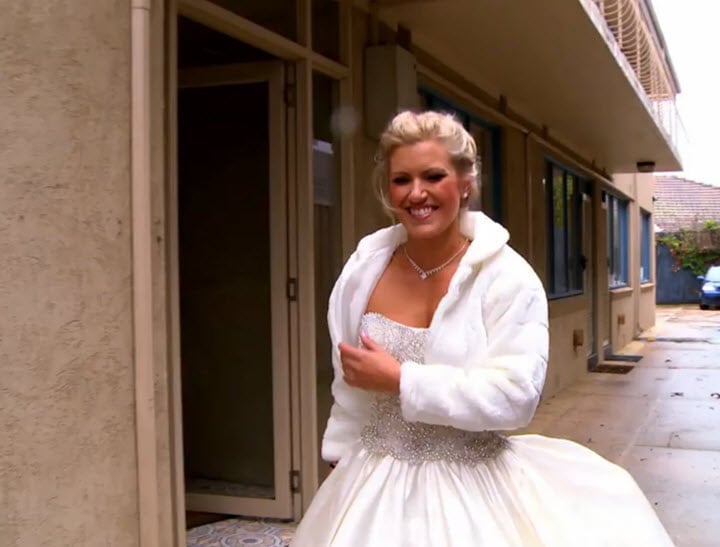 As she strides up the aisle, refusing to acknowledge the dude in a suit at the end of the carpet, Lachlan appears to be wishing he would evaporate. After an awkward silence, he asks: "Ah… how ya goin'?"
Clare's panic does not subside during the ceremony. "What is going on? We're crazy, is what (the celebrant) is saying… I just keep thinking, 'What are you doing? Are you crazy?'" (She seems to mention that c-word a lot.)
She looks like she is being physically tortured during the vows and pulls away from the big kiss after about a millisecond.
Soon after, she says to the camera: "I've always just said that chemistry is an undefinable thing… Right now, I just want to hightail it out of here."
Ouch.
3. The obligatory wedding speech gaffes.
It turns out best men telling stupid stories during wedding speeches is also a thing at TV weddings.
Michael and Roni had a ball during their ceremony, smiling, giggling and staring at each other all googly-eyed the whole way through. But then comes the wedding speeches.
Michael's friend, Matt, starts with: "I knew Mick was taking this quite seriously 'cos he started to go back to the gym again." Lame, but kind of funny.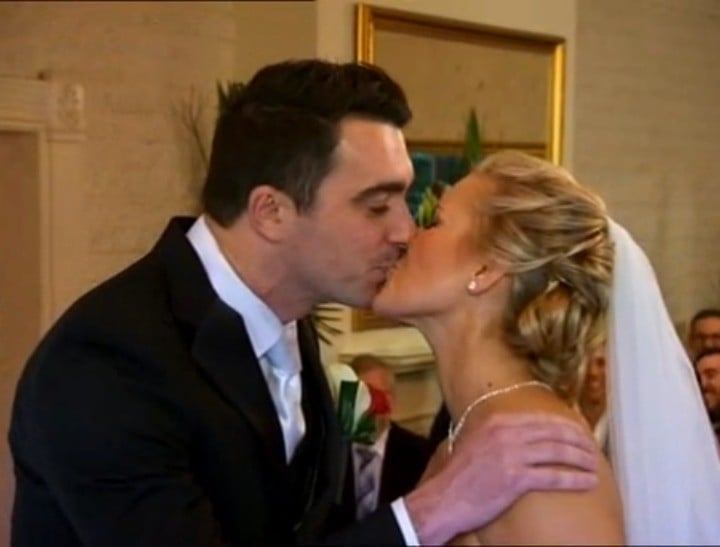 He follows it up with this pearler: "And I think he'll be quite comfortable with this situation cos it won't be the first time he wakes up in the morning, and turns to the side, and asks the name of the girl he is with."
"Uh-oh", says Roni… Uh-oh indeed.
4. The insightful commentary from the experts.
In response to Clare's comment that she wants to have kids "so something needs to happen", one expert suggests, "Sex, perhaps?" (Oh, problem solved.)
One expert on marrying a stranger: "That, frankly, is going to be pretty freaky."
Another confirms that love is a drug: "Being attracted to someone in that initial instance is very like being addicted to heroin."
5. Clare finally chills the F out. Love blossoms.
It is Lachlan's moving speech about his father that finally pulls Clare out of her wedding-day funk. He discusses the tough times his family has been through and says his father would be looking down "with big thumbs up". "I believe things happen for a reason and I hope this is the beginning of something very special," he says.
Clare then decides that Lachlan is open, honest and willing to commit.
"I think I got lucky," she tells her girlfriends.
Lachlan seals the deal when he hands his jacket to the cold bride. Clare says she feels like she can be herself, which she hasn't been in a long time.
Warm and fuzzy feelings ensue.
6. Wedding night nookie.
After the weddings, the couples check in to their hotel rooms and are faced with the age-old quandary of two people, one bed.
As they enter their hotel room, Roni says it how it is: "This feels weird…"
And from disaster first date to long, longing eyeball stares, Clare and Lachlan have come a long way. "You're hilarious," Clare coos. "Above and beyond my expectations so far."
Lachlan says to her: "If you want the big bed, I suppose I'll have the big bed as well." This smooth move is followed by climactic music.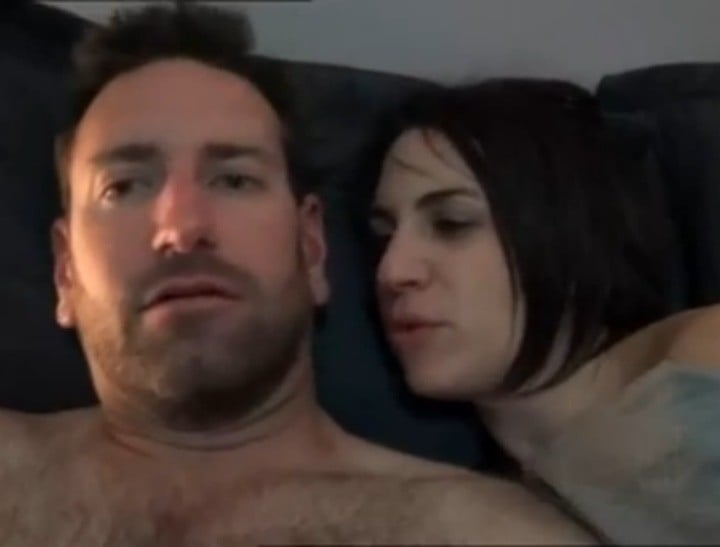 Judging by the shot of a discarded pair of blue jocks scrunched up with the bed sheets, at least one couple got lucky on the wedding night.
But it looks like we won't find out who until next week. (Damn you, TV people).
As well as finding out who did the deed, we will meet two new couples and see these two newlywed pairs on their all-expenses paid honeymoon.
I'm a little ashamed to admit it, but I'll be watching.
My only bugbear are the desperate attempts to legitimise the show by constantly referring to the set-up as a radical social experiment.
Really, all it does is fulfil our voyeuristic entertainment needs. And, that, it does well.
For more on the series, try these articles:

Married at First Sight – "This television show is a disgrace."

Reality TV hits amazing/horrifying new level with 'Married At First Sight'.

Nine's new wedding 'reality' show is based on a lie – but that's not the only reason people are furious.