Comedians Joel Creasey and Rhys Nicholson are currently engaged in a fight about who loves marriage equality more.
Don't worry though – it's all for a good cause.
Audible have teamed up with a whole host of Aussie celebs including Creasy, TV presenter Osher Gunsberg and author Damon Young to launch a six-part audio series exploring marriage equality, produced in partnership with the Equality Campaign.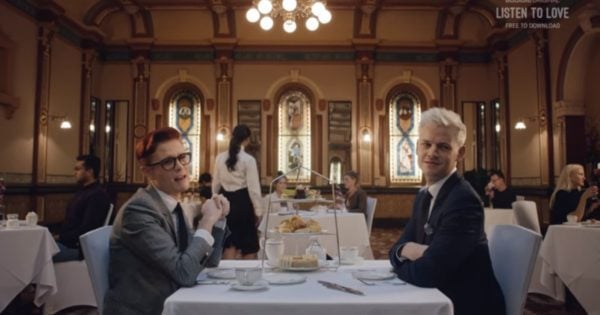 Called 'Listen To Love', the free-to-download series is hosted by comedian Tom Ballard and mixes humour with expert and historical analysis, poetry and personal stories that demonstrate why the debate is so close to people's hearts.
The promotional video (playing above, it's a must watch) for the series features Creasey, Nicholson and actress Rosie Lourde arguing about 'who loves marriage more' as well as breaking down the reasons why marriage equality shouldn't even need to be debated.
"It's f**king 2017," says Lourde.
Listen: Mia Freedman talks to Jayson & Aaron Brunsdon about their fatherhood journey. Post continues after audio.
"Our goal out of this content primarily is 'How do we educate our listeners better?' 'How do we reach out to a broader group of listeners in Australia?'" Matthew Gain, country manager and head of Audible Australia and New Zealand told Mumbrella.
"That's why we are making this content free, so we can educate and make a more intelligent society here in Australia."
The reception so far has been great.
#ListenToLove saved me from a terribly boring flight yesterday and also it's free to download from #Audible ????check it out! #MarriageEquality pic.twitter.com/tHcy7kkryr

— CupOfGayTea Podcast (@CupOfGayTea) May 30, 2017
Thanks to @Audible_AU for promoting #marriageequality with @AMEquality. Looking forward to hearing "Listen to Love" ????????????

— lucyham (@lucyham) May 23, 2017
Listened to #ListenToLove today with @TomCBallard A valuable resource for youth @projectrockit .....and #MargaretCourt too! #EqualityForAll

— Mary-Lou O'Brien ???? (@mlobrien1) May 26, 2017
One couple who feature on the series are long-time gay rights campaigners and partners for over 50 years Peter Bonsall-Boone and Peter De Waal. The pair had the first same-sex kiss on Australian television which resulted in Bonsall-Boone getting fired from his job at his local church.
Heartbreakingly, he died last month aged 78 after a long battle with cancer, meaning he was never able to achieve his dream of marrying De Waal.
Just started listening this morning 2 eps down so far. ???????????????????? Peter & Bon ???? ???? Come on Australia it's time #listentolove #marriageequality

— RozanneN (@RozyNork) May 26, 2017
"You'd have to be a complete monster to deny people like Pete and Boone the chance to get married, especially since he's passed," Creasey told the Sydney Morning Herald.
"These pollies and people fighting against marriage equality need to take a long, hard look at themselves."
You can listen here.