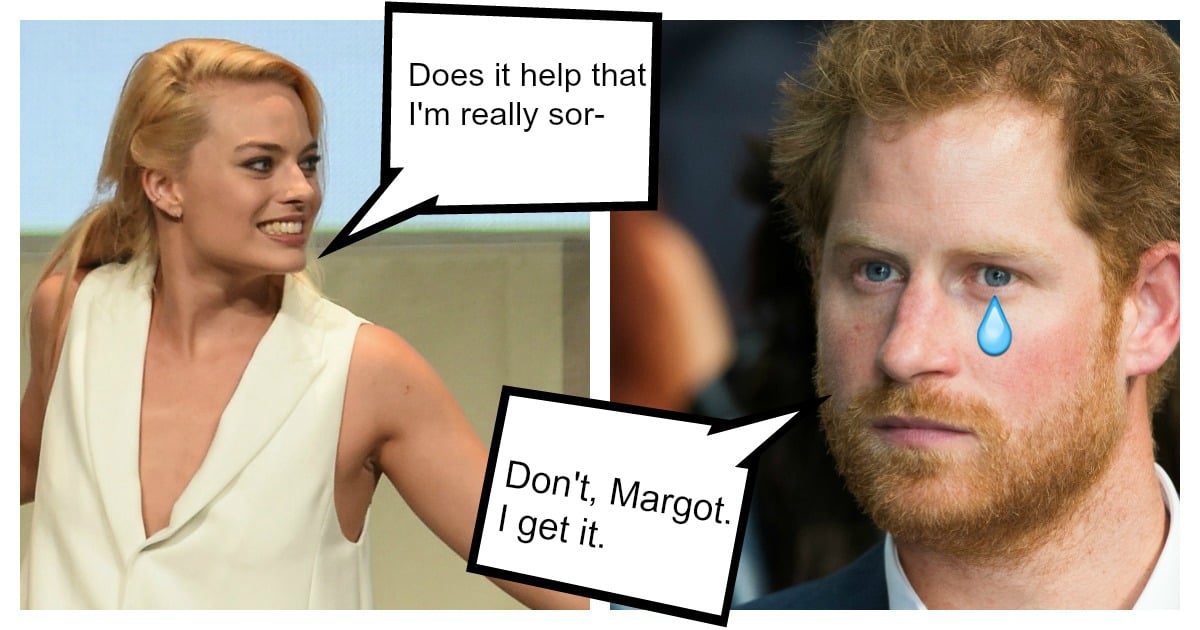 99.97% of women would recognise Prince Harry if he was walking through a crowded space 500 metres away with a basketball cap on. And sunnies. With a novelty nose disguise.
Not Margot Robbie.
It turns out the movie star made friends with Haz at a Christmas party without even realising who he was. Robbie was chatting to the man she presumed was a red-haired, friendly commoner for THIRTY WHOLE MINUTES before discovering he was, in fact, international heartthrob and possessor of royal blood, Harry.
Watch Margot Robbie speak to Entertainment Tonight about the encounter alongside Tina Fey below (post continues after video).
The Wolf of Wall Street star was splashed across gossip columns in December when she attended model Suki Waterhouse's party and was snapped alongside the Prince. Rumours blazed the two were romantically connected, despite Robbie's longterm relationship with her filmmaker boyfriend, Tom Ackerley.
Because as we all know in tabloid mag world, two attractive stars chatting to each other means SCANDAL and AFFAIR and LOVE TRIANGLE.
While there was nothing more than platonic sparks flying, the two spent the bulk of the night chatting before hopping in a photo-booth for a group snap.
Speaking to Entertainment Tonight, the 25-year-old revealed she didn't have a damn clue who her new friend was.
"I didn't know it was him for about half an hour talking to him," Robbie told Entertainment Tonight.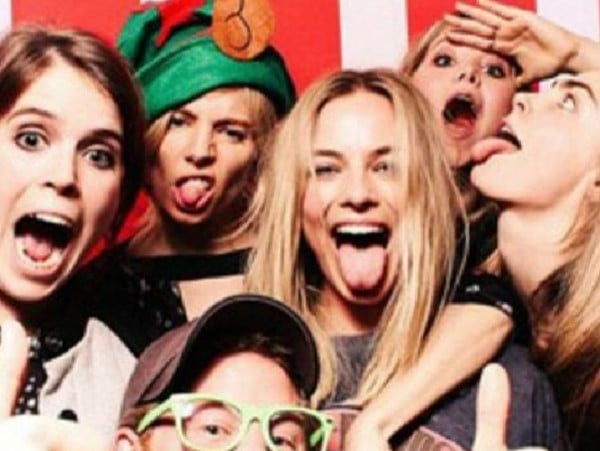 "Suki was having a house-warming party. I was like, 'I'll pop in for 10 minutes'. About six hours later the photo booth happened."
Now I love you Harry, and I hate to be this bearer of bad news, but if Margot Robbie doesn't know who you are you're basically irrelevant.
Once the fire of Harry and Margot's very steamy (read: not steamy whatsoever) photobooth pics burned out, the mags directed their attention back onto Robbie and her current partner.
Their latest story? The happy couple's impending nuptials. Yup. 
Unsurprisingly, Margot Robbie is yet to comment on the engagement rumour.
Who would you rather meet? Margot Robbie or Prince Harry?
*Featured photo: Original images via Getty.