Sally Obermeder is a face most Australians would recognise.
The journalist and TV presenter has appeared on Today Tonight, hosted The Daily Edition, has her own blog and e-commerce site as well as the author of several books.
Her husband Marcus is less of a familiar face, preferring to keep things private when it comes to his family.
The pair married in 2001 but their 16 years together hasn't been without its challenges. In 2011, when Sally was 41 weeks pregnant, she was diagnosed with breast cancer.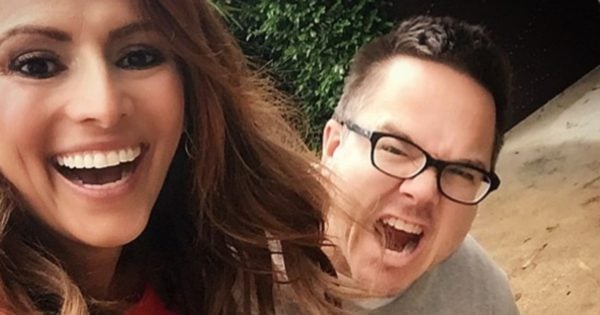 "I was at work in the city quite near to where Sally was having her breast examination when I received a call asking me to come in and pick her up. The voice on the phone was very solemn so I knew immediately that they must have found some convincing evidence of cancer," he told Mamamia.
"My heart sank but at the same time adrenaline kicked in as I knew our lives had just changed forever and that would need to be there for Sally and our unborn baby.
"The future looked very uncertain and this really shook me to the core but I had to stay strong and step up."
Obermeder immediately commenced regular sessions with a counsellor.

Listen: Kid's entertainer Tina Harris aka Lah Lah talks about how she survived breast cancer and managed family time. Post continues after audio.
"With Sally and other family members now relying on me for emotional support I needed a trained professional who could be there for my emotional needs, someone with experience that could guide me through the uncertainty of what lay ahead," he said.
It's the first time Obermeder has spoken publicly about that time with his family and he's doing so for good reason, as part of the National Breast Cancer Foundation's Real Men Wear Pink campaign.
Running from June 12 to June 18, the campaign will help NCBF fund breast cancer research focussed on prevention as well as highlighting that the disease isn't a women's only cancer - men can be diagnosed too just as they are affected when females in their lives are diagnosed.