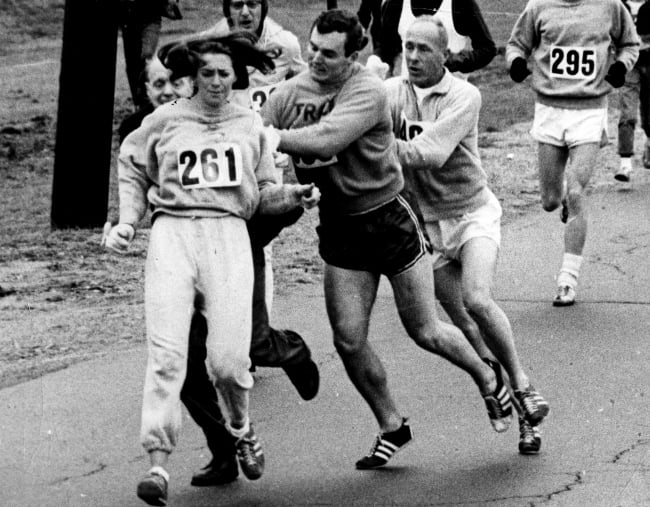 Imagine being good at something. Really good at something. And then being told that you can't do it because you're a woman.
For talented runner, Kathrine Switzer, this was a reality in 1967 when she wanted to enter the Boston Marathon.
While the rules didn't explicitly state that women couldn't run the race, it was tradition rigorously upheld by the organisers. Marathons were for men, they said.
But Switzer managed to slip through the net by signing just her initials on the registration form, leading race organisers to assume she was male.
What followed was horrific. Men shamed her and shouted abuse at her, one saying she should be at home in the kitchen making dinner for her husband.
Another yelled "get the hell out of my race and give me those numbers" before trying to pull them off her jumper.
At the end of the race, Kathrine Switzer was unfairly disqualified.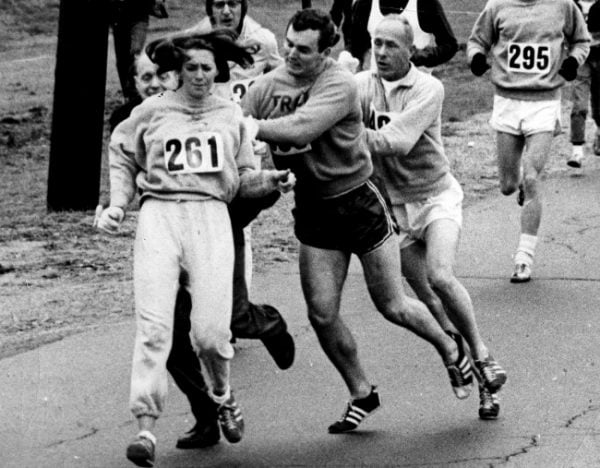 "I had no intention of making history that day, I was a kid who wanted to run… We checked the rule book. Nothing in the rule book about it being for men only. It was only a tradition. They just assumed a woman couldn't or wouldn't want to run," the woman told The Guardian.
It's hard to believe that it was only 50 years ago.
Now 71, Switzer was the guest of honour at the London Marathon on Sunday, the official starter of the women's elite race. She wore race number 261, the same number a man tried to rip off her back in 1967 - for her, and many others, it has become a symbol of female empowerment.
In a tweet following the race, Switzer wrote, "Wow, what an experience running with so many positive people at the @VirginMoney @LondonMarathon today! One of my reasons to #StartWithHealthy is physiological curiosity of what my 71-year-old body can accomplish!"
Kathrine Switzer is passionate about encouraging women to get involved in the running community. In 2015, she established the organisation 261 Fearless. The organisation aims to empower and unite women through local running clubs and social running events.