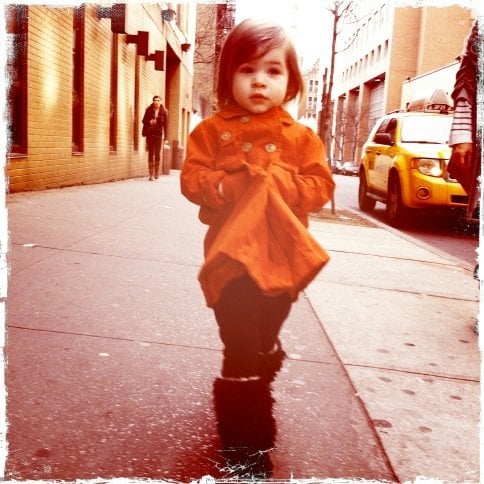 If a tree falls in the forest, does anybody hear?
Similarly, if your baby wears a Dolce and Gabbana parka, does anybody care?
Apparently, yes.
These days it's pretty clear that to ramp up your celebrity currency, nothing works like baby or a toddler: preferably cute.
And there's little point in having that cute baby or toddler unless the world can see how adorable she is, right?
If we're honest, (or a bit B-list) there's no point in waiting for the paparazzi to show up – if someone more famous than you does something interesting, like buys a bunch of flowers, how will anyone know your little Orion was rocking a new pair of Burberry sunnies?
What you need is an Instagram account, dedicated to your child and her wardrobe. Then no one need miss a thing, and the world will be a happier place.
It's not enough now to be drip-fed pictures of Kanye and Kim's little North West. No one's getting any sleep until we know not only what she's wearing, but who.
The designer is key.
The designer is also keen to be seen as the creator of choice for famous baby duds and we can only imagine the gifts-with-purchase on offer: Free with every singlet worn by a baby with over 250,000 followers! Handbags, sunglasses, shoes and other apparel to the value of pretty much whatever you like!
The designer clothes may arrive as 'gifts' but there's nobody doubts there's an expectation of payment. Just not in cash.
A tweet or a shot on Instagram is the celebrity thank you note – to the designer, it's publicity worth hundreds of thousands. To the parents, it's a way of sharing their happiness and gratitude.
To the baby, it means less than nothing. A dusty-rose party dress from Lanvin is just another thing to drool on.
People will say I'm cynical and jealous.
I admit to being cynical. Especially of those Intstagramming parents who insist their toddler has an 'innate sense of style,' and loves nothing more than shopping for clothes.
Peppa Pig might fly.
I get that lots of kids love dressing up and can be extremely fussy about what they'll wear, but I don't believe any kid under four prefers Tom Ford to Thomas the Tank Engine.
To accusations of jealousy, I say no way. Of course I'd love to have enough money to dress my kids in fabulous clothes. I wouldn't do it – there are other ways I'd spend my millions. Personally, I prefer holidays to handbags.
Unfortunately I appear to be in the minority if an Instagram account called FashionKids is anything to go by.
Started by Wilson Dorigon in February 2012 to "inspire all parents and those who identify with the children's fashion", it now has a cult following of nearly 1.3million followers.
Above are just a few of the images featured on the site, which receives more than 400 images daily from parents around the globe eager to share snaps of their fashion-forward offspring to strangers.
The thing that irks me is the show-offy sharing. Go your hardest with posting your own good looks, but kids are people entitled to privacy and daggy clothes, and until they are old enough to say yes or no, I think we should say no on their behalf.
Have you ever dressed your kids in designer clothes or are you more the Target type?
Celebrities are champions at dressing their kids in expensive duds and sharing the pics with the world via social media. Check out this Instagram gallery of fashionable celebrity offspring: