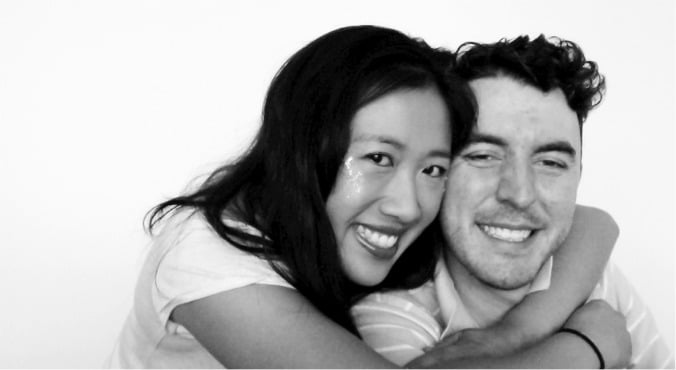 I'll happily apply lipstick mid-sentence, but when it comes to my skincare routine, I hide and apply my moisturiser like a fugitive. There's something so personal and intimate about taking care of the skin on my face.
So, imagine my horror when my husband, Jeff, busted me wearing a Biore pore strip in all its nose-jobby, bandage-like glory, early on in our marriage. After laughing uproariously for ages, he spluttered, "What is that on your nose?!"
 Related: the 8 beauty problems everyone has experienced.
Jeff found my entire skincare routine to be bamboozling and hilarious. His conclusion was always the same: all of the products were unnecessary and a waste of money.
Well, it's time for Jeff to put his money where his mouth is. It's been six years since the Biore pore strip incident, and my skincare routine has even more products involved, thanks to the numbers "three" and "zero".
Related: the places a lipstick wearer leaves her mark.
I chucked Jeff straight in the deep end, and got him to try the weirdest, stinkiest and most uncomfortable products of my routine. Don't knock it 'til you've tried it, Jeff! It would be an added bonus if he enjoyed any of the products, or noticed an improvement in his skin. Jeff's current routine is simply washing his face with a Cetaphil Oily Skin Cleanser.
Will Jeff fall in love with skincare? Will this exercise ruin our marriage? Should we both enrol at the Ponds Institute? The answers – and photographic evidence – await you below.
1. Rosehip oil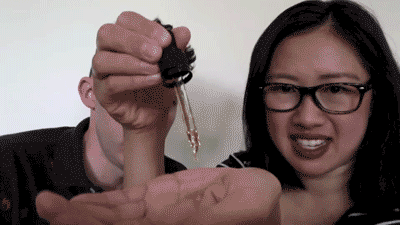 She says:
Rosehip oil is a wonder to behold. It does all sorts of reparative and restorative magic to your skin, while also leaving behind a pretty, glowy sheen. It is lightweight, affordable and natural. And I am being completely real with you when I say that after using rosehip oil, I look about five years younger. The only bad thing about rosehip oil is that it's kind of stinky. The least-stinky brand I have found so far is A'kin Pure Radiance Rosehip Oil.
THE FIND: The only skincare product you need in your handbag.
He says:
As soon as the rosehip oil was applied to his face, Jeff began obsessing about its shiny appearance. He said, "I'm not going to go to the bar and watch a football game with a face so shiny that the television will reflect off it!" He noted that the product smelt "like roses that have died".
After leaving the product on overnight, Jeff had nothing but praise for rosehip oil. He described his skin as feeling "smoother and more moist" as well as "fresher and a bit more vibrant." He spoke about rosehip oil in the hushed tones of a miracle witness. "You're putting rosehip slime on your face, and then you feel less slimy? How does that work? It doesn't make sense! It's one of those weird mysteries of life."
2. Face mist
She says:
Face mists are handy if you need on-the-go moisturisation that also won't ruin your makeup. I used the Puretopia Refresh & Balance Facial Mist & Toner when I went to hospital for a kidney biopsy. The mist quickly refreshed my skin after the hospital air-conditioning had dried it out, and the sweet, mandarin scent transported me away from the hospital. This product is also a great little multi-tasker, as it can be used as a body spray, air freshener and aromatherapy mist.
He says:
From the beginning, Jeff was very sceptical of this product. He said, "What a waste of money! It could just be some person at Warragamba Dam, filling up spray bottles with water, and then saying, "It's mist! It's magic mist for your face!" He felt "incredibly uncomfortable" when the mist was applied, saying, "I felt like one of those clowns that gets sprayed in the face by the water thing, you know, the thing they made cocktails with in the thirties." Don't worry, I also had no idea what he was talking about. I think he was traumatised by the experience, as he got some of the spray in his eyes, causing them to sting. He likened the experience to losing a waterfight and getting sprayed in the face with a Supersoaker, "only worse".
 4 at-home beauty treatments you should NEVER do yourself.
3. Biore deep cleansing pore strips
She says:
When I use a Biore pore strip, I want to be exactly like the girl in the old TV ads, triumphantly holding up a strip that's covered in a disgusting forest of blackheads. I've never been able to unplug every single pore on my nose, but what I can tell you is that Biore pore strips are fun to use, and they do get a lot of gunk out of your pores. It does hurt a bit as you unpeel them, but no pain, no gain, right?
He says:
Jeff was uncomfortable during the 15 minutes of wearing the Biore pore strip, complaining that he felt "strange" and "restricted". He was extremely disgusted, yet also fascinated, when presented with the used pore strip. He described it as "pretty gross" and "awful". Jeff compared the used pore strip to a visit to the Jenolan Caves, as it contained "little stalagmites of goop". He then asked me, quite seriously, if I wanted to keep the used pore strip. It was at this point that I yelled at him. Jeff noticed that the skin on his nose felt "smoother", and said that his nose no longer felt "like a big, fat, sweaty mess".
4. Face brush
She says:
One of the fastest and best ways to get glowing, super-sleek and clean skin is to use a motorised face brush. I use the Olay brush (the budget babe's answer to the Clarisonic) on my wet face with a few dabs of cleanser. I love how motorised face brushes do it all – cleansing, exfoliating, massaging and stimulating the skin – all in a matter of minutes.
He says:
This product was also initially described by Jeff as "a waste of money". He quickly changed his tune after using the brush, as he found that "it actually felt pretty good" on his face. Jeff likened it to a massage for the face, "like a masseur pushing their elbows into your face, but they've got bristles for elbows." He also compared the experience to tenderising meat, with the end result being a softened face, rather than a softened steak. Of his skin, Jeff said, "It feels newer, fresher, and definitely softer. It's like you could feel the wind on your face better than you could before, because the old, callused skin was blocking it out. My skin looks brighter, and more vibrant."
 Watch 100 years of beauty trends in just one minute.
After our experiment, Jeff was very happy with the results, especially as his skin had improved in texture and appearance.  But, most of all, he was happy that it was over, and that I was no longer harassing him with an armful of skincare products.
 What beauty products do you wish your boyfriend/husband would try?
When we got married, I swear that we did not include the vow, "I promise to appear in your bizarre beauty articles and let you smear goo and other freaky stuff all over my face," but my husband, Jeffrey Charles, does it anyway, and with a smile. Thank you, Jeff! If you want to see more of Jeff and his Non-Cooking Show, you can check out his website at jeffreycharlescomedy.com