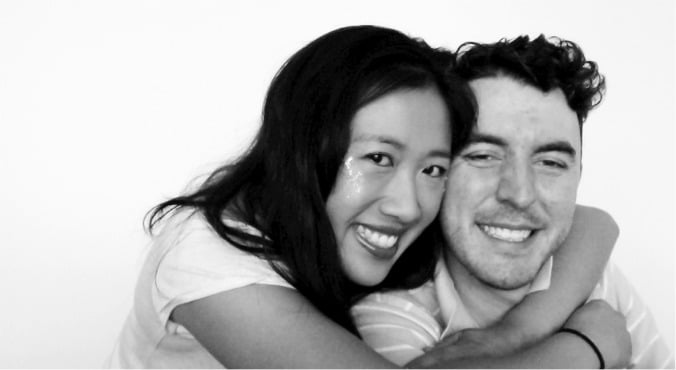 I'll happily apply lipstick mid-sentence, but when it comes to my skincare routine, I hide and apply my moisturiser like a fugitive. There's something so personal and intimate about taking care of the skin on my face.
So, imagine my horror when my husband, Jeff, busted me wearing a Biore pore strip in all its nose-jobby, bandage-like glory, early on in our marriage. After laughing uproariously for ages, he spluttered, "What is that on your nose?!"
 Related: the 8 beauty problems everyone has experienced.
Jeff found my entire skincare routine to be bamboozling and hilarious. His conclusion was always the same: all of the products were unnecessary and a waste of money.
Well, it's time for Jeff to put his money where his mouth is. It's been six years since the Biore pore strip incident, and my skincare routine has even more products involved, thanks to the numbers "three" and "zero".
Related: the places a lipstick wearer leaves her mark.
I chucked Jeff straight in the deep end, and got him to try the weirdest, stinkiest and most uncomfortable products of my routine. Don't knock it 'til you've tried it, Jeff! It would be an added bonus if he enjoyed any of the products, or noticed an improvement in his skin. Jeff's current routine is simply washing his face with a Cetaphil Oily Skin Cleanser.
Will Jeff fall in love with skincare? Will this exercise ruin our marriage? Should we both enrol at the Ponds Institute? The answers – and photographic evidence – await you below.
1. Rosehip oil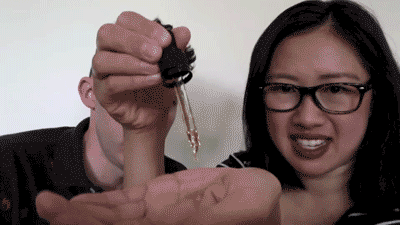 She says:
Rosehip oil is a wonder to behold. It does all sorts of reparative and restorative magic to your skin, while also leaving behind a pretty, glowy sheen. It is lightweight, affordable and natural. And I am being completely real with you when I say that after using rosehip oil, I look about five years younger. The only bad thing about rosehip oil is that it's kind of stinky. The least-stinky brand I have found so far is A'kin Pure Radiance Rosehip Oil.
THE FIND: The only skincare product you need in your handbag.
He says:
As soon as the rosehip oil was applied to his face, Jeff began obsessing about its shiny appearance. He said, "I'm not going to go to the bar and watch a football game with a face so shiny that the television will reflect off it!" He noted that the product smelt "like roses that have died".
After leaving the product on overnight, Jeff had nothing but praise for rosehip oil. He described his skin as feeling "smoother and more moist" as well as "fresher and a bit more vibrant." He spoke about rosehip oil in the hushed tones of a miracle witness. "You're putting rosehip slime on your face, and then you feel less slimy? How does that work? It doesn't make sense! It's one of those weird mysteries of life."