Jessica Rudeen was experiencing every parent's (second) worst fear – sitting on board a plane with screaming children she couldn't calm down.
On the US mum's first flight with her children, her four-month-old son and three-year-old daughter were both in tears. Her eldest was throwing a tantrum, yelling, "I want to get off the plane! I don't want to go!"
At this point, Jessica thought she and her children were going to get kicked off the American Airlines flight to Charlotte, North Carolina.
And then a stranger stepped in.
The man sitting next to Jessica helped her calm both her children down. His tale of kindness, which the mum wrote about on Facebook, has now been liked and shared by thousands of parents around the world.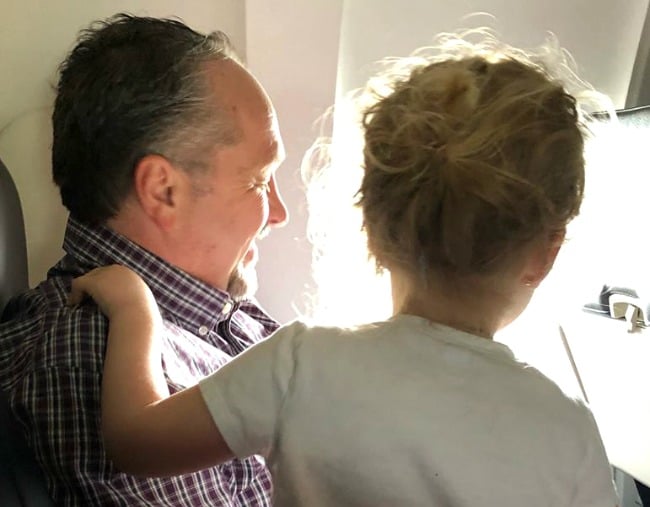 "This guy, Todd, showed me kindness and compassion that I've never known from another person," she wrote.
Jessica explained that as both her children were "losing their minds", Todd Walker, without being asked, offered to hold her son, Alexander, while she settled her daughter, Caroline.
"This man reached for the baby and held him while I forced a seatbelt on Caroline, got her tablet and started her movie."
But he wasn't done with helping the family.
Holly Wainwright speaks about the reality of being in a hotel room with small children. Post continues.

"Once she was settled and relatively calmed, he distracted her so that I could feed Alexander.
"Finally, while we were taxiing, the back of the plane no longer had screams.
"During the flight, he colored and watched a movie with Caroline, he engaged in conversation and showed her all the things outside.
"By the end of the flight, he was Caroline's best friend."
Before their plane touched down, they learned they were both stopping over in Charlotte on their way to Wilmington, North Carolina.
"He helped us get off the plane and led us to the next gate with Caroline in hand.
"If that wasn't enough, he changed his seat on the next flight to sit in our row to help us."
Jessica was overwhelmed by Todd's unexpected kindness, but as he explained, his actions were part of an effort to pay it forward.
"His wife, he said, had a similar experience when their two boys were young and a stranger showed her the same kindness," she said.
"I am blown away by God's hand in this because we could have been placed next to anyone, but we were seated next to one of the nicest men I have ever met in my life."
Jessica and Todd didn't exchange contact details on the flight, and she didn't know his last name at the time, so the mum penned the post on 14 April - four days after the flight - in an effort to find him and hopefully keep in contact.
And it worked. The post was shared by thousands of people and eventually, Todd's wife saw it and got in touch.
The pair told Insider that they hope to stay friends.
"I hope this becomes a long-term thing, so I can go to their graduation and wedding one day," Todd told the website. "I hope these children can really become a part of our lives. That would be so sweet."