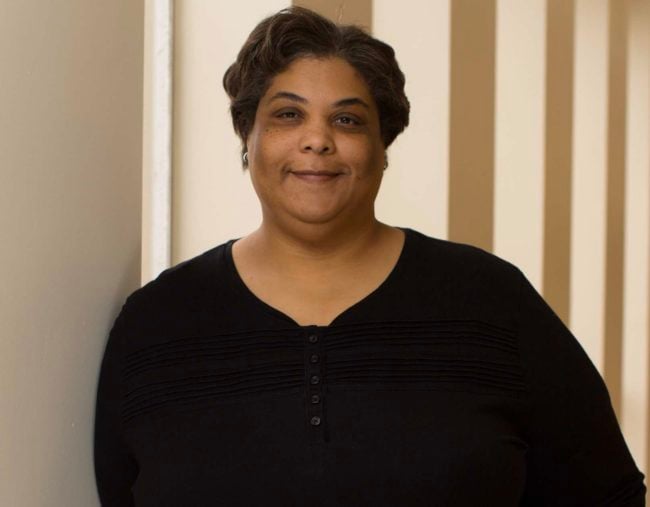 UPDATE: You can read Mia Freedman's personal message to Roxane Gay, here. 
At Mamamia, we are huge Roxane Gay fans and supporters, so it was an honour to welcome the best-selling author and professor into our offices last month to record a podcast interview.
Her books and works are greatly admired, and as you'd imagine there was much excitement that she was coming into the office.
As an iconic feminist and one of the most well-respected and powerful voices in feminism, Roxane Gay has long been a role model for women and someone Mamamia has and will continue to champion and admire.
You can listen to the full podcast interview here for context.
The interview was to promote Roxane's new memoir, Hunger (you should buy it here), which is a very personal and detailed account of her relationship with her body, her sexuality, her weight and her experience as a victim and survivor of rape. In Hunger she writes extensively about the impact her physicality has on her life and the difficulties she encounters physically and emotionally in navigating a world (and attitudes) that often do not accommodate someone of her size. All of which are detailed in her book.
As a publisher that's consistently championed body diversity and representation in the media, we believe the conversations sparked by Roxane's book are vitally important for women, and are disappointed our execution of this story hasn't contributed in the way we intended. We're deeply apologetic that in this instance we've missed the mark in contributing to this discussion. 
Prior to the interview, many requests were made to the producer of the episode via email and in phone calls by Roxane's book publishers about the logistics of her visit.
We understand these questions were asked in good faith to make Roxane feel as comfortable as possible and we willingly answered all questions and complied with all requests. It is always our top priority that all our guests feel welcomed, relaxed and at ease.