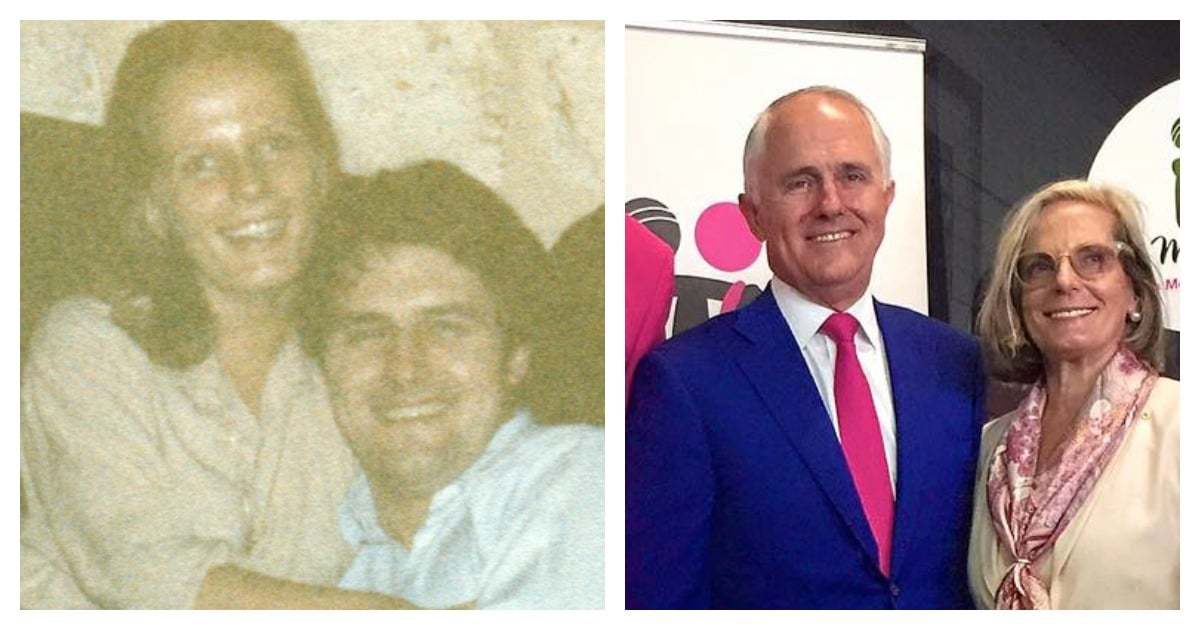 The Prime Minister, Malcolm Turnbull has once again proven he is a true romantic at heart, turning, like so many Australians, to social media to send his wife a valentine.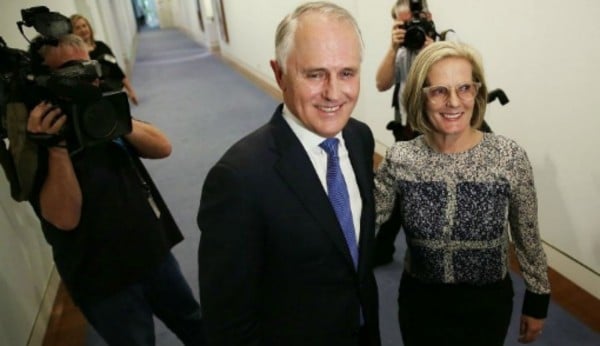 But it wasn't a heart warming quote or a snap of rose petals scattered across the linen of the prime-ministerial suite at The Lodge, it was a flashback to the days when they were young, in love and carefree.
A throwback to the times when the polls weren't so temperamental and the hairline wasn't so determined to recede.
In a loving Valentine's message to his wife, Lucy Turnbull, the Prime Minister put the rest of us to shame with a carefully worded post that popped up early Sunday morning. Making sure to cover all bases he posted to all of his social media accounts (just in case Lucy missed it perhaps?) a sweet flash back of the Turnbulls as a young couple.
In the faded pic the loved-up pair are cuddling up on a couch and smiling to the camera.
Mr Turnbull's accompanying text revealing a romantic turn of phrase the prime minister is clearly comfortable with, having first used it in an interview with The Australian Women's Weekly in 2014.
His post said: "When I first asked Lucy to marry me she said, 'Let's wait until we grow up.' Well we didn't wait long and now it is almost impossible to imagine, let alone remember, what it was like not to be together, so much so that I have a much clearer sense of 'Lucy and me' than I do of 'me'."
//
It's a statement about his relationship he has used before at this time of the year, telling The Australian Women's Weekly for a Valentine's Day article in 2014 "Over the years, we have grown together. It is almost impossible to imagine, let alone remember, what it was like not to be together, so much so that I have a much clearer sense of "Lucy and me" than I do of "me".
He told The Weekly the same delightful anecdote about his desire to marry Lucy and her insistence they wait.
"I was so in love and so worried I would lose her that I asked her to marry me soon after we met. She said we should wait until we grew up. Thankfully, we didn't (it is not entirely clear that men ever grow up, of course) and we were married two years later, in 1980."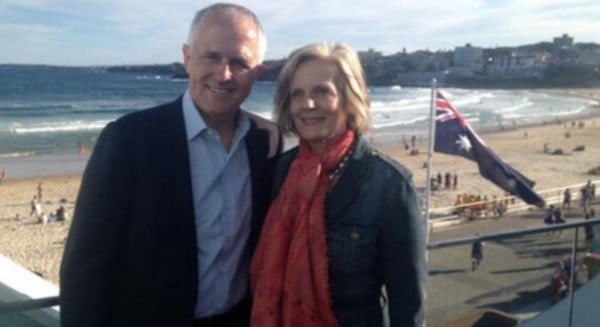 His re-telling of this romantic tale perhaps reflects another side of Valentine's Day – that in all long term relationships the same old stories crop up time and time again retold and re-hashed until one partner raises an eyebrow and shushes – Hush Malcolm they've all heard it before. 
But despite his romantic re-hashings his intent – to show his romantic side – has not pleased all his followers with many of the comments following his post criticising the PM for rejoicing in his own union while so many other Australians are refused the right to legally recognise theirs.
His Facebook page was flooded by marriage equality supporters asking the PM why same sex couples are not given the same rights as Mr Turnbull and his wife.
The top comment on Facebook, by ‪Tomas Leaumont‪ now has over 30000 likes "Well because of you and your party" he writes "I will never know what it will be like to marry my parter of nearly 10 years. So happy for you both."

‪Another,  Douglas McFarland‪, wrote: "When I first asked my partner to marry me, he said let's wait till our government lets us…and now, four years later, we have to wait until 51 per cent of the country lets us (and then the government an still reject it)…you and Lucy are beautiful together, an inspiring couple…just wish your leadership was more inspiring on Marriage. We all know you get it, we all know you want it, we all know you are spinning political bs when you support the plebiscite. Perhaps Valentine's day is the perfect day to scrap the plebiscite! Happy Valentine's day to you both, it must be a lovely reminder of your marriage. As opposed to the constant reminder that same sex couples love is less!"
This from Facebook user Tom Skelton "Lucky you. I will never know what it feels like to be married. You don't recognise the love I feel for my partner. Happy Valentines Day Malcolm. Txxx"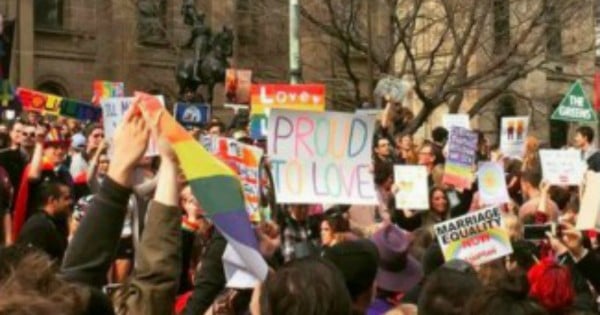 And this: "I have chosen not to post a smug photo of my husband and me on Valentine's Day, despite my delight at having our twentieth wedding anniversary coming up in a couple of months. It seems too cruel to do that to my lesbian and gay friends, who also want to be able to marry."
They were just a few of the hundred of comments demanding the PM take decisive action on same-sex marriage.
The Prime Minister has backed gay marriage and promised to hold a plebiscite to decide the issue at an estimated cost of $150 million if his government wins this year's election.
Last year, Mr Turnbull said, "When the Australian people make their decision, that decision will stick."
Watch Julie Bishop speak of how she supports the plebiscite.
Going one step further, Labor has promised to introduce legislation legalising same-sex marriage within 100 days of winning government.
As the controversy over the Prime Minister's post accelerated the Opposition Leader, 11 hours later, posted his own romantic message to his partner ensuring his own views on same-sex marriage were clearly stated.
//
The issue clearly isn't going to go away for the PM – and with polls showing more than 72% of Australians supporting same sex marriage.
"I'm very lucky also to have been married for over 40 years" a mother wrote on Mr Turnbull's Facebook page. "However, my husband and I are saddened that our gay daughter is still waiting for the same right as her sister; the right to marry the love of her life. No plebiscite please – a free vote in Parliament is all it will take!"