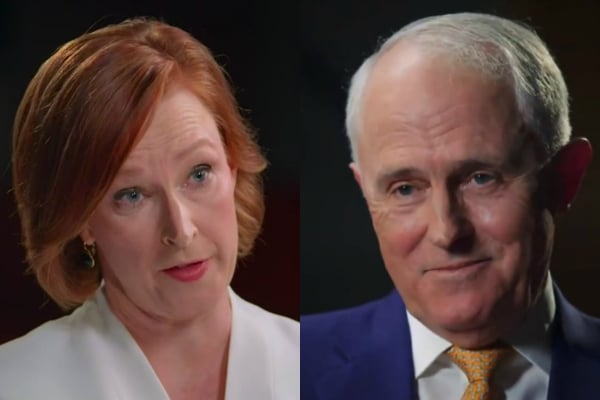 This post deals with mental health issues and suicide, and might be triggering for some readers. If you need help, please contact Lifeline on 13 11 14.
This week, former prime minister Malcolm Turnbull released a new tell-all autobiography.
The memoir titled A Bigger Picture, details his career in politics – the good, the bad and the very ugly.
On Monday night, the former prime minister sat down with journalist Leigh Sales on 7:30 to discuss his memoir. Much of what he said sounded more like an episode of Married At First Sight or Australian Survivor than the inner workings of a federal government. There was talk of aphrodisiacs and being turned on by power, control freaks and a "sea of paranoia".
From how his last week in office really went down, to his views on Prime Minister Scott Morrison, these are the seven biggest moments from Leigh Sales' interview with Malcolm Turnbull.
WATCH: You can watch a snippet from Malcolm Turnbull's interview with Leigh Sales in the video below, post continues.
1. Malcolm Turnbull on what the Liberal party has become.
Less than two years after the 2018 leadership spill that saw his political career come to an end, Turnbull believes the "right wing have taken the liberalism out of the Liberal Party".
He said, "The Liberal Party… it has become so tribalised. The right wing have taken the liberalism out of the Liberal Party and Abbott and his friends and the Murdoch media, the right-wing shock jocks, they would have preferred Bill Shorten to be Prime Minister than me."
"A Liberal Party that they could not control was not a Liberal Party they wanted to have. It was – it is all about raw power, I'm afraid."
Turnbull also likened the right-wing operatives in the Liberal Party, including media tycoons Rupert Murdoch and Kerry Stokes, and Alan Jones, to terrorists.
"The right-wing operates in the Liberal Party – and this is something that Morrison has to confront, by the way, because they would do exactly the same to him, if they thought they could. The way they operate is to basically bully and intimidate people. And what they do, they operate like a terrorist. Now, they don't use guns and bombs, I hasten to add, but it is the technique of terrorism, where you create enough mayhem, enough damage, that people in the middle say, 'It has got to come to an end, how can I stop this terrible horror?'"